There was a time when if you wanted to record a guitar, your only option was to put a microphone in front of your amplifier speaker, turn the volume way up, and record everything into a tape machine. While a mic'd amp is still an awesome way to get great sounds from a guitarist, there are more options available these days like guitar amp modelers and amplifier simulators, many of which aren't terribly expensive either.
Added to this recent invention is the popularity of the DAW (the digital audio workstation). The thing is that you don't even need to spend that much money to get your hands on one. In fact, you can use Garageband for free if you have an iOS or macOS device (I recommend this iPad from Amazon), and there are a lot of compatible guitar plugins and amp sims to choose from.
Some of the best guitar plugins that work for Garageband are the following:
Blue Cat Audio's Axiom and Destructor
IK Multimedia's Amplitube 5
Waves' CLA Guitars
POSITIVE GRID's Bias Amp 2 and Bias FX 2
Guitar Rig 6 Pro
Ample Guitars
Kontakt 6
Helix Native from Line 6
The advantage of using an amp simulator compared to a traditional setup is convenience, versatility, space, and price. In a lot of cases, it's just easier than isolating an amp in a room. And the thing about amplifiers is that tube amps sound the best when they're loud – and not everyone (like your family and neighbors) will like that. In this article, we'll talk about a few popular amp simulators and plugins and we'll answer a few common questions along the way as well.
By the way, I'm always on the lookout for deals in the music industry (there's usually something if you know where to look). Right now, there are 2 deals that stick out to me.
Guitar Amp Simulators For Guitarists and GarageBand Users
On days where I don't feel like terrorizing my neighbors while practicing exercises from JamPlay, I turn to amplifier simulators. What I like about them is that you can get so many different sounds with just one plugin, they sound great, and you have a handle on the volume in a way that isn't possible if you've mic'd a tube amplifier and cabinet.
If you really wanted to, you could track an entire record on your computer with an amplifier simulator, a microphone, and programmed drums and bass (programming drums is a topic I explored in my other article), but I digress. Let's get into what I think are some of the best amplifier simulators and plugins for Garageband.
Blue Cat Audio's Axiom and Destructor – (Free Trials Available)
The Axiom (which is often on sale on Plugin Boutique) acts as a powerful multi-effects processor and amp simulator software for both guitar and bass. This is the amp simulator that I've been using the most over the last couple of months. Not only does it sound great, but there are so many things that are possible with it because it offers what seems to be an infinite number of tones and styles for any project.
There are hundreds of presets and predefined models that are inspired by analog gear (guitar amps, bass amps, pedals, compressors, etc.) And all existing presets are editable to your liking. I'm actually still working through the presets and discovering what it is I like the most about it. Like I pointed out in my plugins guide though, I'm currently experimenting with Endless Story the most right now.
The Axiom includes two amp simulation channels which can be used with pre and post amp effects. These two channels can be mixed together like a physical amp or separately. Choose from hundreds of amp model simulations or build your own.
Some more great features from this amp simulator are:
+70 high-quality built-in effects like delay, reverb, pitch, effect, gate, chorus, and of course, distortion.
An intuitive interface that looks cool.
You can load and then use any 3rd party VST, VST3, or audio unit (AU) plug-in, inside of it.
No latency issues.
Offers a stand-alone application

You can hook up a MIDI pedal to it (Full MIDI control)
Control and shape dynamics in the pre and post-processing phase.
Huge library of presets and the ability to make your own.
Load and Modify Custom Impulse Responses
Input gate, compressor, and EQ.
and a lot more.
Blue Cat Audio's Destructor – (Free Trial Available)
If you ask me, the Axiom and Destructor go hand-in-hand, and they also come as part of a deal if you get them together on Plugin Boutique (the Axe Pack). The Destructor is an amp modeler as well but its specialization is in distortion, rather than in multi-effects and sounds like the Axiom.
What's cool about the Destructor is that it can be loaded right into Axiom in the pre or post-FX and also on the master channel. If you're new to guitar amp sims, Blue Cat Audio is kind of like a staple in this space because they're very good at creating software just like this. You can try both the Axiom and Destructor on their page.
I'll admit though that their interface, compared to some of the newer modelers, is arguably less advanced. It still looks mad cool and I enjoy using it, but it doesn't have pictures of effects, pedals, and amps like some of the other ones do. Most of us care a lot more about the way it sounds though.
IK Multimedia's Amplitube 5 – (Free Trial Available)
I listed Blue Cat Audio's Axiom/Destructor as the first because it's my personal favorite right now, but there's nothing wrong with Amplitube 5 either. This is actually the first amplifier simulator I was ever exposed to because the demo version comes with a purchase of an iRig HD 2 off of Amazon.
IK Multimedia put everything into creating this amp simulator because there are over 400 guitar and amplifier combinations. Amplitude 5 MAX (which you can get here on Plugin Fox) is similar to the Axiom and Destructor, in the sense that you can cover the entire signal chain with it.
From amps, cabinets, mics, rooms, and rack FX, AmpliTube 5 does pretty much everything a guitarist would need. And it works across all platforms, including as an AAX, VST, or AU plug-in so that you can use it on Mac or Windows. You can also upgrade from any previous version of AmpliTube for free (also here's the demo version if you want to try it out).
Some of the best features of Amplitube 5 are:
A massive database of presets with advanced search functions.
31 speaker models. You can also add more with the Custom Shop for free or for purchase.
Moveable cab mics so you can mix the cab with the room
Import tracks at different speeds without affecting the pitch.

Import your own loops and recordings for backing tracks.
DAW automation and BPM synchronization.
57 simulated effects (delay, compression, flanger, etc).
New custom impulse response loader with around 2,400 impulses per cabinet.
Even though Amplitube 5 is incredibly popular and I listed it high on this list, It's actually not my favorite due mostly to the user interface. I also don't like how the demo option doesn't give you much of a trial at all, because you only get a couple of amps and hardly anything else.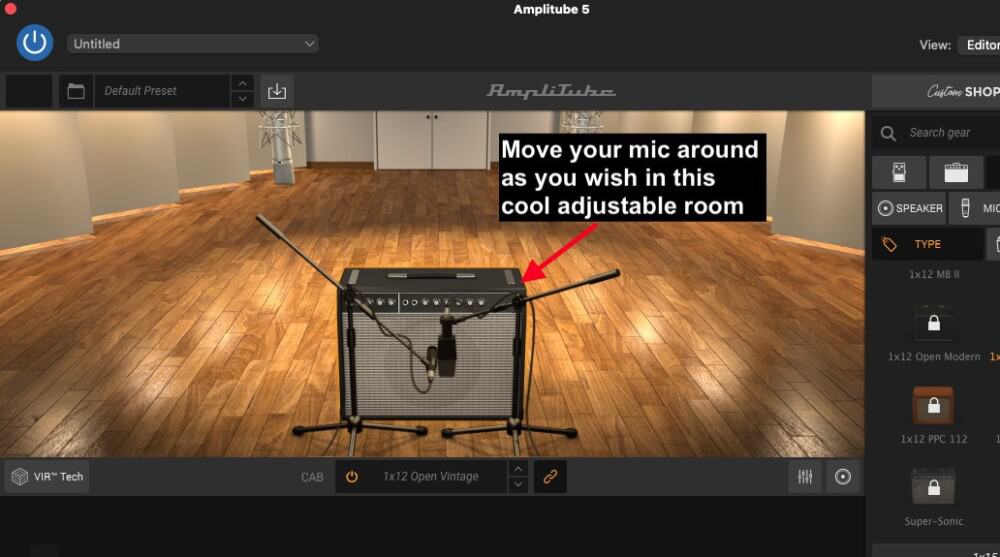 It sounds great, there are a lot of great options if you paid for it, the cabinet/microphone positioning interface looks cool, but out of all the guitar plugins on this list, I would probably say that this one is my least favorite.
Guitar Rig 6 Pro from Native Instruments – (Free Trial Available)
Replicating a real instrument through software has become pretty close to an amplifier/cabinet. Just like the Axiom/Destructor and Amplitube 5, Guitar Rig 6 Pro (which you can get from their site) is Native Instruments' take on the guitar amp modeler.
You can replicate many different amps in your DAW with Guitar Rig 6 and it's massively expandable with sounds, instruments, and effects from Native Instruments' library. But really, I find what makes Guitar Rig Special is that it comes in conjunction with other purchases from Native Instruments which I'll talk about in a second, for example, it comes with Komplete 13 from their site which is a huge steal if you ask me.
However, the stand-out feature of Guitar Rig 6 Pro, in my opinion, is the effects and soundscapes that you can pull out of this thing. If you take a look at some of the presets, like Deep Meditation, for instance, you get a Lofi plugin, a ring modulator, an oscillator, and then delay over top of it.
As a result, you have one of the coolest effects that you could make. It's mad cool. In terms of creativity and effects, I would say that Guitar Rig Pro 6 is the stand-out modeler on this list. I also appreciate the cool way that you can see all of the effects in one place and right-click on each one to swap it out if you want.
21 Guitar and Bass Amplifiers with their matching cabinets
68 Effects and other utilities like Split Mix and Cross-Over
Oodles of presets that are modeled after classic and modern players
Drag and drop effects to the rack to create custom effect chains (in any way you can imagine)
Two tape decks for recording and play along.
Built-In Tuner
And of course, a metronome (among many other things)
I would try out Guitar Rig 6 as part of Komplete Start (on their website) which comes with a whole host of VSTs, sounds, synthesizers, and pretty much everything else you could think of. In my article all about Komplete Start, I said that it was the best free plugin bundle you could get for Garageband and I stand by that today.
Bias Amp 2 from Positive Grid – (Free Trial Available)
Bias Amp 2 is an amp simulator from Positive Grid that I didn't hear about until recently, compared to Blue Cat Audio, Amplitube, and Guitar Rig who I've known about forever. Bias Amp 2 is Positive Grid's take on creating an amp simulator that's based on some of the most popular guitar amp combinations.
Despite the cheap price (on Plugin Fox) the software is versatile and incredibly accurate when it comes to the sound and vibe of guitar amps. That said, the stand-out feature of the Bias Amp 2 is the quality of the rock/metal sounds you can get from it, in addition to the sheer options available in terms of tubes and transformers and so on.
I'm not really a gear head or a tinkerer, so I found that the Bias Amp 2 was kind of overwhelming. The chance of me swapping out tubes and whatnot is slim to none, so Bias Amp 2 isn't for me. That said, if you're the type of person who does that, then you'll love it.
It lets you create amp models by swapping out tubes, preamps, tone stacks, transformers, mics, and more, to create your own customizable, signature amp combo. And an added bonus is that you can send all of this right to your iOS device (there's an iOS version of Bias Amps and FX).
According to Positive Grid, the focus on the newer version (compared to Bias Amp 1) was to create something with more headroom and low and mid-range. The latest version is also compatible with BIAS Amp packs to give you tons of options for customizing, along with downloadable Amp Packs from Positive Grid's ToneCloud. Some of the best features of the BIAS 2 are the following:
Use multiple mics on the same cabinet or mix them together.
It has new options for Blues and Bass.
Sync with Bias on your iPad or iPhone (yes, there are iOS versions).
Customize the look of your own amp interface.
Presets to recall your top 8 favorite settings.
Stand-alone application.

Open and closed-back speaker cabinet module emulations.
EQ module displays real-time frequency analysis.
Presets that imitate some of the featured artists.
Shape and tone with tone stacks and two 8-band EQs.
Noise gate
Room simulator
You can try out Bias Amp 2 via their website as well. It's always great when you can demo this stuff.
Bias FX 2 from Positive Grid – (Free Trial Available)
Positive Grid's Bias FX (which goes for a great price on Plugin Fox) has everything a guitar player would ever want or need and what's most impressive about it is that it doesn't even cost that much money. What I like about the Bias FX plugin is that it's capable of producing nearly every sound or effect you would want, as if you had the money to buy one of every piece of guitar equipment on Amazon.
The stand-out feature of the Bias FX other than the price, in my opinion, is the super convenient looper, the interface, and the options in terms of effects, processors, and amps. If you're wondering what the difference is between Bias Amp 2 and Bias FX 2, it's that Bias FX 2 has more effects, but they work well if you get them together. Give the demo a shot from Positive Grid's website.
Waves' CLA Guitars – (Free Trial Available)
With the mixing engineer Chris Lord-Alge, Waves has created a comprehensive – and inexpensive – guitar plugin. It goes for a great price on Sweetwater. It offers three modes: Clean, Crunch, and Heavy, with DI and re-amping modes for each, however, there are countless presets to play around with, many of which sound very good.
There are three color-coded presets for the six most popular effects. This will give you the perfect blend of bass, treble, compression, reverb, delay, and chorus. No matter what type of guitar sound your music calls for, CLA Guitar will most likely have it. You have total control over dynamics, tone, and also the effects.
Despite the options, what makes CLA Guitars special is that it's very, very easy to use and it sounds good. In fact, I would say it's the simplest one on this list – perfect for someone who's new to guitar simulators. I know the limitless options can be overbearing sometimes.
Notable Features
All in one guitar plugin.
Tone controls make it easy to shape your signal for your specific needs.
Multiple compression types for maximum dynamic control.
Several presets that are great starting points for recording.
Super easy to use.
Works with both macOS and Windows and doesn't require much RAM (4GB).
CLA Guitars' strength is also its weakness though in the sense that all of the guitar sounds are pre-mixed. This means if you want a great-sounding guitar, awesome, use it, but if you're trying to learn how to mix on your own (my guide on that), then it isn't the greatest tool. One could probably say that about many other amp simulators though too.
LePou Amps – (FREE)
The LePoulin pack includes five different guitar amp VSTs including the LE456, LECTO, Legion, Lextac, as well as HyBrit. The LePou amplifier I believe is one of the first simulators I ever downloaded. This was probably right around the same time that I purchased an iRig HD 2 and discovered that Amplitube 4 – that came with it at that time – didn't have all the amps (I talked about this in my iRig HD 2 guide).
Either way, if you don't want to spend any money at all and you don't want to give anyone your email (although Blue Cat Audio doesn't ask for anything from you either), the Le Pou amps are pretty neat and fun to use. You can get most of them here on Plugins 4 Free.
1) LE456 is a preamp that has two channels with two modes per channel. It has the usual tone controls, but each channel/mode offers two different tone stacks that can be accessed via the focus switches.
2) LECTO is a guitar amp simulator inspired by a Mesa Boogie Dual Rectifier with two channels and three modes on each channel. This is only an amp simulator, so you need to use a cabinet simulator with it.
3) LEGION is a high gain preamp simulator that is not based on any specific gear; it was made to be a powerful simulator, featuring two channels with two modes on each channel.
4) Lextac was inspired by a Californian boutique amplifier. Three channels, pre EQ switches on all channels. This has the capability to dial in the tone more precisely. It has a very Bogner Rock amp sound.
5) HyBrit is a collection of three plug-ins that feature a hybrid amp model; it's a hybrid of the two channels (Normal and Treble), both channels are processed, and the mix of the two signals can be adjusted. This simulator has the character of the classic British-style amp.
STL Ignite Emissary 2.0 – (FREE)
As I talked about already in my guide on metal and Garageband, the Emissary 2.0 is a solid metal guitar amp simulator that also has the ability to make really nice clean sounds. To be totally honest with you, I'm not as much into playing metal guitar as I was when I was a teenager, so I find myself gravitating toward clean tones.
What surprises me about the Emissary 2.0 is its ability not only to chug out solid rhythm metal guitar riffs but also its great-sounding over-driven lead tone which I've been jamming on a little bit every once in a while. You can check out what the "Clean Cranked" preset looks like here:
I've actually dropped the gain down by about 1-2 degrees and I find that it's capable of producing some fantastic slightly overdriven clean sounds. What a great plugin that doesn't cost a thing (get it from STL's site). It also comes with six free IRs, and when it's bundled with the Nasir Emissary which is an impulse response loader, you're good to go.
Helix Native by Line 6 – (Free Trial Available)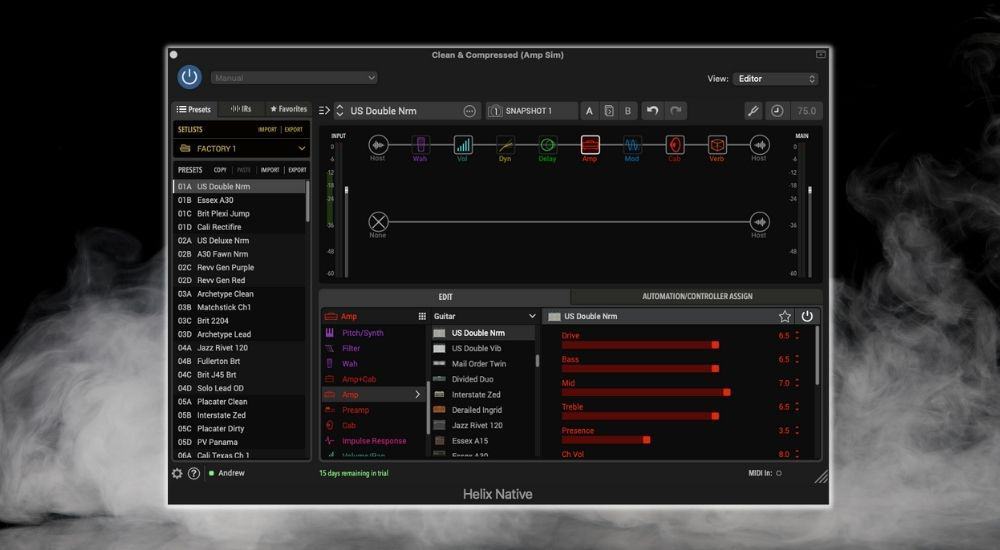 The Line 6 Helix Native has an interface that I have to say is the most unique on this list. It works by dragging and dropping these little colorful boxes around and then clicking on them and selecting your choices at the bottom. Also, the way you adjust the parameters is by scrolling or clicking.
The Helix Native, like the other amp sims on this list, has everything you need to shape a great tone. In the image shown above, you can see that in the Delay section there are many different kinds of delay, including swell, echo, mod/chorus, and so on. The same thing goes for the other effects and processors as well.
The Line 6 Spider II is my first ever guitar amplifier and I really loved it as a kid. At that time, Line 6 was growing in popularity and they had become all the rage for their ability to produce awesome sounding tones in a guitar amplifier/modeler. Of course, they came with their fair share of haters.
While you still have your tone purists who say it's not even real unless you're playing with a guitar amplifier, the fact of the matter is that the Line 6 Helix Native is a fantastic sounding amp simulator and it's packed with presets, amps, effects, and anything else you could ask for. It goes for a great price on Sweetwater or try out the free demo from their site.
Guitar VSTs for Garageband – For People Without A Guitar
Kontakt 6 (Kontakt Player is the free version)
The Kontakt Player from Native Instruments is the sampler that comes with Komplete Start: a collection of free instruments, effects, loops, and samples. The Kontakt Player is the stripped-down version of Kontakt 6 which is what I'm about to recommend to you. It's used for many different VSTs, not just guitar plugins, but if you know anything about Kontakt, you're probably wondering why it's in here.
The thing about Kontakt 6 – which you can get from Native Instruments' website for the best price – is that so many guitar VSTs, libraries, and samples are made to be used in Kontakt 6. Once you've finally forked over the money for the sampler, you'll have access to a world of guitar plugins and software and other types of plugins too. One of them is DJANGO's VST from Impact Soundworks.
DJANGO Gypsy Jazz Guitar from Impact Soundworks
Like the Helix Native, this plugin has a special place in my heart because of my childhood. My guitar teacher when I was a kid was a huge fan of Django Reinhardt, and I spent a good amount of time learning some of his songs like Minor Swing. Impact Soundworks' DJANGO VST (from Plugin Fox) is the closest thing you'll get to channel the spirit of Django in a VST.
It has three instruments that are made just for gypsy jazz and swing music, which are great genres to play around with if you're making hip-hop beats (my guide on that). Like the Ample Guitars which we'll talk about in a moment, the DJANGO VST has fret and picking noises and is capable of things like slurs, glissandos, chords, octaves, and harmonics. There are 20,000 samples here and it has one acoustic and one DI electric.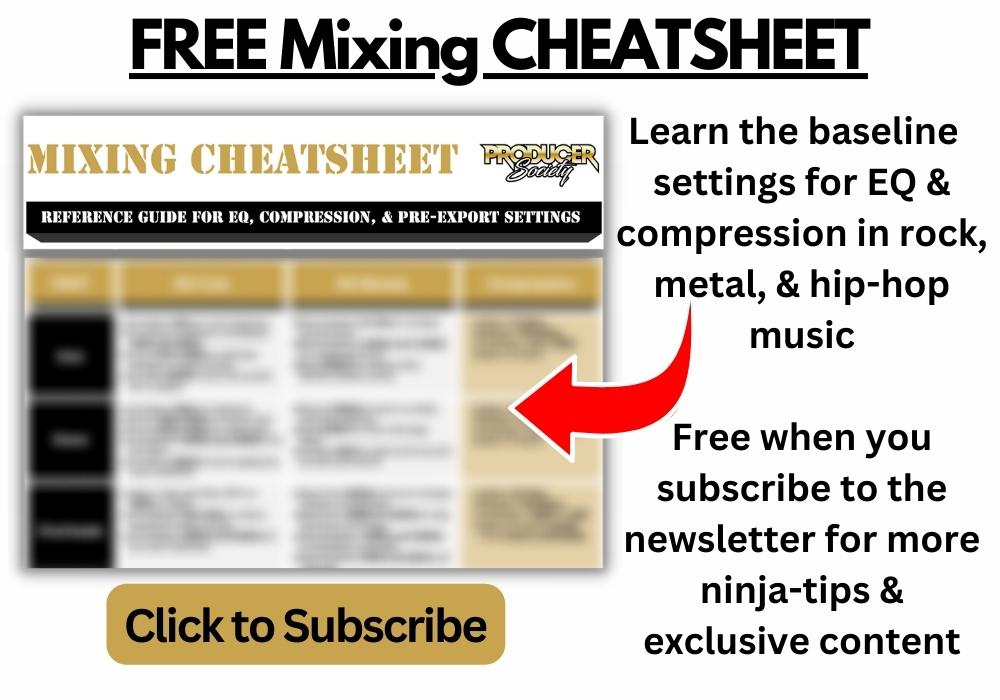 Ample Guitar's VSTs
Ample Acoustic Guitar M-Lite ii – (FREE)
The Ample Guitar M-Lite II (for free on Plugin Boutique) is a sampled acoustic guitar that appears to be based on a standard Martin D-28. What's great about this thing is that it's easily the best sounding acoustic guitar VST that you can get for free and it has all kinds of cool features like capo, slides, slaps, pops, and you can even smack on the guitar body as if playing in the percussive style.
Users who know a thing or two about Ample Sound Guitars though know that the free versions don't work straight out of the box. My YouTube video here shows you how to get this thing to work in case it doesn't, but in any case, I also have the instructions from Apple down here. I got this screenshot from KVR Audio's forums.
Let's talk about some of the other great-sounding instruments from Ample Sound.
P-Ample Bass Lite II – (FREE)
Similar to the Acoustic Guitar, the P-Ample Bass Lite (from Plugin Boutique) is a fantastic sounding bass guitar that's based on the classic Fender Precision bass. It's the closest thing you can get to actually owning a Fender Precision Bass for your home studio.
It also includes the same features as the Acoustic Guitar including fingerings, looping, chords, articulations, slapping, popping, slides, and so on and so forth. You can even load tablature right into it which is probably one of the cooler things I've seen (you can do the same thing with other Ample guitars).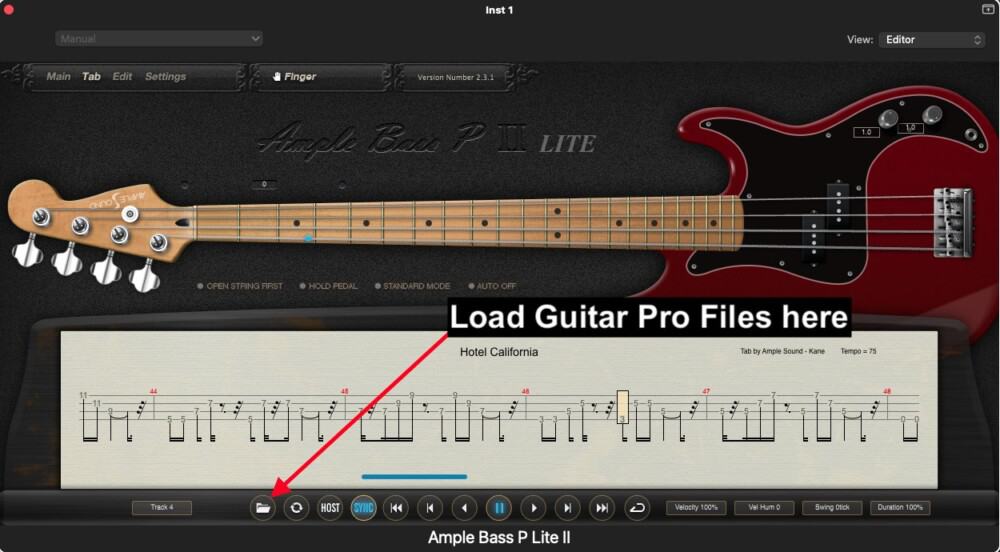 Some of the other things that it can do include strumming, harmonics, hammer-on and pull-offs, vibratos, tapping, and palm muting.
Ample Guitar LP (Les Paul)
The Ample Guitar LP (from their site) imitates the classic sound and timbre of the Gibson Les Paul using six different presets: Metal Double, Metal Treble, Lead 800, Jazz 120, 65 Twang, and 57 Delight. With each one comes seven matching cabinets and eight mic options.
Also featuring room mics, hundreds of presets featuring a riff for each so the user can sample each preset before using it. It has an 8-band EQ, intuitive frequency response, and four types of impulse responses: Room, Studio, Hall, and Larger Hall.
Moreover, you can use this guitar to play Guitar Pro files just like the Bass and Acoustic above. Man, these guitars are cool.
Ample Guitar TC (Telecaster)
It's the same old story of quality and exceeded expectations with Ample Sound's guitars, except this time it's with the Fender Telecaster. The Ample Guitar TC (from the same site) has two sample libraries for the neck and bridge pick-up and it includes all of the usual controls like palm-muting, sliding, glissandos, legato, natural harmonics, and so on.
Like the Stratocaster which we'll talk about in a second and the Les Paul, you get several amp and cab combinations with eight micing options for each, and the room mics prove to be especially useful for mixing and recording. This guitar also has the ability to load Guitar Pro tabs in addition to the impulse responses like Room, Hall, etc.
Ample Guitar SC (Stratocaster)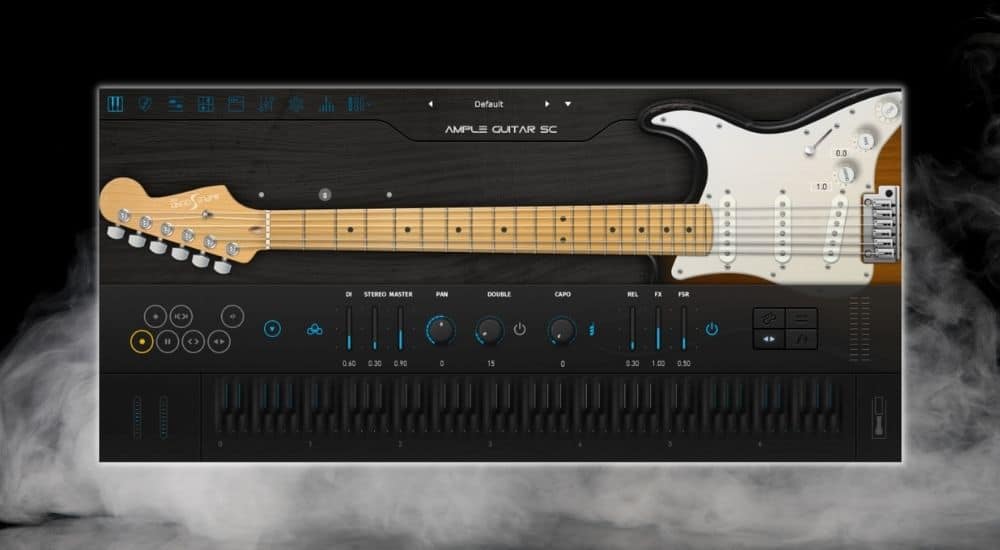 And the final Ample Sound product on this list is the Ample Guitar SC (also on their site). Like the title suggests, this guitar imitates the classic Fender Stratocaster but it has four sample libraries for the neck and bridge pickups in addition to stereo and mono modes. It features the same amb/cab combos as the Telecaster and the same cab/mic configurations.
I don't want to sound like a broken record, but the list goes on in the same vein. These guitars are sick and they're capable of doing everything that you want them to. It's worth mentioning that there are a ton of other great products and VSTs from Ample Sound including Chinese traditional instruments, banjos, upright basses, and more on their site.
Spitfire Audio Labs – (FREE)
I talked about Spitfire Audio Labs extensively in my guide to Garageband plugins but it's worth repeating again. Spitfire Audio Labs is one of the best VSTs that you can get for free, in fact, I think it might even be better than the sounds you get from Komplete Start.
How it works is that you have to download the LABS app on your computer and then you choose which instruments you want from there. It doesn't cost you a thing and you get all kinds of free, high-quality, pristine plugins that drive that creative energy out of you. Download LABs from their site.
Once you're there, you just have to click on the "Not Installed" tab and then go through and download all of the instruments that I've mentioned here. It doesn't take that long.
Moon Guitar – (FREE)
Based on the classic Chinese Moon Guitar, the Moon Guitar from Spitfire Audio Lab sounds almost exactly like a real instrument and it features solo, ensemble, and tremolo patterns that are extremely fun to use. A lot can be done to your music with this plugin, and I'm surprised that more rap producers don't use this. Sounds like something the Wu-Tang clan would use.
The coolest aspect of the Moon Guitar, without a doubt, is the Tremolo function which repeatedly plays a note over and over again but in a way that's actually dynamic and musical.
Mandolin – (FREE)
The same hype thing here. The mandolin is a high-quality VST that sounds just like a real-life mandolin and it has all kinds of cool sounds and features including the same tremolo option (which is my favorite) in addition to picked and plucked tones.
Guitar Harmonics – (FREE)
And finally, we have the Guitar Harmonics plugin which is – you guessed it – really high-quality and fun to use. Like Native Instruments, it seems as though everything Spitfire Audio Labs does is awesome and they rarely miss.
My favorite thing to use on the Guitar Harmonics VST is the Glass Cabinet. It sounds like guitar harmonics mixed in with a really angelic and spacey synth: perfect for film and video game scoring.
Dynamics Processor Plugins For Guitarists
The following are plugins that are great for manipulating the dynamics of the guitar after they've been recorded. Use EQ as a volume control for specific frequencies, compression for balancing, and set up noise gates for cleaning up noise.
All of this will help you get the tones that you want. But the thing about most dynamics processors is that there is a ton of them on the market so after a little while, it's hard to distinguish between them. When someone says they have a cool EQ plugin, you think, "great, I already have 6." Fab Filter's EQ, Compressor, Multiband Compressor, and Limiter are the last you'll ever need.
Fab Filter Pro-Q EQ – (Free Trial Available)
Fab Filter's Pro-Q EQ 3 (which goes for a great price on Plugin Boutique) has established itself as probably the best EQ plugin on the market. It's the type of device where it has endless features while at the same time retaining its simplicity.
What I've said before about the Pro-Q EQ 3 is that the ability to solo certain frequencies was the stand-out feature for me.
Now, it's a possibility that other EQ plugins can do this, but at least I've never seen it before other than with the Pro-Q EQ 3. The solo feature is just one of many features that make this the best EQ plugin. Try it out for yourself with Fab Filter's Free Trial on their site.
Fab Filter Pro-C 2 Compressor – (Free Trial Available)
Just like the Pro-Q 3, the FabFilter Pro-C 2 (from Plugin Boutique) is a high-quality compressor plugin for the most demanding people. Even if you need subtle mastering compression or an upfront lead vocal, the Fab Filter Pro-C can do everything and also with style.
In addition to coming stacked with presets that you can try out for simplicity's sake, you can also download the demo as well for thirty days. I won't include the Limiter and Multiband Compressor because I don't use those to shape guitar tone specifically, but they're worth knowing about.
Audio Damage's RoughRider 3 – (FREE)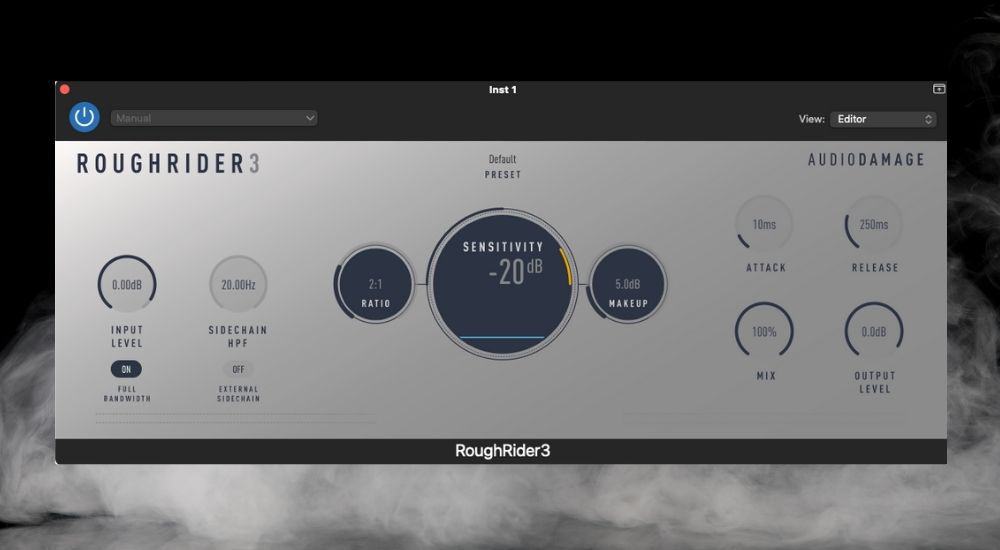 Before I gave Fab Filter plugins a chance, I used the Rough Rider 3 compressor from Audio Damage quite a lot for its side-chaining capabilities and also the great user interface. There's something about this compressor that just makes it easy to play with and it's free from their site.
There's also a nice NY Style Parallel Compression preset that I like to play with and I talked more about it in my parallel compression guide. Another one I use for very light compression is the "Take A Bit Off the Top" preset which I apply to slightly overdriven clean tones. If you don't want to spend the money on a premium plugin like the Pro-C 2, then the Rough Rider 3 or the Klanghelm DCA1 are your best bet.
Bob Perry's Noise Gate – (FREE)
The Bob Perry Noise Gate (also free on Plugins 4 Free) is the noise gate plugin that you're looking for if the stock Garageband noise gate is no longer cutting it for you. You can tell right away just by looking at it that it has more controls than the stock gate, including a threshold, attack, hold, release, in addition to a Range feature.
Effects, Tools, and Other Awesome Plugins for GarageBand Guitarists
Komplete 13 from Native Instruments (Komplete Start is Free)
Komplete 13 is one of the best things you can buy for music production. It deserves its own place down here not only for the effects, instruments, and sounds but also because it actually includes Guitar Pro 6 and Kontakt 6 if you get it here from Native Instruments' website.
This is one of those plugin bundles that have a little bit of everything and anybody who's into music production could use it. It's why I almost always recommend it. For clarity's sake, here are just a few things that it includes that are useful for guitarists:
Guitar Rig 6 Pro
Kontakt 6 (which means you can download guitar VSTs that are made for Kontakt)
Supercharger Compressor
Electric Sunrise Les Paul VST
Rickenbacker Guitar VST
Cuban, Middle Eastern, and African collections that include similar stringed instruments.
Take a look at the link I put above to see what I mean. There's a lot in here for guitarists and people who love stringed instruments, in general. You can get a taste for Komplete 13 by trying Komplete Start from their site.
Blue Cat Audio's Hot Tuna – (Free Trial Available)
Using the built-in tuner in Garageband will get you by as I talked about in my tuner guide, but if you want to invest in a powerful tuner plugin that will help in other ways, the Hot Tuna (from Plugin Boutique) is a great addition. For instance, for live gigs, you can adjust the dimming of the signal when active.
Processing is performed in the background, so the tuner does not impact the performance of the computer. It's worth mentioning that this plugin is available as a built-in effect inside Blue Cat's Axiom, the multi-effects processor and amp simulator for guitar and bass.
The main thing I like about the Hot Tuna is that I don't have to get up and grab my tuner or plug into my pedal tuner after I've already sat down with all of my gear and began to play. It's a simple reason, but what can I say, this thing saves me a lot of headaches because I never remember to tune my guitar before sitting down.
Eventide's Blackhole Reverb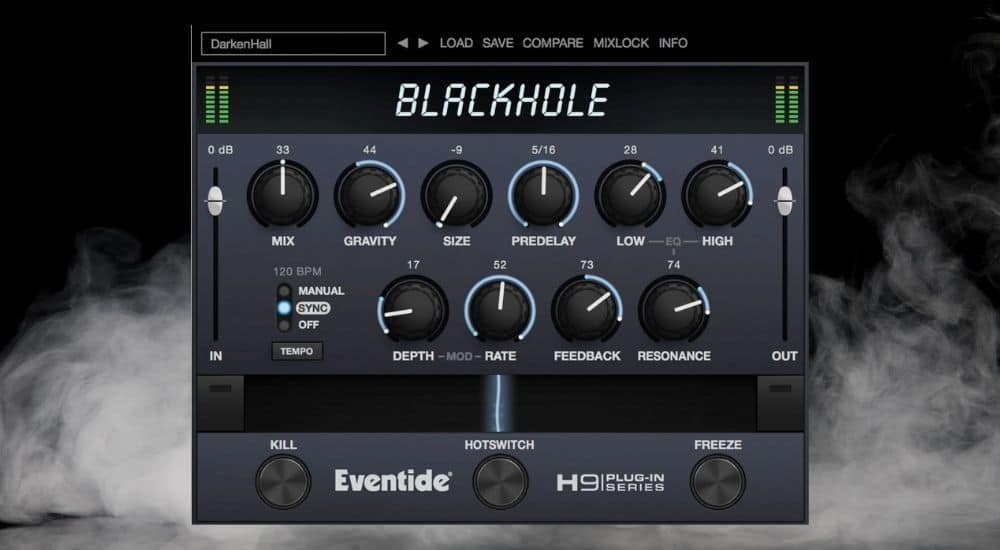 Eventide's Blackhole Reverb (from Plugin Boutique) has a staggering amount of positive reviews on pretty much every platform that it's sold, and the reason is simple: it, along with SP2016, are the best reverbs on the market. Not only do they have every control that you could ever ask for but they're simple to use, the presets are awesome, and the reverb sounds mad good.
Other Cool Features:
Over 50 presets.
Ability to create extremely musical effects.
Supernatural abstract space-like effects and drones.
Subtle settings for ambient washes.
You can control the reverb's decay with the "Gravity" knob.

It has a kill switch to mute the input (so you only hear the reverb).
Mix Lock for scrolling through presets or settings. This can be done while keeping the wet/dry mix constant. Extremely useful when trying to match tone and vibe.
Fully flexible mono and stereo options.
And it's also available for iOS as a AuV3 plug-in and standalone app.
Plugin Boutique's Scaler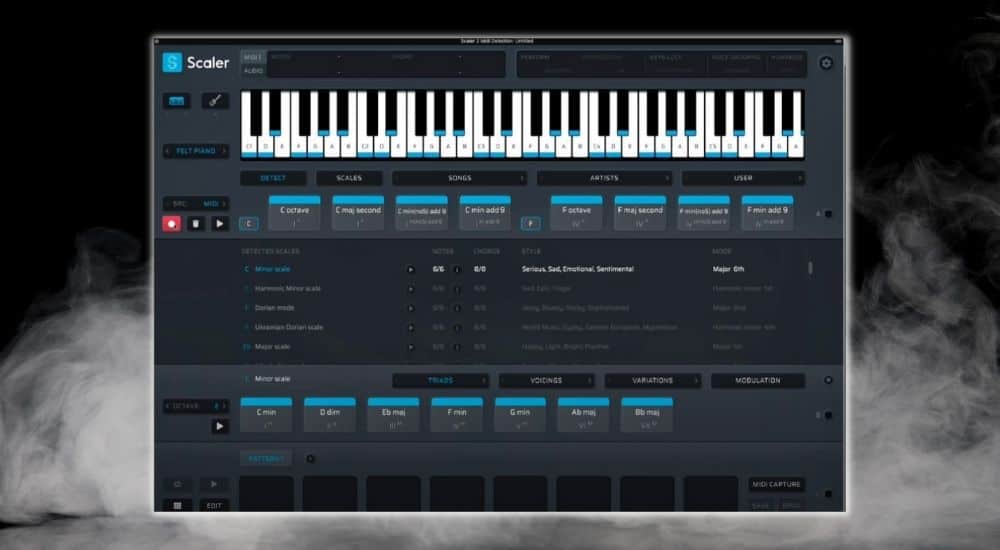 Plugin Boutique's Scaler is a musical assistance plugin that is built around scales, modes, and chords. It features a 'detect' mode that will first identify the chords you've played and then show you which combinations they best fit into. The MIDI input can come from your own 'live' keyboard playing or a host track.
When you select a key/scale/mode combination, it will allow you to assemble and test out chord sequences in the same key, scale, or mode. You can then export those chord sequences to a MIDI track in your host DAW/sequencer. This is especially useful when trying to come up with writing ideas on the fly.
I'm not super into this kind of plugin, but I know a lot of people swear by it and think it's the bee's knees. It's definitely worth checking out. I think it might also be Plugin Boutique's best-performing plugin in terms of total sales and popularity, so that says something.
Can I Plug My Guitar Into GarageBand?
With a proper audio interface, you can plug your guitar into your computer and play what you in Garageband, either for practicing or recording. You have to use an audio interface to convert the analog sound into digital information so the computer can understand it. Here's a video showing you how to do it:
Audio interfaces differ from model to model, but the fundamentals are always the same. You can dial in the signal with the gain option on your device before it gets to the computer, and then when the DAW picks up on it, you can make changes from there with software like the plugins mentioned in this article.
I've written an article here about how to plug your guitar into Garageband, but the long and short of it is that you just need to connect a device like the Scarlett 2i2 (always a steal on Amazon) to your computer with a USB to Thunderbolt cable.
Set the Input to Scarlett 2i2 within Garageband's preferences and you're good to go. To hear yourself playing, also known as monitoring, you'll have to press the yellow monitoring button. Once the device is recognized and configured, plug in your guitar and set the tone to where you want it by using the Smart Controls or the Amp Designer (which I also have a guide on).
How Do I Use Guitar Plugins for GarageBand?
Installing plugins is the easy part (my guide on that), but learning how to use them is a little harder. The video shown above will help you even though it's for the Amp Designer because knowing how to use it will transfer over to more sophisticated software later. That said, there are a few things related to setup that you have to cover.
To use guitar plugins, you'll need to make sure your guitar is connected with an audio interface and set up properly in the Garageband Preferences. Open the desired plugin by going down into the Smart Controls within the Audio Units menu.
The thing about guitar plugins is that they can get quite confusing fast. If you're the type of person who loves to mess around with gear, then guitar simulators are for you. You can get lost in effects, dynamics processors, preamps, and post-processing.
Are Guitar Plugins Worth It?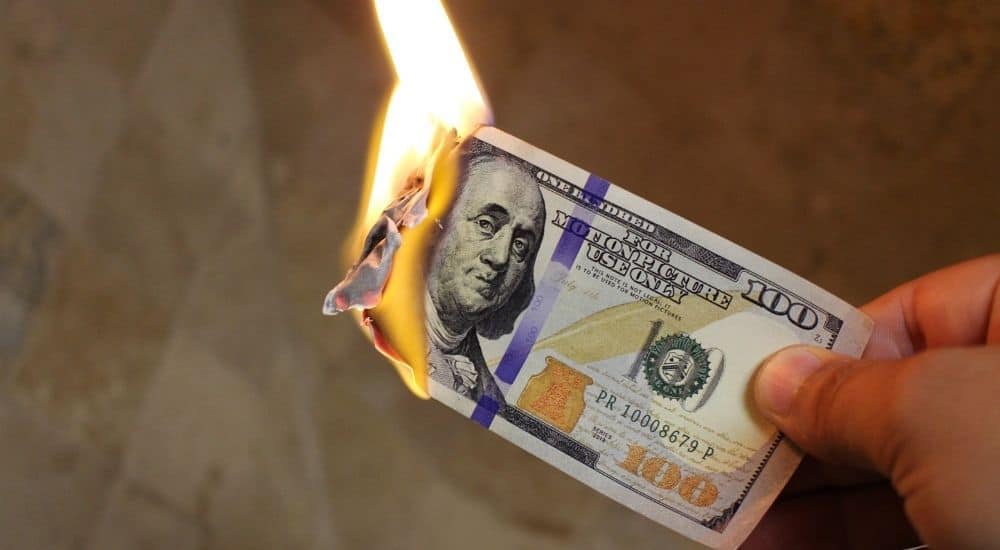 Plugins are used by budding musicians to the most sophisticated studios. There should be no shame in using them to get the sound you want. A lot of people are on a budget, or they are not in proximity of a good studio, and that's where great plugins come in handy.
Where else, besides renting a big studio or finding a collector, will you get to use as many amps as you want with insane effects and tone? The technology is constantly changing, and more and more advances are being made, so the tones and simulations will only get better.
How Do I Make My Guitar Plugin Sound Better?
Most plugins come with upgrades to the existing software. That is ultimately the best way to get better sounds with plugins, however, certain things can be done with dynamics processors as I've shown in my guide here.
The brunt of it though is that you'll make your guitar gear sound better by ensuring you've set everything up properly and you've also purchased the right one for your needs. Another important thing to do is to update them like I just mentioned.
This unlocks key features and components that the standard versions don't always have. They also might offer the newest and updated versions for free after you have paid for the initial plugin; this ensures you always have the best tools at your disposal.
Garageband Also Has Its Own Guitar Plugin – The Amp Designer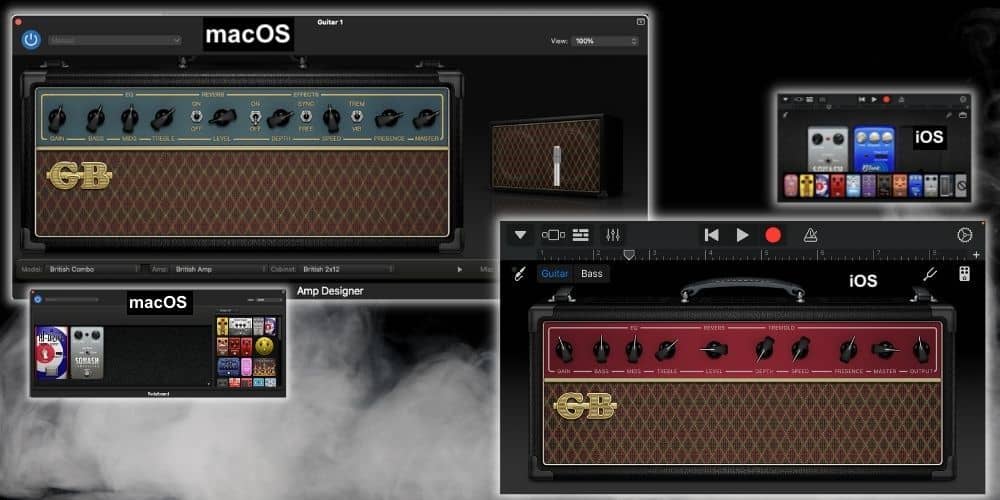 The Amp Designer from GarageBand is sufficient in its overall selection; however, the tones you get from it aren't always very convincing. This may or may not be because it is a simulator, but it may also be because anything free may not be the best thing to use.
It comes with tons of pre-sets, but they might not be enough for studio quality. I would say you can record on GarageBand as is without upgrading or adding anything extra, but you'll find yourself wanting more after a while. That said, nobody starts at the top with the best equipment. Work with what you have, not what you wished you had.
Important Things to Note About Guitar Plugins for Garageband
1) Guitar Plugins Still Aren't As Good As The Real Thing
While plugins have really improved over the past few years, they still aren't as good as the real thing. To mic up an amp in a closet actually isn't that hard of a process with a good interface, a microphone, and a decent amp.
In this case, I'm using a Shure SM57, a K&M Mic Stand, a Mesa Boogie cab, a Hughes and Kettner Switchblade, and my Scarlett connected to my computer. Even though I love amp modelers, I still use my amplifier a lot too because it's hard to beat the way it sounds with the volume turned up a bit.
2) You May Still Need a Professional
Recording in your house has its rewards, but there's nothing like getting the experience of an engineer, producer, or another musician when you can. With GarageBand being a great way to start recording, you can easily get ideas and demos recorded for later use.
You might record your music well, but having someone with a lot of experience explain to you what you're doing wrong and why can save you a lot of time and headache.
Honorable Mentions
Neural DSP
Neural DSP is another newcomer to the game of amp simulators and they've done a really good job of getting their name out there through influencer marketing, including from the likes of Tim Henson, Tosin Abasi, Plini, and many others.
However, I neglected to include it on this list because I couldn't get it to work with Garageband. On the other hand, I included it at the bottom here because some people are able to get it to work; maybe you'll be one of the lucky ones.
DSK Guitars
There was a time when I swore by DSK Guitar VSTs because at that time I couldn't afford to buy a real VST or modeler (I didn't have my acoustic with me at that time either). These days, I don't include these guitars on my lists because I can't get them to work with Garageband anymore and there are just better options available if you're willing to spend even just the smallest amount of money.
Other Gear Mentioned
1) 2021 iPad Pro 12 512 GB (from Amazon)