The iRig HD 2 from IK Multimedia is arguably the best beginner audio interface for recording guitar with Garageband.
I own three audio interfaces: the Focusrite Saffire 6USB, the Scarlett 2i2, as well as the iRig HD 2.
Due to the fact I rarely record vocals, I pretty much always stick to the iRig HD 2, on account of the fact it's super small and convenient.
To be truthful, I would argue that, while the iRig HD 2 is not the absolute "best" you can get in terms of audio interfaces, it is great for just recording guitar and it's the perfect interface if you're looking for a unit that will do the trick while also being inexpensive.
By the way, I'm always on the lookout for deals in the music industry (there's usually something if you know where to look). Right now, there is 1 deal that sticks out to me
| | |
| --- | --- |
| Singorama – The Complete Guide to Singing Like A Professional | $269 $67 Right Now |
With that said, there are other solid audio interfaces on the market that have multiple inputs for not only the guitar, but also vocals, so there aren't any limitations in terms of how many instruments you can use at once.
For instance, the Focusrite Scarlett 2i2, which I've written about before, has two inputs, that way you can have your guitar/bass/etc plugged in while also recording vocals.
The iRig HD 2, on the other hand, is only meant for playing the guitar, so if that's all you're looking for – just a simple audio interface for playing the guitar – then the HD 2 is a great choice, especially considering its relatively cheap price. You can check out the price of it on Amazon here.
On the other hand, there are some issues with it. My biggest gripe with the iRig HD 2 is the fact it's made out of plastic, which, to me, always communicates "cheap."
Other than that, the iRig HD 2 doesn't have a lot of down-sides to it, with the exception of some users finding it difficult to get their computer to recognize it.
Let's say you've purchased the iRig HD 2 and you're having trouble getting Garageband to recognize it; this problem can be solved by rebooting Garageband with your iRig HD 2 plugged in.
It's also worth noting that if you have a new MacBook Pro like the one I recommend from Amazon, rather than one of the old ones, you'll need a USB-C to USB port, so make sure to pick one of those up if that's the case. Although, if you own a new MacBook Pro, you probably are already aware of the necessity of an adaptor.
If you want to get a USB-C to USB-B port, I recommend checking out this one right here on Amazon. This one, in particular, has four USB ports, so you can plug in multiple devices if necessary.
Let's move on to the details and specifications of the unit, as well as what comes with the box.
***The iRig HD 2 is compatible with PC, Mac, iPad, and iPhone.
What Comes With The iRig HD 2
Micro USB to Thunderbolt Cable (for new iPhone users)
Micro USB to USB Cable (Will Need an Adaptor if you're computer is brand new)
A clip for attaching it to the microphone stand.
***Amplitube 4 for Mac and PC (and Amplitube for iOS)
***It's worth noting that many of the amplifiers and presets that come with Amplitube 4 are locked, which for me, has rendered Amplitube 4 completely worthless. I never use it. From what I understand, you actually have to purchase each amp model.
T-RackS 5 Custom Shop
AmpliTube Custom Shop
Syntronik Free
SampleTank Custom Shop
It has a Micro USB Device Output and a 1/8″inch Headphone port.
And LED light that communicates that it's turned on and whether the signal is too hot or just right.
It flashes blue when it's turned on, flashes red when the signal is too hot, and it flashes green when it's just right.
It has a gain control knob on it on the left-hand side of the unit, also known as a pre-amp control. In other words, you can turn down the strength of the signal in case you're clipping.
It's worth noting that if you're using a guitar with active (battery-powered such as EMGs) pick-ups, you might have to turn down the gain because the signal is much stronger.
It also has a microphone clip on the back for clipping it to your microphone on stage or wherever, not only for the convenience of use but also for using the unit as a stomp-box. We'll dive into what I mean by that later.
On the bottom of the iRig HD 2, it has two ports, the 1/4 instrument jack as well as a 1/4 amplifier jack.
What this allows, is for us to send a signal to the computer/Garageband, and to an amplifier at the same time, so we can use an amplifier/cab combo for a speaker system, and also record it through Garageband at the same time.
In other words, in case you want to play your traditional amp and cabinet set-up, including with all of your pedals and whatnot, you can send the "traditional set-up" signal into Garageband for recording, or you can play it through Garageband's Amp Designer which I have a full tutorial on, by the way.
On the right-hand side of the unit, we have the FX-Thru switch as well as a headphone volume control in which I usually have my Etymotic ER4SRs from Amazon connected.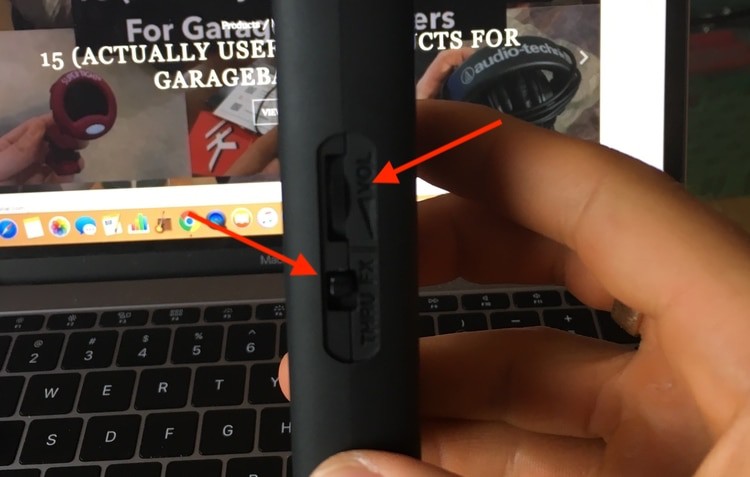 The "FX" setting is for playing the guitar through Garageband's interface. In other words, it sends the processed signal from the software, in this case, Garageband, to the iRig HD 2.
This means we can use the computer/Garageband as the amplifier/pedal effects.
The "Thru" setting is for the unprocessed signal, which means we're using the "dry unprocessed signal," of the guitar through the guitar amplifier, and using that signal and sending it into Garageband.
This might be confusing, so I'll explain it another way.
The "FX" setting is for playing the guitar using Garageband as the pedal-effects board/amplifier setting, and then sending that signal out to a guitar amplifier or a mixing board for playing a live show.
If you intend on only using the iRig HD 2 through the computer and playing it back through the speakers, then FX is what you want.
FX is also the setting you want if you're going to plug your guitar pedals into the iRig and play it through your computer speakers.
The "Thru" setting means that we're sending an unprocessed signal to a guitar amplifier or a mixing board. In other words, the "Thru" toggle switch means that we're sending a signal unaffected by Amplitube or Garageband settings out to an amplifier or a mixing board.
The device is 24bit and has a 96kHz sampling rate, which – as I explained in my guide all about audio interfaces – means that the device is operating at what is commonly believed to be the industry standard for recording.
Using your DAW and audio interface as an amplifier, cabinet, effects unit, and recording studio has really made tracking guitar easier than ever. Originally, I thought I needed to go to school to learn this kind of stuff but you can just subscribe to JamPlay which is more convenient and also cheaper (use the coupon code "1buck" to make the first month practically free).
Other Important Things To Consider
As I mentioned in passing above, if the LED light is flashing red, that means that you're clipping, and you need to turn the gain on the audio interface down.
Aim to have the LED signal flashing green when you're strumming hard on your guitar
For Amplitube 4, you actually have to purchase each model in the Custom Shop, which in my opinion, was a huge disappointment. Like I said above, if you know how to access these without paying $25 for each model, let me know.
The iRig HD 2 doesn't work for microphones, it only works for bass and guitar.
Make sure you've selected "iRig HD 2" as the input, down in the Smart Controls in the Recording Settings. You can see what this looks like in the image below.
If you're having issues getting Garageband to recognize the device, try and reboot Garageband with the iRig HD 2 plugged in. This is what I did when I first bought the device and had trouble getting the computer to recognize it. Additionally, you can go into Garageband's preferences and change the "Output" and "Input" device settings.
Make sure your "Enable Audio Units" box is checked, which will allow you to enable various AU plug-ins, including Amplitube if you end up wanting to use it.
It's also worth mentioning that, yes, you can use the iRig HD 2 with your guitar pedals, in fact, I have a tutorial all about connecting them.
I've also noticed that some MicroUSB cables don't work with the iRig HD 2 for some reason. For instance, despite having the same cable as nearly all of my vapes, they don't work in the same way, so make sure that you're using the MicroUSB that comes in the box, rather than some other miscellaneous cable. This might just be an issue with the vape cables, but I can't say for sure – just something to keep in mind.
If you want a similar set up for vocals (by the way, you can improve your singing chops big time with Singorama), the iRig Pro I/O is a great option instead because it can be used as a guitar and microphone interface as I'll mention again at the end of the article.
How To Set Up The iRig HD 2
In terms of just getting the iRig HD 2 set up, it's not that hard. It's just a matter of plugging it into your computer, which looks a lot like the image below.
1) Plug your USB to USB-C adaptor into your computer
2) Plug the USB to MicroUSB cable into the adaptor
3) Attach the MicroUSB to your iRig HD 2
4) Plug your guitar cable into the iRig HD 2, and then run it into your guitar.
How To Access Amplitube 5 and Other Free Software
This part is optional, but in order to get access to Amplitube 5, Custom Shop, and the other plug-ins that it comes with, you must register the product with IK Multimedia on their website.
You don't have to do this if you intend on just using the iRig HD 2 as is, however, it is necessary for accessing Amplitube.
1) Go to IK Multimedia's website at www.ikmultimedia.com
2) Make an account with them.
3) Register the iRig HD 2's serial number with IK Multimedia. You can find the serial number for the product on the box.
4) Once you've registered the product with them, you'll have to download the authorization manager to set everything up, but once everything has been registered, you'll land on a page that looks like this.
Then, you can download all of the plug-ins that it comes with, however, it's best to just buy the entire package deal of Amplitube 5 from Plugin Fox that way you can access everything.
YouTube Video Tutorial
Conclusion
All in all, the iRig HD 2 is definitely a really handy device to have if you're a guitar player, and it's worth grabbing, especially if you're all about the convenience of use or you need an audio interface to travel with on the road.
Additionally, if you're in the market for a portable audio interface that's good for both microphones and the guitar, the iRig Pro I/O is a great choice because it works for both. I wrote about the iRig Pro I/0 more in detail at this link here.
There are also additional models with more than one input, so you can plug your guitar as well as your microphone into the same unit at the same time. It costs more money, however.