One of the greatest aspects of being a music producer or a musician is the cornucopia of gear available to us, more importantly, much of it is always evolving and getting better. Over the years, the resources available to music producers have improved tremendously, and building a home studio is becoming increasingly more affordable and practical compared to going to a traditional studio.
This page includes products of every type for music producers and other musicians who want to record music in the comfort of their own homes, including microphones, stands, drum pads, headphones, speaker systems, and more. Each link in the table below takes you to the product description in the article, including the product categories on the left-hand side.
Note: The products that I think are the most valuable in their relevant category are listed first and colored green
Current Deals and Coupon Codes
| | | | |
| --- | --- | --- | --- |
| Brand/Product | Location (Link) | Deal | Expiration Date |
| Air Music Tech (including XPand! 2) | Plugin Fox | Up to 65% Off | December 6th |
| Blue Cat Audio's Axe Pack | Plugin Fox | 10% Off | November 19th |
| Melda Production | Plugin Fox | 50% Off Everything | November 28th |
| Positive Grid (Bias FX, Bias Amp + More) | Plugin Fox | 50% Off Everything | November 22nd |
| EZ Drummer 2 + Expansion | Plugin Fox | 35% Off | December 31st |
| JamPlay | JamPlay | 99% off with coupon code: "1buck" | |
| Guitar Tricks | Guitar Tricks | First Month Free | |
| | | | |
| Amazon (Musical Instrument Deals) | Amazon | N/A | N/A |
| zZounds Clearance (Musical Instrument Deals) | zZounds | N/A | N/A |
Speaker Systems and Monitors
iLoud Micro Monitors from IK Multimedia
Check the price on zZounds here
IK Multimedia's iLoud Micro Monitors are easily some of the best computer monitors on the market right now for a number of key reasons. One reason is that they sound fantastic.
In a recent article all about them (which you find at this link here), I stated that the iLouds were easily one of the best purchases I've made all year (it's currently 2020 as of writing).
In fact, they may even be the best purchase I've made since I started this journey not that long ago.
Not only do they sound fantastic, but they're incredibly small and compact, so they're perfect for the traveling music producer or musician who needs high-quality monitors on the go that are easily packed away in one's suitcase, luggage, or even just your backpack.
The entire monitor itself is around 8 inches high and 4 inches wide, and the speakers themselves are around 3 inches.
The way they're constructed makes them incredibly sleek and easy to put wherever you need them, either on your desk or mounted on a mic stand.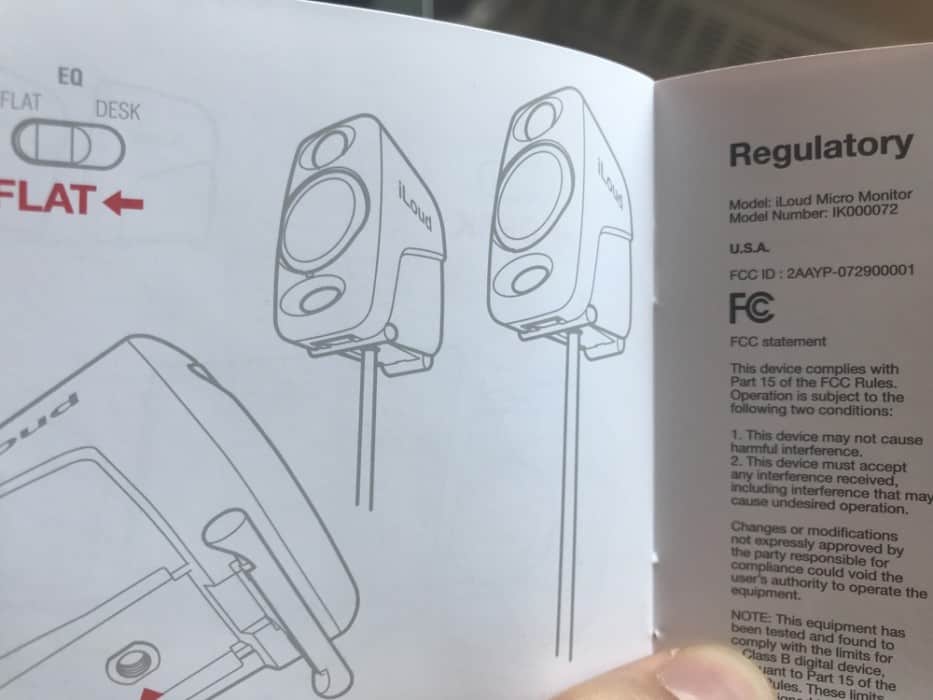 There are a number of features that make them some of the best speakers on the market. In addition to their quality and portability, the iLoud's Bluetooth capability makes them incredibly convenient.
For instance, I most often use them as my music production speakers, a process by which I'm often mixing, DAW-mastering, and producing.
However, if I want to take my laptop and go sit on my bed while watching a YouTube video, I just have to un-connect them and set up the Bluetooth connection.
It's as simple as pressing the button on the back of the unit and going into the System Preferences > Audio > and then Bluetooth.
In summary, I stand behind my assertion that the iLouds are the best purchase I've made in the last few years.
KRK Rokit RP5 G4 Studio Monitors
The KRK Rokit RP5 G4s (on Amazon) are higher quality than the iLoud Micro Monitors, and also have the ability to go much louder. You can read a more comprehensive article on them at this link here.
However, they don't have the same Bluetooth feature, they're not portable, and they're ultimately much bigger.
It's definitely worth arguing that the KRK Rokit RP5 G4s are meant as your primary studio monitors, whereas the iLoud Micro Monitors can be used for going on the road.
While the Rokit 5s are better speakers, the fact of the matter is that you can't take them on the road.
As I just mentioned, they're meant to stay at home on your stand and that's where they're supposed to sit in perpetuity.
It's up to you to decide which pair of monitors you want to get, and I'd say that it ultimately depends on how much you travel.
If you intend on traveling quite a lot and you need speakers for on the road, then the iLouds are the best choice.
If you don't plan on being on the move that often then the KRKs are the better choice.
With all that in mind, the KRK Rockit RP5 G4s are actually around the same price as the iLoud Micro Monitors.
Either way, the G4s are easily some of the most commonly recommended speakers on the market, even more so than the iLouds, and for good reason.
They sound fantastic, and there are a number of different models to meet your needs, including 5″ speakers, 8″ speakers, and even 10″ speakers.
It depends on the size of your room, the acoustics, the set-up, and so on. The G4s don't have the same bells and whistles as the iLouds, but they make up for it by sounding better.
Headphones
Beyerdynamic DT 990 PROs (250 ohms)
You can grab them off of Amazon here.
Beyerdynamic's DT 990 PROs, similar to the iLouds, are right up there in terms of one of the best purchases I've made over the last few years. More information on them here.
While they're not number one, I've been truly impressed by how amazing these headphones are. They sound fantastic.
It's worth mentioning right off the bat that these are high ohm speakers, so they need either a headphone amplifier, a DAC, or they need to be used with an audio interface.
For that reason, Beyerdynamic's DT 990 PROs are not the best choice of headphones for those of us who want a pair of headphones that we can also take on the train.
They're simply not created with such users in mind; they're meant for the home studio.
Either way, the amount of detail in these headphones is truly what makes them shine, in addition to their comfortability. I've noticed that many of the mixes I've created don't sound as good as I thought after using the DT 990's.
After listening to them with powered up headphones, little distortions in the mix, including crackles, or mid-range muddiness frequencies became all the more clear, essentially proving to me that the headphones do exactly what they're supposed to: highlight the imperfections in the mix.
Typically, I do the vast majority of the mixing process using studio monitors, either using my iLouds or the KRK RP5's and then finally switching over to the DT 990s to hear it one more time up close and personal.
I like to listen to the mixes across a number of different speaker systems, just to see how they sound, including even a pair of old iPod headphones because, ideally, you want your mixes to sound great across every type of speaker system available.
If I intend on using the Beyerdynamic 990s primarily for a few hours, I find they're fantastic in terms of their comfort. They have giant foam muffs that make them extraordinarily comfortable.
I would argue that you can listen for up to 3-4 hours without getting sore ears.
I'm happy that I picked up a pair, and you should too if you're serious about getting better mixes.
Audio Technica ATH-M50x
Check out the price on zZounds here.
While the Audio Technica ATH-M50x's aren't as good as Beyerdynamic's DT 990s PROs, they're more versatile, in the sense that you can bring them around with you if you want, whether that means in the gym or on the train.
You can read more about them at this link here.
They work great for studio monitoring, music production, recording, and audio engineering.
With all that said, they are far more popular among casual consumers. One can easily see just how beloved the ATH-M50xs are when you go out in public and see what kind of headphones people are using.
It's not uncommon for them to be on the top of many "best-of" lists regarding studio headphones on the market.
They're certainly some of the most recommended, that much is for certain.
In terms of whether you should get the ATH-M50xs or the DT 990s PROs, it depends on how you want to use them. If you intend on only listening to them in the studio, then, without question, the DT 990s are the way to go.
However, if you want a pair of headphones that are a bit more casual and can also be used for the train, on the bus, and in the gym, then the ATH-M50xs are a better choice.
Etymotic Research ER3SE Studio Edition
Check out the price on Amazon here.
This is another one of those great purchases that I've made, easily in the top three.
What's so great about the ER3SE headphones is the fact that they're high-quality studio headphones but they're in earbud format, which is easily my favorite type of headphones.
I often use these headphones when I'm feeling lazy and I don't want to walk over to my shelf and grab some of my better headphones and also the accompanying DAC that the DT 990s need.
Moreover, as I've gotten more serious about mixing and recording music over the last few years, I find that the ER3SEs have grown on me a lot, and I often use them when I'm out and about as well, because not only are they high-quality reference headphones, but they're also noise-canceling.
What I commonly do, is I make my mixes, upload them to the phone, and then I listen to them while I'm walking around the city.
Obviously, the DT 990s need a DAC, so that makes them inefficient to carry around, moreover, the size of the DT 990s and the ATH-M50x make them impossible to put in my pocket.
This is where the Etymotic ER3SEs come into play.
Out of all my headphones, these are the ones that I use the most, because I use them to study other people's music, for casual listening, and I use them to study my own mixes to make sure everything is sounding great.
I couldn't recommend them enough.
Audio Technica ATH-M50xBT
Grab them off of zZounds at this link here
As I said in my article about the ATH-M50xBT from Audio Technica, these aren't the best headphones when it comes to music production and recording.
Bluetooth just isn't there yet in terms of quality, due to the technology itself, which typically compresses the audio and therefore loses fidelity. Put simply, Bluetooth headphones aren't as quality and detailed as regular wired headphones.
Not only that but if you're using them for producing, you'll probably get some latency between the MIDI keyboard and the monitors themselves.
However, with all that being said, the ATH-M50xBT are great because they have the ability to also use a wired connection.
And that's why I've recommended them. You can use them as your casual listening headphones for when you're in the gym, on the train, etc, but also use them in the studio with the actual cable.
Microphones
Shure SM58
Check the price here on Amazon.
Without question, the most commonly recommended microphone on the market is the Shure SM58.
It's a multi-purpose dynamic microphone, that's great for not only recording, but also for live performances, speeches, and also for its supreme durability. Read more about it here.
The Shure SM58 has the reputation of easily being the most durable microphone ever created because it can handle a beating.
With all things considered, the Shure SM58 is better thought of as a multi-purpose microphone, rather than as the best microphone for recording and music producing.
Regardless, the Shure SM58 is a must-have for any music producer or music, because if you're serious about your career or your hobby, there will come a point when you need such an all-purpose microphone for performances.
Shure SM48
Check the price here on Amazon.
The SM48 is eerily similar to the Shure SM58. I wrote more on the comparison between the two microphones in this article.
In fact, some people have argued that it's not that much different from the SM58, and it might even be better to use the SM48 than the SM58.
I wouldn't go that far, but the Shure SM48 is a fantastic option for those of us who are on a budget and don't want to spend the full amount to get the almost the same value.
A good way to describe the Shure SM48 is that it's the most value for the price, in comparison to the Shure SM58, which is only a bit better.
Either way, the Shure SM48 is for you if you want the same design, durability, and quality of the Shure SM58, but you don't want to spend the same money.
Again, this microphone, like the Shure SM58, is a multi-purpose microphone that's better for performances rather than recording.
Shure SM57
Similar to the Shure SM58 and SM7b, the SM57 is an industry-standard at this point. And like the SM58, it has a lot of people who don't like it or who think there are better mics, but the thing about the SM57 is that it sounds good and you won't go wrong with it (I got it off of Amazon).
This is the main reason why I bought it when I wanted to start micing my amp for recording in my DAW. I just wanted something reliable and something that would work great, and that's what this mic is. It's also sturdy, well-built, and it looks pretty sleek and cool.
Audio Technica AT2035 Condenser Microphone 
Check the price on Amazon here.
The AT2035 is where we start to get more serious in terms of recording sounds that are of higher quality.
For instance, if you want a fantastic acoustic guitar recording, the AT2035 is a wonderful microphone for picking up on all of those delicacies and transients that fill out the mix and make it sound great.
This is another one of those must-have microphones for producers that are very serious about music and recording.
Not only is it fantastic for guitars and other instruments, but it performs exceptionally well for vocals, much greater than any of the ones I mentioned above.
However, remember that the AT2035 is a condenser microphone, so it needs phantom power from an audio interface. It's also a lot more delicate.
Put simply, the AT2035 can't be dropped dozens upon dozens of times like the Shure microphones. It's not meant for performances that much. It's meant more for recordings.
Audio Technica AT2021 Condenser Mic
When I first bought the AT2021 (off of Amazon), I was honestly quite surprised by how small and tiny it was, but it doesn't disappoint when using it for what I bought it for: acoustic guitar recordings. As I stated in my acoustic guitar recording guide, the AT2021 sounds great for acoustic instruments but it isn't the best for speaking because it's quite bright.
I prefer a bright tone for the acoustic, so the AT2021 is great for me, but if you're looking for a darker condenser mic, you should probably go for something else. The AT2021 is good for other instruments though as well, including drums, overheads, and a variety of acoustic instruments.
MXL R144 Ribbon Microphone
You can grab it off Amazon here.
The MXL R144 is more of a novelty, in the sense that most people aren't using ribbon microphones anymore unless you need to record brass or woodwind instruments like a flute.
It's also great if you need a much darker and warmer tone.
Either way, the MXL R144 microphone is a great way to get your hands on a ribbon microphone without spending a fortune.
In case you don't know, ribbon microphones aren't cheap, and their price is mostly a consequence of the way they're constructed, which includes a tiny ribbon on the inside of the microphone, in addition to their almost entirely metal body.
While the MXL R144 is a very sturdy, metal, well-constructed microphone, it's not a product that you can drop a bunch of times, or even once, for that matter.
This particular microphone comes with a lot of great accessories, including a solid microphone stand, a sturdy hard-plastic case, and also the cables.
Arguably the best aspect of purchasing the MXL R144 is the fact that it's an inexpensive ribbon microphone, which is extremely rare, in addition to the amount of great gear and accessories that come in the box.
Put simply, if you're in the market for a ribbon microphone and you don't want to spend a lot of money on one, you won't do better than the MXL R144.
Read a more comprehensive article on it here.
Samson Q2U Microphone
The Samson Q2U is definitely the microphone that I use the most, and the reason for that is that it's incredibly simple to set up.
All you need to do is plug it directly into your computer, and it works just great from there.
I use it primarily for my YouTube videos because it doesn't need an audio interface.
Many people have compared it to some of the other much more expensive USB microphones out there, arguing that it has the same value but a lower price.
The greatest features of the Samson Q2U are its multi-capabilities, including the fact it can be used as either a USB microphone or connected via XLR.
Due to its convenience and quality, the Samson Q2U is definitely right up there in terms of one of my favorite purchases over the last few years. It makes recording my YouTube videos a lot easier.
You can read a lot more about it here.
MIDI Keyboards and Drum Pads
Acorn Masterkey 49
There are definitely better options out there when it comes to purchasing a MIDI keyboard, but you'll have to pay handsomely, that much is for certain.
The primary reason why I recommend the Acorn Masterkey-49 (on Amazon) is the fact it's a 49-key keyboard that doesn't cost that much money.
Typically, if you want a 49-key keyboard, you'll have to pay a bit more than what the Acorn Masterkey costs.
I've had the Acorn Masterkey 49 for a few years now, and it has continued to last and serve my needs as a producer without question.
Its greatest downfall is the fact that it's made out of a less-than-ideal plastic, and also the keys, which aren't the best on the market.
However, it's a fantastic budget option for those of us who don't want to spend a ton of money on a keyboard. I haven't had any issues with it yet.
It also comes with a decent amount of features, including a pitch-bend, a modulation wheel, 1 fader, 4 knobs, 2 buttons for changing the octaves, and also an editing function.
I would definitely recommend getting the Acorn Masterkey 49 for music producers who are just starting out on their journey and aren't sure if they want to spend a lot of money yet.
You can read a lot more about it here.
Arturia KeyLab 88 MKII
The Arturia KeyLab 88 MKII (on zZounds) is considered to be one of – if not the – best MIDI keyboard on the market right now, and it was voted as the #1 keyboard back in 2019 by Music Radar who is probably one of the biggest names in gear.
One of the more important things to mention right off the bat about this keyboard is the fact that it's quite large. If you're working with a fairly small table or desk, then it would be a much wiser move to go for the KeyLab 49 instead of the 88.
Unfortunately, the KeyLab 88 isn't a device that I own at the moment (although, it is on my list), but I have played one before and it's easy to understand why it's critically acclaimed. Put simply, it's a beautifully designed keyboard and it feels like a real piano.
If you think like me, one of the more important things about any piece of gear is how it actually feels while you're playing it. This is the primary reason I love my ESP Eclipse II, for example, even though I know that my PRS SE Custom 24 is better at getting softer and jazzier tones. It's important to note that the KeyLab is not a piano, by the way, it's a MIDI controller.
Akai MPD 226
You can grab it off of Amazon at this link here.
The MPD226 from AKAI is a great little assignable drum-pad that doesn't cost too much money.
It's fantastic for those of us who love finger-drumming and want a drum-pad that's customizable, high-quality and packed with a decent amount of options and features.
I already did an entire article about this drum pad, so that's definitely worth checking out.
AKAI is great at creating products that are attractive to the consumer because many of their products are extremely cool.
They do this by making each piece of equipment very nice to look at, typically coming in the colors black or red.
Moreover, the MPD226 has 16 different pads, with the potential for four banks in each one, and thus, 64 possible sounds, in addition to a bunch of different pre-sets for various DAWs, including Logic Pro X, Cubase, Reason, Pro Tools, and more.
The changing LED lights are incredible as well.
It comes with 4 faders, 4 knobs, Full Level (which increases the velocity to the maximum), Time Division, Note Repeat, and the ability to adjust the gain or sensitivity of the pads.
On the bottom of the unit, there are Transport buttons including Play, Stop, and Record.
It's also quite easy to set up as well. When I first started using it, I just changed one of the presets at the top-center of the unit, and it immediately began responding to Garageband.
Audio Interfaces
Focusrite Scarlett 2i2
The Scarlett 2i2 (on Amazon) is another one of those products that are commonly recommended to people by music producers online, and that's because it's a fairly high-quality entry-level audio interface that does the job it's supposed to.
I'm always harping on the build quality of Focusrite's products, which are commonly wrapped in an aluminum housing that protects it from daily wear-and-tear.
All of the knobs, faders, and buttons are lit up, and they're extremely sturdy. They don't come off as cheap at all; everything is solid and put firmly in place. This is arguably the best feature of the Scarlett 2i2 and other Focusrite products. They're simply well-made, kind of like the Shure SM58 and Shure SM48.
It has two inputs, a headphone jack, instrument, and line-level switch, a monitoring button to increase the volume, gain controls, and of course, the ability to use a 1/4 jack like what a guitar uses and also an XLR cable. The newest generation also employs the Air function, which is meant to imitate an old school preamp from Focusrite.
I've written all about this audio interface in my definitive guide to audio interfaces.
iRig HD 2
The iRig HD 2 on zZounds is the go-to audio interface for me because I'm always using it to play the guitar. It's incredibly small and it sits on the desk nicely without taking up much room.
The greatest drawback of the iRig HD 2, like other products from IK Multimedia, is the fact it's made out of a finicky plastic, but other than that, their products are always at the top of the line in terms of innovation and function.
The iRig HD 2 has the 1/4″ jack for bass guitars and guitars, and that's it. It's meant primarily as an audio interface for bass and guitar players, and that's what it does the best.
It comes with an LED light to let you know if the signal is too hot or too low, a volume and gain knob, and also an FX and Thru switch, which you can use depending on your set-up.
I wrote all about it here in my article on the iRig HD 2. I think it's probably one of the best options for guitar players, for sure.
iRig Pro I/O Duo
The iRig Pro I/O Duo from Amazon is like the iRig HD 2, except, it can be used with microphones and other instruments that need an XLR connection.
The construction and build quality are a little bit better, and it's slightly bigger, but the main differences between these two products from IK Multimedia are the functions, although, the duo has one more input.
In other words, the iRig Pro I/O duo is meant for the guitar/bass player who also wants to record vocals on occasion but also likes to go out on the road a lot. Additionally, this device is perfect if you want to take your iPhone and microphone into the closet to record vocals (this is what I do).
On account of its compact size, the iRig Pro I/O duo is easy to take with you wherever you go, and this is really the defining feature of the products from IK Multimedia, especially the iLoud Micro Monitors, the iRig Pro I/O Duo, and the iRig HD 2.
Their quality and sound are comparable to other devices, except, you can take them on the road. IK Multimedia has clearly recognized that the future is mobile in terms of music production gear.
Universal Audio's Apollo Twin Duo MKII
I can't say that I have personal experience with Universal Audio's audio interfaces but I've heard great things from people who've used them. I heard Glenn Fricker (a popular gear/recording YouTuber) say that guitarists will spend $3000 on their guitar but will only drop $120 on an audio interface and then wonder why they don't sound that great.
That guitarist is definitely me because an audio interface is something I normally don't like to spend more than $200 on. It totally makes sense, however, that getting a professional and extremely high-quality soundcard/audio interface would probably do more for your sound than anything else.
I know the Apollo Twin Duo from Amazon is on my Christmas list and if you're anything like me it should probably be on yours as well. Having a $3000 guitar is obviously a lot sexier but the device that actually turns analog into digital information is probably more important (more on the technology of audio interfaces in my guide).
Musical Instruments
PRS SE Custom 24
The PRS SE Custom 24 from zZounds, essentially, is the most amount of value you can get for your money when it comes to purchasing a great guitar for a relatively cheap price.
If you look online at other articles, people will often recommend the Fender Stratocaster, the Gibson Les Paul, and the Fender Telecaster, but for the average producer who just wants a great sounding guitar, the PRS SE Custom 24 is a better option, at least in terms of bang for your buck.
What I like about the PRS SE Custom 24 is that it has the Fender Strat sound, in addition to the tremolo system and 24 frets. The main reason why I bought it is the fact that it has 24 frets, that way I could play – or at least try to play – Wes Hauch's solo on "Mile Zero" from the band, Periphery.
Either way, I would say that if you get this guitar, you won't need to purchase a new one ever again, assuming you're a regular producer who just wants a great instrument to record quick guitar parts. You can read all about the PRS SE Custom 24 in this article here.
ESP LTD EC-1000
I've had my ESP Eclipse for over ten years now after getting it from ZZounds and I really love this guitar. It sounds great distorted, clean, and it's very easy to play because of the jumbo frets on it. Whenever I get sick of my PRS SE Custom 24 (which I also love), I pick up my ESP. Actually, I give both of these guitars a fair amount of love and playing time if I'm being totally honest.
ESP is known primarily for being a brand for metal players and that makes sense when you see the design of their instruments, however, I love the way my Eclipse sounds over the neck pick-up with flat-wound strings and no distortion. It sounds great <3
Software and Plug-Ins
Melodyne 5
Grab it off their website here
Melodyne is one of the most popular audio editing tools on the market, especially for music producers, and it's easy to see why.
While I haven't tried the newest version, Melodyne 5, I've used Melodyne 4 in the past and it's fantastic.
Perhaps the greatest feature of Melodyne is the fact that you can make changes to your music, including the pitch, in such a way where it retains its natural human quality.
I won't touch on every feature of Melodyne here, but the number of things you can do it with it, make it an incredible purchase if you're in the business of music production.
One of the more impressive features that I noticed about it is the way that you can edit polyphonic sounds, for instance, the notes of a chord.
If you've recorded an acoustic guitar playing chords, you can actually go into the audio file and adjust each note individually if you need to. It's really quite amazing.
Moreover, you can even adjust the amount of vibrato within a singer's voice, down to the minute detail.
It's definitely worth checking out.
You can either grab the essential version, assistant, editor, or the studio. I would recommend getting the assistant version because that's what offers the most amount of value for the price.
BlueCat Audio's Axe Pack (Axiom, Destructor, and Hot Tuna)
Ever since I got Blue Cat Audio's Axe Pack from Plugin Boutique I've been straight up obsessed with it. For the guitarist community, it's in vogue to talk badly about amplifier simulators and modellers which is really just silly. Products like this allow for people without a lot of space or money to create great-sounding music without bothering their neighbours.
In my apartment for example, I have a half-stack mic'd up with a Shure SM57 but when I don't feel like entertaining people on my floor, I almost exclusively use Blue Cat Audio amplifier simulators. Another great feature of the Destructor (a distortion processor) and Axiom (the amp modeler) is that you get a ton of presets to try out.
I'm not really the type of guitar player that loves to tinker and adjust knobs. I just like to dial in a preset and then start playing and the presets on this thing sound great right out of the box which is perfect for me. I couldn't recommend the Axiom, Destructor, and Hot Tuna enough.
And that's another thing worth mentioning by the way. The Hot Tuna is super handy when you want to tune up your guitar without having to use a headstock tuner or grab one from the shelf. If you're anything like me, you always forget to tune before you sit down with the guitar, so the Hot Tuna is great (it's also chromatic).
Fab Filter's Mastering Suite (Pro-Q 3, Pro-C 2, Pro-L 2, Pro MB)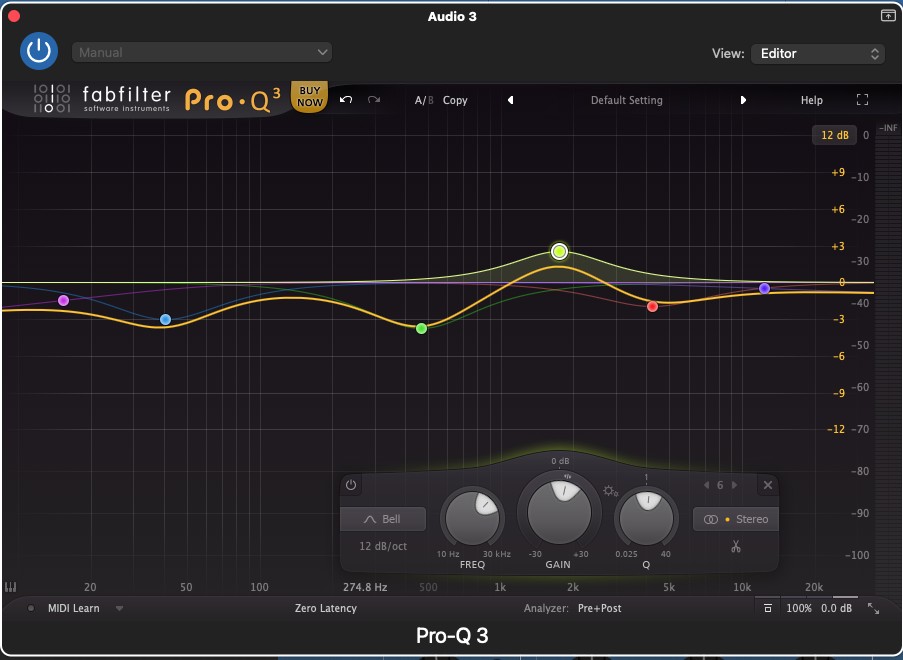 Fab Filter's Pro-Q 3 EQ is probably the most popular EQ plugin on the market and it totally makes sense why people are always talking about it after you've tried it. The moment you crack it open, its quality is obvious. Just the way that everything moves around on the screen and the way the interface looks – it screams "top-notch."
The Pro-Q EQ's selling point though is not only its interface but the fact you can solo certain frequencies to see how they sound on their own. This really takes the mystery out of EQ because you can isolate whatever frequency band you want. It usually goes for a great price on Plugin Boutique but you can also access it with a free trial too if you wanted.
Guitar Pro 7.5
This is another one of those essential purchases that I've made over the last couple years that I couldn't recommend enough (for guitar players). Once I purchased Guitar Pro 7.5 for desktop, I knew I had to have the mobile version as well.
I'm not even sure what to say about it other than the fact that if you're a guitar player and you don't own Guitar Pro, then you're missing out – plain and simple. It makes learning new songs and practicing exercises just so much easier, and the fact that you can also use it on your phone makes it even better. If you're a guitarist, just do yourself a favor and get Guitar Pro from Plugin Fox.
Komplete 13 from Native Instruments
Native Instruments has one of the best reputations in the game when it comes to things like VSTs and sample libraries. You really can't go wrong if you've purchased a library of instruments and sounds from them and Komplete 13 is no different.
As we all know, there really is no limit to the amount of gear that you could buy, but Komplete 13 is really all you need if I'm being completely honest, at least when it comes to VSTs and sounds.
It's not hard to get those creative juices flowing when the instruments you're using are as good as what comes with Komplete 13. Do yourself a favor and get Komplete Start from my other article if you need a little more convincing.
Initial Audio's 808 Studio II
At one point in time, Garageband didn't have much in terms of 808s and bass but that has changed. After their last update, we got new bass synths and 808 instruments but even though that's now the case, the 808 Studio II synth from Initial Audio is still an essential VST in my opinion.
This is my 808 instrument of choice for Garageband because of its many great-sounding presets and also the in-built sampler. I've stated before in my sampling guide that Garageband's sampler isn't the best for 808s but the 808 Studio II makes up for that. It's not terribly expensive either so that's a bonus.
Books And Learning Material
JamPlay
Out of the guitar learning platforms, I would say this one is my favorite. What attracted me to JamPlay was the inclusion of the former Daath guitarist, Emil Werstler, whose work I've been a fan of for almost a decade. JamPlay's interface is super cool and I also love the way the lessons are filmed.
Rather than just having one camera from one angle, the neck of the guitar can be seen from a number of different angles that way you really know what's going on. In addition to the tools that come with it like a chord finder and metronome, their customer support is top-notch as well.
Guitar Tricks
Get it (for free) from their site.
Guitar Tricks has been around for decades and it's definitely a good way to learn the ropes of playing the guitar, although, there are good lessons on there for more advanced players. Truthfully, you can always learn something and the free trial isn't going to cost you anything, so give it a shot.
Singorama
Singorama is probably one of the best – and certainly the most popular – ways of learning how to sing and it's easy to understand why. There are a lot of really great lessons, exercises, and key principles in this program that make it worthwhile.
With that said, however, nothing is going to beat a real-life vocal coach, so keep that in mind. I would say that the best thing to do if you want to learn how to sing is to use Singorama to gain confidence in yourself if you're shy, and then move onto an in-person trainer.
Piano For All
Grab Piano For All from this link here.
Of course, every music producer knows that the piano, or the keyboard, is the instrument of choice, because we all use the MIDI Keyboard. We use it for everything, including when we need to make instruments that aren't even related to the piano, like drum beats, guitars, and flutes.
For that reason, I think at least learning how to play the piano at a beginner level is a great way to improve your musical abilities. PianoForAll is just that.
It's a fantastic bottom-up way of teaching the piano that aims to get you started on the piano right away, without getting bogged down on boring music theory.
It also teaches you how to read music in a way that's intuitive and simple. PianoForAll touches on a number of music genres as well, that way you can incorporate other styles in your music.
Audio Engineering 101 From Timothy Dittmar
This is a great book that walks you through the basics of audio engineering.
If you've ever been confused by some of the more basic terms, such as attenuation, or parallel compression, or even just the rudimentary gear on the market, Audio Engineering 101 explains everything in a simple way.
I've actually read this book more than once at this point because I've found it exceptionally helpful for those of us who aren't educated in this field.
Put simply, this is the book that you want to get if you're new to audio engineering and music production.
In Audio Engineering 101, Tim Dittmar touches on the foundation of music production and engineering, including the explanation of sound, EQ, frequencies, people skills, mixing consoles, dynamics processors, signal flow, employment in the business, and a FAQ section with professionals.
The Mixing Engineer's Handbook by Bobby Owsinski
This is another great audio engineering book that's a bit more advanced than the Audio Engineering 101 book from Tim Dittmar.
I've also read this book a number of times and enjoyed it a lot.
In this handbook, he touches on a number of the most common practices among mixing engineers and also features interviews with some of the more prolific engineers.
My favorite aspect of this book was its applicability and practicality.
It's not bogged down with theoretical discussions, but rather, how to actually go about using different techniques to increase the quality of your mixes.
For instance, in one section, Bobby touches on how to go about using EQ, including a step-by-step process, as well as useful theories and concepts to keep in mind.
He does the same thing with compression and other dynamics processors.
Reach Tim Dittmar's book first, and then read this one afterward.
Mark Sarnecki's 'The Complete Elementary Music Rudiments' + Answer Book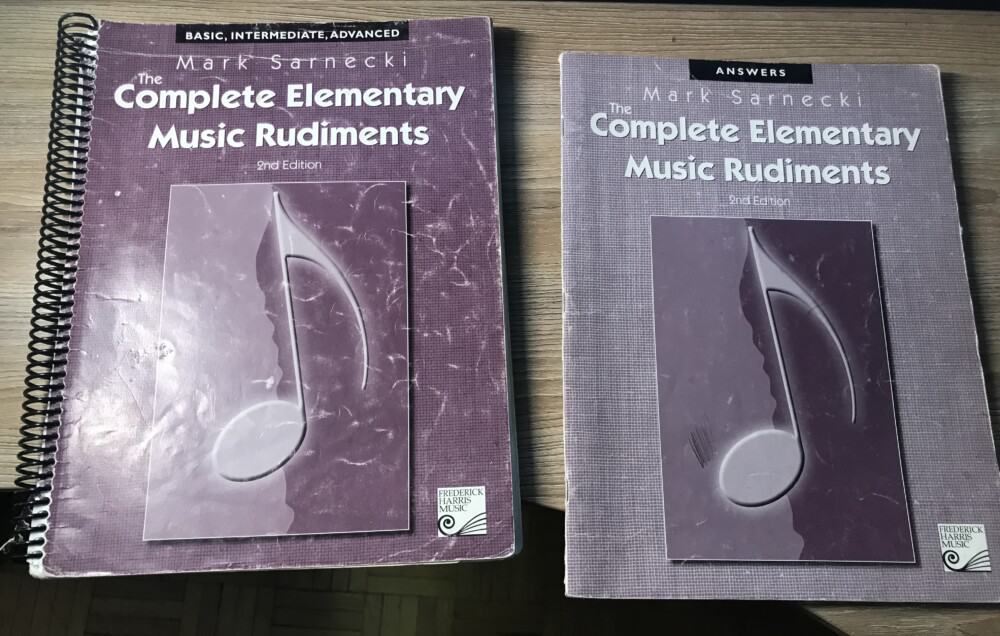 Mark Sarnecki's book, The Complete Elementary Music Rudiments in addition to the accompanying Answer book was perhaps the most important purchase I've ever made in terms of music theory.
The book walks you through the basics of music theory, and really, from it, you come out of it a lot more knowledgeable. This isn't just a book, however, it has actual exercises to ensure you can actually apply the knowledge. I really enjoyed this book and I've gone through it a number of times.
It's worth mentioning that you should understand basic music theory before getting this book. I recommend going through the lessons on the website Music Theory before buying it because you'll need a foundational understanding of some of the simpler concepts.
In my personal opinion, this is all the music theory you need to know to make good music and understand the fundamentals. Obviously, you should always continue learning, but the material in this book will cover the most foundational aspects of music theory and it will demystify much of the process.
Computers, iPhones, and iPads
iPhone Pro Max 11
Check the price on Amazon here
iPhones and iPads are no joke at this point.
Their power and utility are only increasing as the years go by, making it a better option all of the time for making music on the go.
Not only is the iPhone Pro Max 11 a fantastic phone for its camera, which is arguably one of its greatest features, but using Garageband on it is great and fun.
GarageBand has been on iOS for years, but on account of the limitations of the hardware of the phone, it's not always a great option. This will likely change in the future, however.
As I've written in other articles about the importance of choosing the right device, you want to make sure that the phone you buy has the most storage space, memory, and power, otherwise, you'll be burdened by crashing and other problems.
Check out my article on the iPhone Pro Max 11 here.
iPad Pro 11
Check out the price on Amazon here
The iPad is a great way of producing music in 2020 and in the years going forward.
From what I understand, the latest edition of the iPad Pro is even more powerful than some of the laptops out there right now.
GarageBand, specifically, is improving a lot more on the iPad as well.
The iPad is great for a number of reasons, including its light-weight, sleek, compact design, in addition to the way you can use it as a drum pad, guitar, and MIDI keyboard.
In other words, depending on how you're holding the iPad in your hand, you can actually change the screen so it looks like a giant keyboard or a guitar, or even a drum pad.
It's an all-in-one device suited to producing music on the road.
There are a lot of music producers out there who believe that portability is the future.
In other words, people will move away from the standard studio set-up and bedroom producer-type lab as the years go on.
While it might be the case for casual music producers, most of us will always prefer having a more powerful machine as well as all of our equipment right there with us.
However, as I mentioned above, the latest iPads are creeping up on the older MacBook Pros in terms of power, which means that they're less likely to crash when using power-hungry software.
Put simply, I think that while iPads are becoming a much better option for music producers, especially for those among us who are always on the road, a home studio still reigns supreme, but at some point in the future, I'll definitely be getting my own iPad for when I'm away from my set-up.
iMac
Grab one on Amazon at this link here
Like I said in the sub-sections above, iPads and iPhones and other compact devices are becoming a better option for music producers all of the time, but nothing will beat a big, powerful, computer like a new iMac with optimal specifications.
It makes your workflow so much better, plug-ins work faster, and not only that, but it's near all of your gear.
More importantly, as your needs get more sophisticated, purchasing massive plug-ins with their libraries, many of which are 100s of GBs, becomes impossible with just an iPad or a MacBook Pro.
At some point, if you want to pick up a fantastic VST with a huge library, you'll need a bigger, more powerful computer to handle it.
Music production is unique in the sense that it typically takes a lot of power in one single-core, because of the way in which much of the work is focused in one core.
This is in contrast to video editing and video games, which commonly use a number of cores at the same time, essentially splitting the activity among all of the computer's components at the same time.
If you're in the market for a computer, I recommend you read my article about music production and computers. I run through why it's essential to have a powerful computer for music production.
2019 MacBook Pro 16," 1TB and 16GB
When purchasing the right MacBook Pro for music production, similar to other devices, more is always better.
By that, I mean that it's best to buy the one with tons of storage, RAM, in addition to a solid-state hard drive and the Intel UHD Graphics 630 Card.
I believe the best model out right now has around 1 TB of storage and 16GB of RAM like this one which you can find on Amazon.
Don't make the mistake that I made when I bought a MacBook Pro, and cheap out. I've been paying for that error ever since.
I'm using a 2017 MacBook Pro right now and it only holds around 120GB of storage, and I find that it's just barely powerful enough to do what I need it to.
With all that said, I'm glad I'm still using a MacBook Pro because it's a nice little computer for making beats, and more importantly, it's fairly small and compact.
You can read more about it at this link here
Miscellaneous Products
Seagate Backup Plus 1TB
Check out the price here on Amazon
While it might seem like a superfluous product to own, an external hard drive is essential for music producers for a number of key reasons.
For one, you need an external hard drive to hold some of your much older files that are no longer needed. This has the effect of keeping your computer clean, fast, and optimized for working.
I bought the Seagate Backup Plus 1TB around 3-4 years ago and it hasn't caused me any problems since then. It's been incredibly useful for me for the reasons mentioned above.
Not only do I use it for my old music files, but I also use it for YouTube videos, photos, and important documents that don't need to sit on my computer's main hard drive.
As I mentioned above, an external hard drive is useful for keeping your computer fast because having a lot of files on it slows it down.
I've found it especially useful in the case of YouTube videos, which I make on a regular basis. Each YouTube video is around 1GB, which is a fairly large file.
USB to Firewire Cable
Find the price here on Amazon.
A USB to Firewire cable is needed for many types of equipment, including audio interfaces, drum pads, and MIDI keyboards.
However, I find that most product purchases include one of these cables in the box, so you should be ok regardless of what gear you buy.
With that said, it seems like a lot of people are actually without one of these cables because many buy them on Amazon linked from my website.
Either way, it's not a bad idea to have a couple of these laying around, because they are necessary for most equipment that music producers need.
As the years go by, you'll surely have at least 4-5 of them, because of the reason I mentioned above.
Right-Angled Guitar Jack
This cable is fantastic. If I had to go back in time, I would only buy right-angled guitar cables, because they make playing the guitar while sitting down a lot easier.
When you use a standard guitar cable, I find that it's nuisance to sit down on a couch with the instrument plugged in, because of the way it pokes into the furniture. This also wears the cable down slowly over time.
The right-angled guitar jack is specially made for guitarists such as myself who almost exclusively play while sitting down.
This is my go-to-cable that I use now all the time, and I almost never reach for my other ones, unless it's for plugging into the output of a guitar pedal or some other extraneous gear.
Sioti Camera Mount
This is another one of those great pieces of equipment that don't cost a fortune but are useful for so many different things.
For instance, I use it for creating guitar-play-along videos, beat-making videos, and it also performs other weird functions like holding my Laptop cable in place on my desk.
There's simply no limit to the amount of things you can use this for. And I use it for almost everything. I can attach my Nikon D7000 to it, or I can use my iPhone.
It cost me very little money and it's certainly been valuable, so I recommend getting one.
Fiio e10k DAC (Headphone Amp)
Put simply, this is the headphone amplifier that the Beyerdynamic DT 990 Pro needs. You can use other ones if you want, but the Fiio e10k is awesome because it's made out of steel and it's well-constructed and sturdy.
There are a number of features on it, including a volume knob, a gain knob, as well as the bass boost option.
What I like to do, is I use the bass-boost option intermittently on the DAC to see how the mix would send on headphones or a speaker system with boosted low-end frequencies.
K&M Low-Level Mic Stand
When I went to buy an SM57 from the music store, I also realized that I needed to get a stand. The shop salesman recommended I grab a much cheaper stand but I knew better. I wound up buying the more expensive stand that he said was more commonly used by professional musicians and I'm glad I went with this one because it's top-notch.
One of the best ways to tell that a stand is high quality – other than the fact that it's made out of steel – is how long and sturdy the bottom three legs are. If the legs are made of steel and they're quite long, you know it's not going to get knocked over easily.
More importantly, I find that the stand's mechanics are incredibly intuitive and they actually work. By that, I mean you can move the mic around in pretty much anyway that you need to. It's an excellent stand and I'm very glad I didn't cheap out.