When it comes to producing music on the road, there is only so much one person can carry.
For that reason, I would argue that it's best to either have a very small speaker system, or high-quality headphones like the Audio Technica ATH-M50x or Beyerdynamic's DT 990 PROs.
By the way, I'm always on the lookout for deals in the music industry (there's usually something if you know where to look). Right now, there are 2 deals that stick out to me.
If you're anything like me, however, you probably find that using headphones tends to make everything feel a little too claustrophobic.
When it comes to purchasing a compact speaker system to take on the road, I couldn't recommend IK Multimedia's iLoud Micro Monitors from Amazon enough.
The iLoud Micro Monitors from IK Multimedia are the best portable speakers for music production on the market right now due to their size and overall quality and price.
Thus far, similar to PianoForAll which I believe is the best way to learn piano for music production, the iLoud Micro Monitors have received stellar reviews right across the board from everyone who has either used them in the past or is still using them today.
I've owned them for a little while now, and I fully understand the positive reviews. Not only are they very travel-friendly, but they sound fantastic and they're easy to set up.
You don't even need to look at the instruction manual to get them working, whether through the Bluetooth connection or via RCA cables.
The speakers are 3″ and they're incredibly compact and sleek.
Due to their small-size and subtle design, it's easy to pack these speakers into a bag and take them on the road with you, and, as I mentioned already, they also have the option for Bluetooth if the situation calls for it.
Admittedly, I'm not a big fan of BlueTooth speakers for music production (with the exception of the Audio Technica ATH-M50xBT from Amazon) due to latency issues which I've discussed elsewhere on the site and also the loss in fidelity, but the option is there.
The Bluetooth option is great if you want to hook them up quickly without plugging everything in, moreover, you can connect other devices to it as well. I find the Bluetooth connection comes in handy for when I want to sit somewhere else in my room with my laptop (by the way, this is the MacBook Pro I recommend from Amazon).
I just disconnect the RCA cables and then set them up via Bluetooth, and then I can move around if I want.
IK Multimedia iLoud Micro Monitors – 3″ Studio Monitors
Despite their relatively small size, the IK Multimedia iLoud Micro Monitors have a pretty good reputation for creating stellar audio. Some people might argue that the iLoud Micro Monitors aren't meant to be the primary speakers in your home studio, but I honestly feel they're good enough to serve that purpose.
With that said, they're not meant for hosting parties and playing super loud music 24/7. In other words, these are reference monitors; they're meant for music production, mixing, and recording.
IK Multimedia has said that these have a linear frequency response and a balanced audio sound with no boosts in any particular frequency range. Put simply, they don't color the sound of your mixes. They state that the iLoud Micro Monitors are easily the smallest monitors in the world, coming in at 180x135x90mm.
Additionally, they only weigh 3.74 pounds or 1.7kg. They're meant primarily for people working in a small room, or for those of us who are traveling and creating music on the go.
I think it's fair to say that if you're on the road, these are the speakers for you, due to their portability and small-size, which make them perfect for untreated rooms like a hotel room or another place that isn't set up for music production and recording. In the case that you want the slightly bigger and louder version of these speakers, IK Multimedia has the STM monitors on Amazon which will serve this purpose perfectly.
What Comes In The Box
Speakers
RCA Cables
Warranty
Instruction Manual
Product Manual from IK Multimedia
Power-bar for Charging
Detachable cable for the power-bar.
Speaker Cable (Connects from one to the other)
How They Sound
As audio engineers may know but beginners may not, studio monitors are meant to sound accurate, rather than good.
Put simply, if you've made music that doesn't actually sound that good, these speakers are going to highlight it, rather than mask the poor mixing, which is exactly what sound engineers all want.
These speakers are perfect for what they're supposed to do: offer an accurate sonic image of the music so we can make informed decisions in the mixing process.
In terms of soundstage, they're great at conveying what the music sounds like in stereo.
They're not so wide that it sounds like you're in a massive theater, but they're wide enough where there is some depth and feel to it.
The dynamic range of the speakers is very good. The loud, soft, and quiet parts of a song are all audible and easy-to-hear.
While they might not have the lowest lows, they're still capable of hitting much lower frequencies despite how small they are, which is really impressive considering their size.
They bottom out at 45Hz.
Another great thing about these speakers is that they sound fantastic for any of the other activities you need them for.
Whether you want to watch a movie on your laptop, or watch a YouTube video, they sound pretty amazing for both.
Bass
The bass is not "boxy" at all, which is a common feature of some of the other studio monitors on the market.
The bass is nice and controlled.
There is no "boominess," to them, but the bass is loud enough where most people will be shocked when they see how small your speaker system is.
Mid-Range
The mid-range, arguably the most important part, is clear and without any mud or obfuscation, to the point where you can listen for a long time and you won't become exhausted.
However, regardless of the brand of speaker monitors, ear fatigue is inevitable at some point, usually after 2-3 hours of listening. At that point, it's best to take a 30-minute break.
The detail of the mid-range on these speakers are worth mentionning because imperfections in the mix are really going to jump out at you, which is ultimately what you're after when choosing a pair of studio monitors.
The Highs
The high-range frequencies on these are solid, although, they're not the most detailed.
With that said, they're going to work just fine for higher frequencies, and you won't feel limited because there is enough detail to get everything done efficiently and with accuracy.
The highs are still clear, with the right amount of presence and without any undesirable hissing sounds or noises. For pretty much every possible task that you want, these speakers are going to perform at a high level.
Features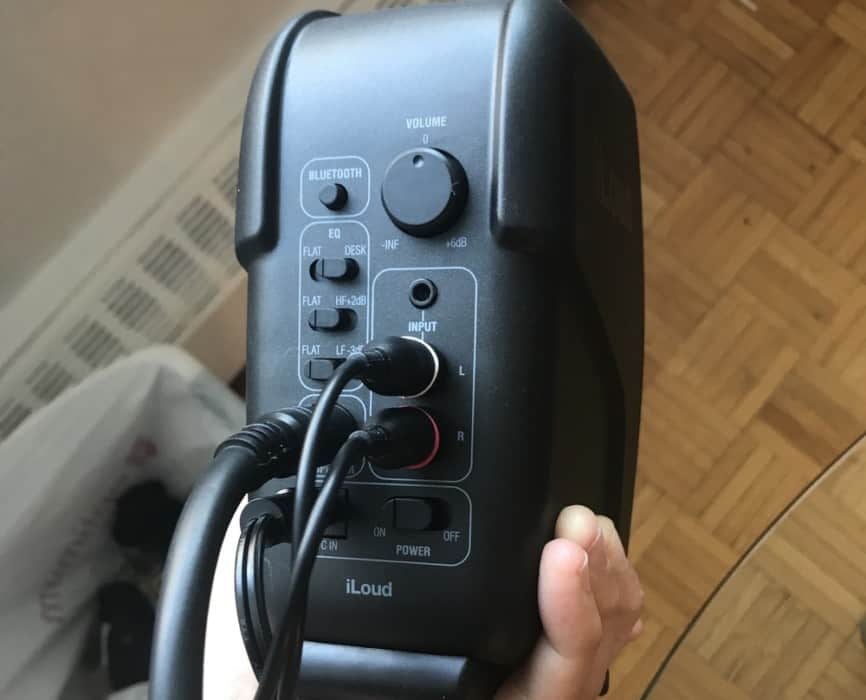 Bluetooth Capability
Volume Knob
EQ switch for Flat and Desk
Switch for +2dB High-Frequency Boost
Switch for -3dB Low-Frequency Decrease
On and off Switch
In-built Stand for Desk Placement
Can also sit flat.
Mic Stand Thread (in case you want to elevate them up on a stand)
One of the features I really like about the iLoud Micro Monitors is the fact they have a thread on the bottom of them for a speaker stand, which is actually fairly common on monitors including the Rokit speakers (my review), but I digress.
What the thread means, is that you can elevate the speakers by screwing them on to a stand, that way they don't have to sit on your desk if you don't want them too.
This looks like what you can see in the image below: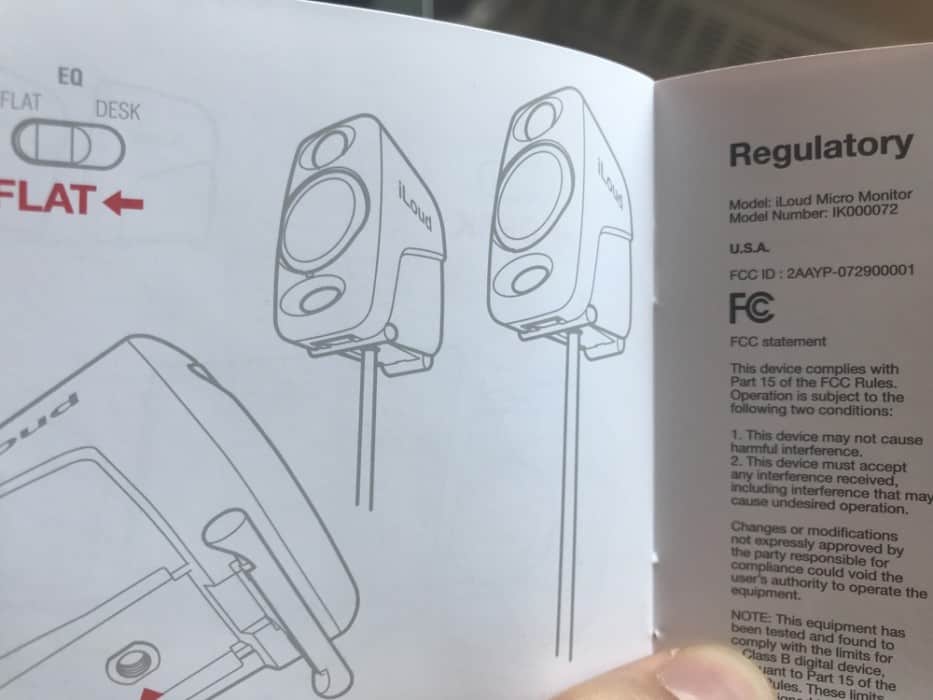 Depending on how you want them to sit, either elevated slightly or completely flat on your desk, there is an EQ switch that compensates for this change in positioning.
You can see what I'm talking about in the comparison image down below:
Design And Build
Interestingly, the iLoud Micro Monitors have the same look as some of the speakers that used to come with desktop computers around twenty years ago.
It's really worth emphasizing just how small and compact these are on account of their design and build.
While they're just 3″ like other studio monitors on the market, they've created them in such a way where they're much smaller and thinner than other studio monitors of a similar size and power.
If you really wanted too, you could easily carry these around in your hands because they're not heavy at all.
To give you a perspective on how small they are, check out the image below in which I've set them beside a soda-can.
Because of their size, the iLouds are using up way less space in your room and are pushing less air around as well.
Explained in another way, much larger speakers, like 8″ speakers, are taking up way more space in the room and are actually affecting the way that sound and air is moving around.
The iLouds, on the other hand, are doing this far less.
In summary, the structure of the speakers isn't affecting the natural sound quality of the room. They remove the room from the process.
Build Quality and Construction
The speakers and the grill are made out of hard plastic.
They're not made out of wood like other studio monitor cabinets, but you don't have to worry about these breaking or falling apart on you.
Similar to other IK Multimedia products, the build quality is probably the biggest fault, because it seems like they always construct almost everything out of hard plastic, or in some cases, even finicky plastic.
With that said, anything IK Multimedia makes tends to be more on the innovative side and the iLouds are no exception.
Considering their impeccably small-size, they're really quite incredible in terms of what they can do.
iLoud Micro Monitor Specifications
Both of these images are from IK Multimedia's website
Frequency Response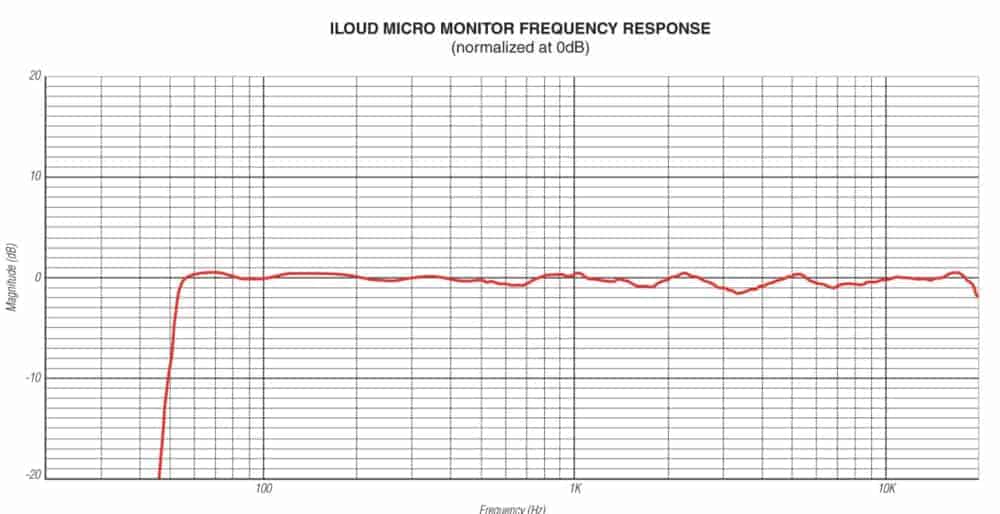 How To Set Up The iLoud Micro Monitors
Setting up the iLoud Micro Monitors is really quite straight-forward. It won't take you longer than five minutes.
Regardless, I did my best to show you how to connect everything, although, with all of the cables and wires the images tend to get a bit messy.
Here's what everything looks like without any of the cables. Angling the speakers like this will work best.
1) Set the Speakers on your Desk
2) Plug in the RCA Cables
It's really quite simple. You just match the colors with the left-and-right inputs. The one is white and the other is red.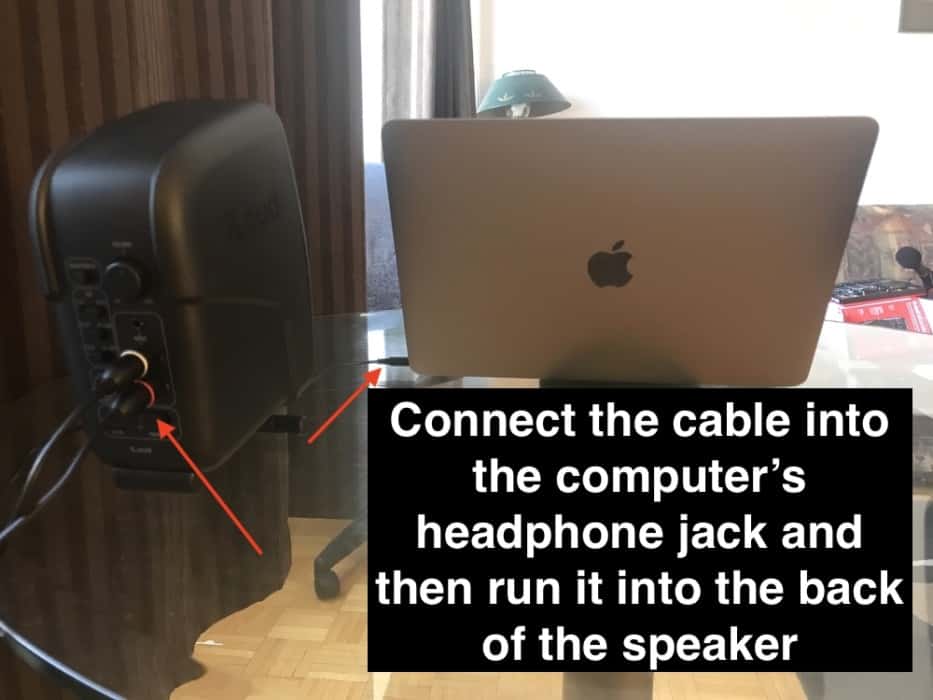 3) Connect the Two Speakers Using the Speaker Cable
You'll the speaker cable inputs on both of the units. It's not hard to find.
4) Connect the speakers to the Power Bar
The power bar has two components, the actual power bar itself and then the detachable cable that plugs into it.
The power bar only plugs into the one speaker and not the other.
It might seem like it's complicated from the images, but really it's not.
With everything said and done, the back of the home base speaker looks like what's shown in the image below: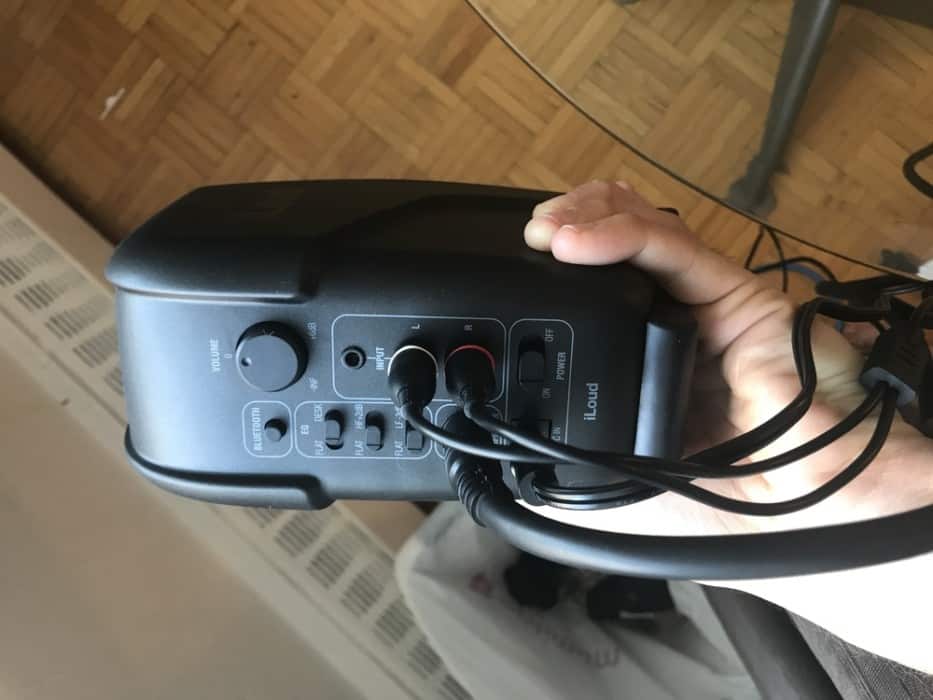 Bluetooth Setup
To set it up via Bluetooth, you just have to hit the Bluetooth button on the back of the unit which causes the LED light to flash blue like what's shown in the image below:
Then go into your computer's system preferences, select Bluetooth, and the iLouds will show up in the menu along with the "Connect" button.
YouTube Video Review
Conclusion
In conclusion, these are easily some of the best portable studio monitors on the market right now.
Truthfully, you could easily use them as your primary studio monitors if you wanted too.