Have you ever created a cool beat with a nice guitar riff, showed it to your friend, and they said, "that guitar doesn't sound very good to me?" In most cases, the way your friend phrases it might be much worse than that too because that was just a mild way of putting it.
While MIDI is an amazing tool that lets you create chart-ready songs at home, your DAW's stock instruments likely aren't cutting it. If your MIDI guitar sounds thin, flat, artificial, or just plain boring, I've rounded up a few of the most common ways to really improve them and make a difference.
To make MIDI guitar sound real
1) Use Premium VSTs
2) Use Articulations
3) Use Guitar Chords and Voicings
4) Quantize Sparingly
5) Buy a MIDI Guitar Controller
6) Learn to Play Guitar on a Keyboard
7) Use Effects
8) Double Track the Guitars
9) Analyze Real Guitar
10) Use a Guitar Amp Simulator
I've listed the tips above in the order of what I believe to be the most impactful and beneficial. And don't worry, if you're on a budget, there are several free methods you can use. I've got you covered whether you're a beginner who's just starting out or an experienced musician looking to add some realistic MIDI guitar sounds to your tracks.
By the way, I'm always on the lookout for deals in the music industry (there's usually something if you know where to look). Right now, there are 2 deals that stick out to me.
How To Drastically Improve The Sound Of Your MIDI Guitars
1) Use High-Quality Virtual Guitar Instruments
This is perhaps the single most important tip there is for making MIDI guitar sound real: use high-quality virtual guitar plugins. This doesn't necessarily mean paid – there are some great free options too.
That said, judging from my own personal experience, the best ones cost money or they come as part of a bundle like Native Instruments' Komplete 13 (on their site), which includes guitar VSTs and a whole lot more.
These virtual instruments use complex combinations of samples, computer synthesis, and effects to put playable guitars into your hands, and they sound amazing right off the bat.
Because of how massive the guitar market is, I've only included VSTs that my team and I are familiar with. I've also spent a good amount of time on this particular section because it really is the most important thing. You can't make terrible samples sound good – it's just the way it is. But I digress, here are some of the best guitar plugins.
Kontakt 6 (Many Guitar VSTs)
The first one may make you scratch your head in confusion. The thing about Kontakt 6 is that it's a sampler that many plugin makers use, so just by owning the full version of Kontakt, you'll have access to a pretty big collection of sample libraries and VSTs.
The nice thing about this too is that a purchase of Komplete 13 comes with both of the guitars mentioned here, Kontakt 6, and a huge list of other tools like Guitar Rig 6 which we'll talk about at the end. Anyway, let's talk about the first two that come to mind first: Session Guitarist: the Electric Vintage and Strummed Acoustic.
Native Instruments Session Guitarist: Electric Sunburst Deluxe and Strummed Acoustic
NI's pair of guitars here are massive sample libraries that come with all kinds of realistic sounds including arpeggios, riffs, chords, and more, spread across a wide variety of patterns.
The VST is best suited for the Komplete Kontrol keyboard, but it'll work great on other keyboards as well, so no worries there. What makes a VST like this special is the fact it has all of the nuances of the guitar built into it. You need those string scapes and vibrating sounds to actually sound like a guitar. Without them, it's just a synth.
The popularity of it is easy to see when you check the YouTube video demo. While this one is based on a Gibson Les Paul and a Martin Acoustic, you can also find Native Instruments libraries using a Telecaster. Both are known for their quality. The Strummed Acoustic is worth talking about on its own too (also their video here).
The "auto-chord" mode is what people like to talk about when mentioning the strummed acoustic. The 102 patterns that it comes with can be played with one finger.
DJANGO Gypsy Jazz Guitar from Impact Soundworks
It's the same story with this. Impact Soundworks' DJANGO Gypsy Jazz Guitar (on Plugin Fox) is a sample library playable via Kontakt 6. Once you've purchased Komplete 13 from the link I mentioned earlier, you can get this one shortly after.
What I find particularly impressive about this VST guitar is that it's really nailed the dynamic acoustic sound (check the demo here).
Spitfire Audio Ambient Guitars
I'm more familiar with Spitfire Audio LABS which I'll talk about in a moment, but this VST – another Kontakt instrument – has me interested due to my experiences thus far with Spitfire Audio (the demo here). I've liked almost everything they've ever done so I imagine you could do worse by getting this.
They designed it for scoring films, games, movies, and it has 50 GB of sounds including all kinds of articulations, controls, triggers, and presets. This instrument is for the type of guitar player who likes to make sounds with their guitar that don't sound like a guitar.
There are approximately 400 presets to choose from which is always a win for me. Some people hate on presets but I think they're really handy and they spur a lot of creativity.
Ample Guitar LP and TC (Les Paul, Stratocaster, Telecaster)
I think one of the smartest things Ample ever did was they released a few of their VSTs out onto the market that were high quality and completely free. The acoustic guitar and bass guitar – which I mentioned below – eventually are what led me down the path of buying these great VSTs.
From top to bottom, you have the Fender Telecaster, the Fender Stratocaster, and the Gibson Les Paul (all on Thomann), and each one comes with its own batch of cool presets.
The Gibson, for instance, has the Jazz 120, the 57 Delight, Lead 800, Metal Treble, and the Metal Double, alongside cabs and mics. All of these guitars are capable of inputting Guitar Pro files which is incredibly cool as well. Back to the topic of free VSTs, here's the acoustic guitar I was just talking about.
The Best Free MIDI Guitar Plugins:
Ample Guitar M Lite by Ample Sound
The Ample Guitar M II Lite is another great one from Plugin Boutique – modeled after the Martin D-41, this guitar is easily the best free acoustic VST you can get. Once you start paying money, it's easy to surpass, but this thing is great for the cost – which is nothing.
If you pay for the premium one, it's updated, looks cooler, has more features, and works a lot better so that's something to consider. Similar to the Ample P-Bass, it comes with all the realistic articulations like slurs (also called hammer-ons, and pull-offs) and palm-mutes too. Can't forget that It also has the ability to import Guitar Pro 5 Tabs like the others.
Spitfire Audio LABS (Peel Guitar, Moon Guitar, Bass Guitar, Mandolin, Guitar Harmonics)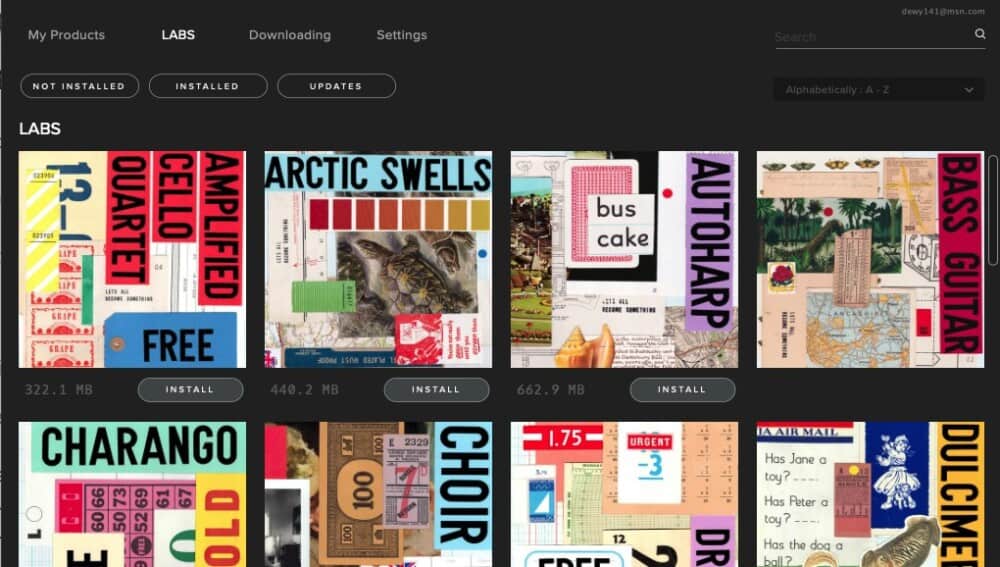 Another Spitfire plugin (download it here), LABS comes with a range of free instruments, which includes electric guitars, bass guitar, guitar harmonics, moon guitar, peel guitar, and many other innovative sound libraries. They're really easy to use and fun to play around with.
I've talked about Spitfire Audio so many times in other articles, including in my guide to guitar plugins, the best (free and premium) plugins for GarageBand, as well as my article on the best free piano sounds. They're a great company that produces great products.
Ample P-Bass II Lite
Alongside the Ample Acoustic that I mentioned earlier comes the Ample Bass P Lite II. I hated this thing at first because I wasn't able to make it work – until I was (and made a video on it here).
The Ample Bass P Lite II is the best free bass guitar VST I've ever come across, and it, just like the others, has the ability to input Guitar Pro files. Moreover, it has all the articulation features like slapping, popping, pick scrapes, slurs, etc. A super cool plugin that you can get from Plugin Boutique.
Vinyl Guitar by Echo Sound Works
Here's a cool one that I actually didn't know about until my writer told me about it. In addition to the great sounds you can get from this thing, I think their awesome demo video really did a great job of showing off what's so great about it.
With a download from their site, you get a decent classical guitar sound and control the level of fret noise, string buzz, pick noise, reverb, attack, and release, as well as the dynamics.
Shreddage 3 Stratus by Impact Soundworks
Another sick Kontakt sample library that you can get from Plugin Fox. Despite its cheesy name, the Shreddage 3 from Stratus sounds amazing and it includes all of the articulations that you need to make your MIDI guitar sound real and authentic. Some of these include sustain, palm mutes, or even chokes – just to name a few.
Give the free version a shot but again, you need the Kontakt Player. Their demo video, albeit a bit slow, does a great job of showing off how awesome this guitar sounds. There are just too many options for a great guitar VST, to be honest. There's no reason to be dealing with a low-quality MIDI guitar sound.
Classic.Gtr Lite
This is another free guitar plugin, this time it's classical, and it works for Windows and Mac. You can download it in the VST, VST3, and AU formats from KVR Audio. The samples come with all kinds of effects and it sounds alright for what it costs.
The free version features attack, decay, sustain, release, 7 presets, Low Pass/High Pass filter, and LFO Modulation. This isn't my favorite guitar VST, but it's free, and it's comparable (or possibly even better) than the DSK guitars I formerly recommend all of the time (check the demo here).
Moving on from free VSTs though, what happens if you just want to make your MIDI guitar sound a lot better and you don't want to get a new VST? I have some tips that I can share with you that'll help. (You can also use these for your new guitars too).
2) Use Articulations Like Velocity, Palm Mutes, Bends, Slides, Slurs, and String Scraping
To add the human feel of a real guitar performance, apply articulations (playing accents and other guitar-specific sounds) to your MIDI guitar parts. These are the little nuances that give a performance character and make it sound more realistic.
Guitarists use a lot of little techniques and articulations, both for rhythm and lead guitar, that add excitement and increase the feel of the performance. For example, you might add the following techniques. Before we begin though, understand that you'll need a good VST to actually do many of these techniques.
A) Palm Mutes
This is especially needed for playing distorted rock or metal riffs, but you can apply it to just about any lick or riff. This is one reason why you'll probably need a better VST plugin because they'll actually have this feature.
B) Bends
Most guitarists love to bend. This is a bit different from the pitch bend of a piano and adds flavor to any lick. Use the pitch bend on your MIDI keyboard to pull this off.
C) Slides/Hammer-ons/Pull-offs
Guitarists often use these techniques when moving across notes, as it lends an interesting feel to the melody. You may have to draw these into the piano roll to make it happen.
D) String Scraping
Sometimes guitar players make string scraping noises by muting strings and picking them for a more funky feel. This is something that the Ample Bass/Guitar series does a great job of.
E) Fret Noise
The scratching sound that fingers make on the strings when they move between notes or chords. The most premium guitar VSTs have this capability, for sure.
F) Pick Attack
A picked attack to the start of the sound. The pick attack is one of the most crucial aspects of a rhythm guitar. A dirt-cheap/free VST probably won't have this sound.
G) Guitar Harmonics
An overtone effect when playing certain notes without touching the frets. These are often used during solos and melodies. There are a few other things you could do as well to really improve the sound of your MIDI guitars, and they involve velocity, compression, and the pitch bend wheel for vibrato.
H) Lower (and Randomize) the Velocity on Non-Accented Notes
I) Change the Attack and Release Dynamics of the Guitar to Match Your Playing Style
J) Use the Pitch Bend Wheel on your MIDI Keyboard to Create Pitch Curves in your DAW to Emulate Vibrato
You can use vibrato anywhere, but most people will use it on long notes, slides, and in bends as well. Nearly every genre utilizes bends, although, modern progressive metal doesn't seem to use it as much.
The key is to add just enough of these realistic touches to your MIDI guitar performance to make it sound realistic, without going overboard.
Many of these depend on the guitar software you're using, which is why it's important to use high-quality plugins that have all the features. You might have to convert the MIDI to audio if your DAW or guitar plugin doesn't allow adding articulations to MIDI. Each DAW and plugin work a bit differently.
3) Use Real Guitar Chords and Voicings
If you want to create realistic guitar chords on your MIDI keyboard or in the piano roll of your DAW, you can't just enter notes like you would on a piano. Well, you can, but I think it's helpful to keep some things in mind. These tips will help you build more guitar-like chords and melodies.
A) Strum Your Chords
Don't play the notes of a chord at exactly the same time. Strumming a chord means you need to pick the notes one after the other, like an actual guitarist. To simulate this in a DAW, place the notes of the chord with a few milliseconds gaps in between so that it sounds more like an actual strum.
That said, I'd say you're probably better off just getting a VST that has the strumming capability built right into it because trying to draw a strumming pattern with MIDI is going to be a nightmare unless you use a MIDI guitar which I'll talk about a bit later.
B) Don't Play More Than Six Notes at a Time
Playing several notes and forming complex chords on a piano is enticing, but it's not the same on a guitar because you have ten fingers on the piano, but really only 5 on the guitar (unless you're using a capo or the tapping technique).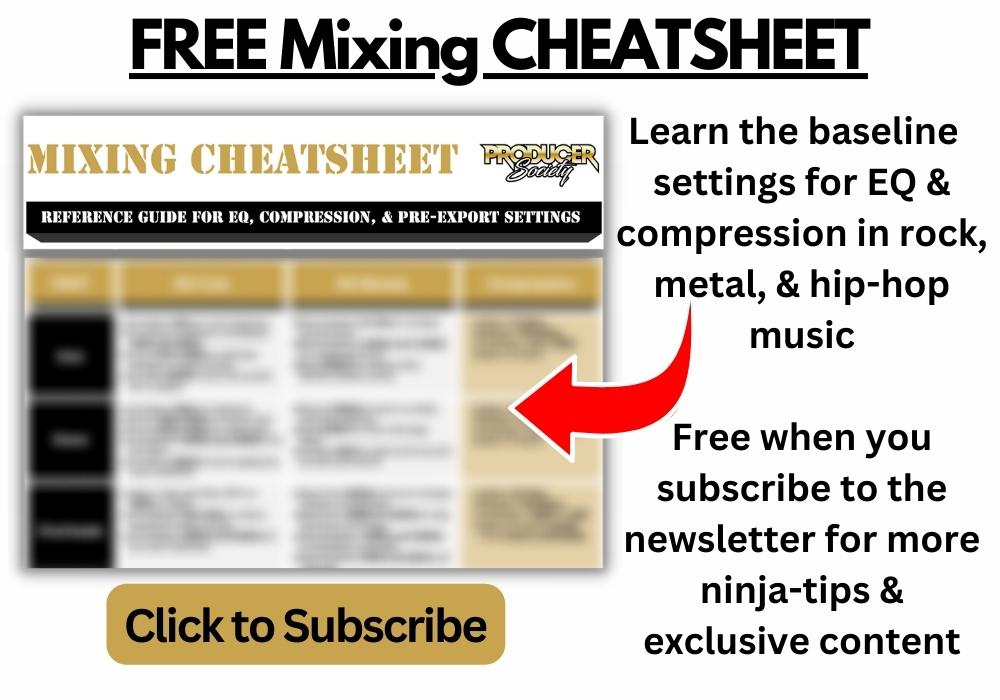 Consider the technical possibilities and impossibilities of playing certain chords/notes on a guitar. Since most guitars are six-stringed, strumming 3 to 6 notes at once will sound more realistic.
But if you're trying to emulate a 12-string guitar or another variant, then just keep in mind how the chords are voiced and use those accordingly. If you're in the market for a 12-string guitar, Ample sound also has one which you can find on Thomann.
C) Play Guitar Chords Wide
Guitar chords are played with a lot of space between the notes. Explained another way, the B on the 2nd string, for example, is a perfect 5th up from the open 6-string E (7 frets up). It's about 3 whole tones and 1 semi-tone up the fretboard.
This is possible on the piano too. In fact, it's not a problem at all – but once you see what a full E Minor chord on the guitar looks like on the piano, with all of the other notes, it gives you a better idea of just how wide the chord is, in terms of pitch.
A chord like E minor (Em) spans 6 notes over two octaves, but it doesn't use all of the notes in between. Moreover, notice how there are three 'E' notes in the first position E Minor chord. This again points to learning the chord voicings on a guitar and using those appropriately.
Space out the notes, so that you get a more authentic guitar chord.
Also, if the chord you're thinking of has 3 'B' notes, for example, emulate that in the piano roll by adding three different 'B' notes. Take this a step further and get the exact note, ie, (B2) from the guitar and input it into the piano roll along with the others.
It's important to understand that, unlike the piano, the guitar will repeat the same notes albeit on a different string so this contributes to the way it sounds.
Repeating similar notes but on different strings is a good thing to keep in mind when programming a guitar VST because it's much closer to the real thing. Sometimes, you may even play 2 notes at the exact same pitch but they're on different strings so the tonality is a little different.
D) Use Inversions
If you want to play a guitar chord in a different timbre, the easiest way is to use an inversion. An inversion is just a way of rearranging the order of the notes in a chord while retaining its original tonal center. Guitarists often use inversions, especially in jazz.
This will get you a much cooler and more unique sound and it'll also help diversify your music. In an interview with Pat Metheny on Rick Beato's channel, Pat explained how in jazz, playing a regular chord (non-inverted) was a really uncool thing to do. I didn't know that and found it kind of interesting so there's that.
E) Drop the Root Note
If you've got a guitar player and a bass player working together, and the lowest root note of the guitar enters the domain of the bass guitar notes, dropping that lowest guitar note frees up space for the bass to co-exist on the EQ spectrum.
That allows the guitar to shine through and prevents it from sounding muddy – I've got more EQ tips in my guide, by the way. In other words, if you were to play the bottom E on the 12th fret of the 6th string, which is part of the Em7 riff that Frusciante plays in the "Higher Ground" tab above, you'll muddy up the E on the bass.
F) Use Guitar Pro Files and Load Them Into A VST
Another thing you could do is actually just use Guitar Pro (I got mine from Plugin Fox), and then write your compositions in there and then input them into a VST. From what I understand, every Ample VST is capable of doing this.
The P Ample Bass Lite II can only take GP5 files, but I imagine the updated version of it can handle all of them. You would have to figure that out for yourself.
4) Quantize Sparingly
When you record a performance for your next track, you might feel confident that it sounds good on its own and is good to go. But when you start lining up other tracks alongside it, and you've got the drums and bass ready, you'll often find that things don't sound synchronized.
And this is where quantization comes in. Quantizing MIDI is really easy, and much more accurate than quantizing audio. That said, it's more important to play along to a click-track or a metronome that way when you add other instruments later, you're in for a nasty surprise. Let's talk a bit more about quantization.
How to Quantize MIDI?
When we enter notes manually on the piano roll grid, it's simple to sync them to the tempo. But notes recorded through the MIDI keyboard will likely be a bit here and there, as our playing varies.
Quantizing can align notes to the grid that are a bit too far out. This brings all the notes closer to the grid and makes them sound tight and perfectly in time. Every DAW has a slightly different way to quantize, but it's usually quite simple (here's my guide on how to do it in GarageBand).
But then again, perfection might sound flat and soulless. That's why you have two options to (re)breathe life into your music, and you can combine them for maximal effect. Some people call them "humanizing" and "groove quantizing".
If your music's beat is steady, add some swing by humanizing it. That's why every quantizing tool comes with a function where you can choose more than just 1/4 and 1/8th notes. This effect allows you to shake up note placements just enough to make them sound less rigid and more alive, like a real player.
Use a quantization rate of only 5-10% even if you drew the notes using a mouse, as it'll add a fun feel to it. If your original take has a pleasant groove that doesn't tightly fit the tempo grid, you can groove quantize the other tracks to your performance.
First, your DAW's quantize tool will make a map or template of your groove. Then you can apply this template to all other tracks and instruments. Again, this process depends on your DAW, but it's not too hard to do, especially in Logic Pro X.
Don't Mess Up a Good Phrase
What if you have a sparkling solo performance that you don't want to ruin with all the above methods?
A) Start by considering your recordings in musical phrases, rather than note by note.
If one note is off, its neighbors are probably off too. Sometimes you play too fast and then realize you're going too fast, so you slow down. Sometimes it's the other way around.
B) Then, grab that entire section, and nudge it halfway between too fast and too slow.
Just nudge them a bit to the right or the left until it sounds in its place. Even if one or two notes still don't sit quite right, you can still manually move them around. This way, you can keep the human feel of your performance while still being musically tight and coherent.
After all, it's about getting to a result that sounds realistic. It's not uncommon for me to apply quantization to a melody, but then undo it because I find it sounded better the way it was the first time.
5) Pick Up a Physical MIDI Guitar Controller
What if you're a guitarist who's always been daunted at the prospect of picking up the keyboard/piano because the skillsets vary so much? There's a solution for that – MIDI guitar controllers like the JamStik from Thomann.
Several companies have created great MIDI guitar controllers, including the Jamstik and a few others, but I primarily know of that one. The designs vary, but if you're already well-acquainted with MIDI then the learning curve to these instruments isn't too steep.
But what if you want to use your real guitar as a MIDI keyboard? You can actually do that too using MIDI Guitar 2 or MIDI Guitar 2 for GarageBand. In my experience, both of these work in several DAWs, even though the one says it's only good for GarageBand.
What this allows you to do is play and perform authentic guitar riffs, licks, and even solos, then record them as MIDI. You can then edit the MIDI however you like, and create real guitar tracks if you wanted.
For guitarists who want to get into the world of MIDI, they're a fantastic way to utilize a specific skillset without having to use a mouse or a keyboard. There are other ways to make MIDI too which I talked about in my how to make MIDI guide.
6) Learn to Play the Guitar on Your Keyboard
Many producers prefer using digital pianos or MIDI keyboards for any instruments they need in their music. So if you're a decent piano player, you can do it that way. But keep in mind that it takes an entirely different playing style.
While you're likely good at playing piano already, playing the guitar on a keyboard is quite tricky since the physical feel is very different. But you can still emulate guitar techniques to some extent. The two instruments are ultimately different, however, a video like this from Daniel Fisher and this one from Mini-Masterclass will certainly help.
As Dom Sigalas points out in the above video, you should choose high-quality sound sources to start with. So, it pays to use sample libraries and virtual instruments that come with a lot of extra functionality, as I'll discuss later.
7) Mix the Guitar Track, Add Effects, and Pan Them
Guitars only sound good when they're mixed properly and have the right effects added to them; raw guitars are often too harsh or muddy and don't compliment other instruments without some work. And if they're not muddy, they tend to sound boring.
For this, you need to add a few important effects: Compression, Equalizer (EQ), Reverb, and Delay – and really that's the brunt of it, in my honest opinion. You can also add some other mixing effects if you know how to, but these 4 are almost always necessary.
Compression evens the guitar sound, so it sounds smoother and won't jump up or down in volume across the song. But don't compress them too much, or your solos and lead melodies might not pop in the mix. Another issue is you may run into overcompression after having used compression on other instruments (it has a multiplicative effect).
A good EQ like the Fab Filter Pro-Q EQ (on Plugin Boutique) is the most important effect – you want to remove any unwanted frequencies and just slightly boost the ones that complement the mix. My guide is a good place to start, but this YouTube video might help you as well.
As I said in my guide on how to make guitars sound better, one of the most common reasons your guitar still sounds lifeless – other than using low-quality VSTs – is that it's not placed within a realistic-sounding space.
Reverb and delay both add more presence and space to the guitar track, making it sound wider and thick. This is particularly important for making it sit well in a stereo field, but don't go overboard with either, or the guitar might shadow other instruments.
8) Double Track (or Even Quad Track) Your Guitars
This might seem obvious to many producers, but beginners often make the mistake of not double-tracking their guitars, and even when they do they often don't implement proper stereo differences (in other words, they pan them in the center).
For true double-tracking, guitarists usually record the same piece twice, sometimes with two different guitars. But if you're using a MIDI track, you have to be a bit more creative.
Some VSTs do include an automatic double-tracking feature, but if you don't have that option, then just duplicate your existing guitar track. Now, make some slight changes to the MIDI track, like putting it slightly off-time (we're talking milliseconds here), or using a different guitar plugin.
Also, change some of the settings on the guitar amp and the effects just slightly. This gives the guitars more width, and it makes them sit well in the stereo space because they won't be exact copies of each other.
That said, the method above I just mentioned is merely a lazy-man's replacement for the real thing. Actually re-recording the guitar again will probably sound a lot better like what Signals Sound Music pointed out in his video demonstration.
9) Listen to a Real Guitar
When creating realistic MIDI guitar sounds, it's critical to pay attention to how real guitars sound when played alone and when played with other instruments. To make a guitar track sound real, you need to know what 'real' sounds like.
Listen to how the guitar sets the atmosphere and elicits different feelings. Notice how the guitar interacts with other instruments and hear how each note is played.
Be aware of how the chords are voiced so that your MIDI guitar can emulate realistic sounds. Pay attention to how the guitar is mixed and what purpose it serves in different genres. In metal, it might be the primary focus, whereas, in pop music, you may only hear the strumming of the strings.
The best way to do this is to get real multi-tracks that are publicly available online, such as this Cambridge Music repository. By listening to the well-produced guitar stems solo and within a mix, you can train your ears and then shape your own guitar tracks in their image.
Tip: Guitar tones often sound overly harsh or a bit 'boomy' when played solo, but they usually sit well in the mix. So remember to mix your guitar tone with the rest of the tracks, not just solo. Use reference tracks (with my guide) to know the sound you want to achieve.
Repeat this multiple times with different songs and genres throughout your project to fine-tune your ears. Once you have an idea of how things commonly sound, you'll recognize and create realistic-sounding MIDI guitars in no time.
10) Use a Guitar Amp Simulator Instead
If you're sick of using MIDI guitar VSTs, one day you'll move on and decide to use a real guitar instead with an amplifier simulator.
A good amp sim will add realistic overtones and make the MIDI guitar sound more like an actual guitar. What's more, most amp VST plugins include presets and extra effects that will improve this authentic feel.
There are a lot of different guitar amp VSTs out there, and they all have their specific sound. But if you're looking for a guitar amp plugin with built-in effects, here are my personal favorites:
Guitar Rig 6 Pro by Native Instruments
Guitar Rig 6 Pro (from Native Instruments' website) is the coolest amp simulator with the best effects-laden presets I've seen. If you're the kind of person who loves cool effects, this is the plugin for you. One day, I'll have to do a video demonstration because I really like this plugin.
Blue Cat Audio's Axiom and Destructor
Simply put, the Axiom is awesome because it sounds good. It's really great too for its gentle-looking interface, presets, and more importantly, its versatility. This thing has been around for a long time now, but it's still a top contender in my opinion.
I'd recommend just getting the Axe Pack from Plugin Boutique because then you'll get the Destructor, Axiom, Late Replies, Patchwork, and the AcouFiend. My guide to guitar plugins dives a little more into it.
Neural DSP
Neural DSP is pretty famous now because of its great marketing campaign. A lot of people like it, but I've actually never used it because I couldn't get it to work with GarageBand. I could probably give it a shot now that I have FL Studio but I haven't gotten around to it.
That said, a lot of people hail this amp sim because of its versatility. If you want to try it, they have a 14-day free trial. It works as stand-alone software or as a plugin.
There are many, many, many other guitar amplifier simulators and VSTs because, as I've said before, the market is massive. If you don't like one, you can always get another.
Important Things to Note About MIDI Guitars
1) Explore Newer Guitar VSTs
Always use a high-quality VST guitar plugin. If you feel like your current virtual guitar isn't cutting it, just explore more options online – both free and premium.
Newer plugins use newer technology so they (usually) sound better. Some sample libraries are created based on thousands of samples put together, so they mimic real guitarists very well.
2) Arrange and Think Like a Guitarist
Remember, getting your MIDI track to sound like a real guitar lies in its arrangement. If you arrange like a pianist, you won't get an authentic guitar sound. You just have to put yourself in the shoes of a guitarist, think of the construction and limitation of the instrument, and then compose like a guitar player.
Gear Mentioned
1) Native Instruments' Komplete 13 (on their site)
2) Impact Soundworks' DJANGO Gypsy Jazz Guitar (on Plugin Fox)
3) Ample TC, the Ample SC, and the Ample LP (all on Thomann)
5) Fab Filter Pro-Q EQ (on Plugin Boutique)
6) Guitar Rig 6 Pro (from Native Instruments' website)