There are many differences between Garageband macOS and the iOS version, and while one might assume that one is superior to the other – specifically macOS over iOS – the truth is that both versions have their strengths and weaknesses.
My personal preference is macOS, however, there are many who prefer to use Garageband iOS for a couple of reasons which we'll explore in more detail down below. Personally, I enjoy the much larger interface and the ability to install more advanced plugins and VSTs, but I digress. On the whole, there are really only a few key differences.
The main difference between Garageband iOS and macOS is that the iOS version is used on iPads and iPhones whereas macOS Garageband is for laptops and desktop computers. The macOS version also has more nuanced controls and capabilities, compared to the simpler and more user-friendly iOS Garageband.
Although, as time passes, it seems like the iOS version is slowly creeping up on Garageband macOS. For example, I explain later in this article that Apple seems to be putting more resources into the iOS version which is probably a sign of what's to come in the future. It's definitely harder to argue now that macOS is better due to multiple updates and improvements to Garageband iOS. Either way, here's a list of some of the features of both, and where they differ.
By the way, I'm always on the lookout for deals in the music industry (there's usually something if you know where to look). Right now, there are 2 deals that stick out to me.
MacOS

iOS

Features

Notes

✔︎

X

Advanced Plugins Like Melodyne 5, Komplete 12, and Others
While Garageband iOS does have the ability to install third-party software in the form of AUv3, the ones that are available to macOS users are more premium, ie, Komplete 12, Melodyne 5, IA's 808 Studio II, etc.
✔︎
✔︎
Alchemy Synth
At one point in time, Garageband iOS' Alchemy Synth was actually quite a bit better than what the macOS version had, but that has changed.

✔︎

~

Automation
Garageband macOS has way more options for automation, including for processing, effects, etc. Garageband iOS is lacking when it comes to automating effects, although, there are some ways of getting around its limitations.

✔︎

X

Auto-Normalization Feature
This is a feature that levels out the volume of a track automatically supposedly at its limit before it's exported. Truthfully, it's not that useful but either way, macOS has it and iOS doesn't.

✔︎

~
Amp Designer
Garageband iOS does have an Amp Designer, but the one with Mac comes with more options for amps, microphone positioning, cabs, and the incredible bank of presets.

✔︎

X

Arrangement Markers
You can indicate which part of the song is a chorus, verse, interlude, introduction, or outro.

✔︎

~
AU Dynamics Processors
Garageband Mac has things like the AUMultiband Compressor, AUDynamicsProcessor, AUPeakLimiter, and other more visual processors.

iOS has some of these, but not as many, also, you can get plugins like these from the iOS App Store, but macOS has default versions that are pretty good.

X

✔︎

Beat Sequencer and Live Loops
Garageband iOS has a special Live Loops and Beat Sequencer setting that allows you to create songs very simply. This is more of a toy, however, than a digital audio workstation.
~

✔︎

Drummer Track
Both Garageband iOS and macOS have Drummer tracks, however, in recent updates, the iOS drummer has actually gotten more advanced including the option to choose from Acoustic Drums, the automated Drummer, the Beat Sequencer, as well as a Drummer Track that looks nearly identical to the one macOS has.

✔︎

X

Enable Flex (Quantization)
Enable Flex allows you to quantize notes in real-time, ie, recorded guitar parts and other instruments.

✔︎

✔︎

iCloud Functionality
You can use the iCloud for both devices, which means you can load a project from anywhere.

✔︎

X

Install Drivers
You can't install MIDI drivers and other drivers into Garageband iOS, which means not every device and MIDI keyboard will work with the iOS version.

✔︎

X

Keyboard Shortcuts
Garageband macOS, by virtue of actually having a keyboard, has keyboard shortcuts whereas iOS doesn't.

✔︎

X

Lessons Library
Garageband macOS comes with lessons for the guitar, piano, and more. There's also a lesson on chords and other basic music production.
~

✔︎

Lightning to USB Adaptor
Garageband iOS typically necessitates a lot more adaptors like the Thunderbolt to USB-Female, example.

✔︎

✔︎

Loops and Samples
Both DAWs use Loops and Samples, but there are more capabilities and variations in Garageband Mac. However, the App Store is continuing to add more loops and Sound Packs for iOS.

✔︎

X

Logic Remote
Garageband macOS can be controlled externally with the Logic Remote on iOS. You can't control iOS Garageband with another iPhone or iPad through Logic Remote.

✔︎

X

Master Track
You can set up all kinds of controls, including automation and effects, on the master track in Garageband macOS. It's also much easier to master songs using the macOS version.

✔︎

✔︎

Merge Tracks Feature
A cool feature in iOS where you can simply merge a bunch of tracks together quickly. There was a time where you couldn't do this in macOS, but you can now.

✔︎

X

Multiple-App Functionality
Whenever you exit out of Garageband iOS, it immediately stops running. This means you can't run Guitar Pro on your device and Garageband like the way you can in Garageband MacOS

✔︎

~
Musical Typing
Garageband Mac has the musical typing feature, but iOS doesn't. However, iOS does have the ability to turn the screen into a drum kit, a guitar, violins, bass, or a piano.

✔︎

✔︎

More Export Options
Garageband macOS and iOS can both export as WAV, .aif, mp3, and a few other mp3 formats.

✔︎

X

Numbered Faders
Garageband iOS doesn't come with 'dB' on the faders, which is odd, considering it seems like such an easy thing to put onto the software.

This is one of the reasons why Garageband Mac is better for things like mixing and mastering, although it doesn't have a mixing console like the way Logic Pro X does.

✔︎

~
Presets
Garageband Mac has a lot more options for presets for not only the Amp Designer, but also for the plug-ins, effects, and instruments.

✔︎

X

Maximum Plug-In Capability
iOS has a limited number of plug-ins per instrument track, usually 4 compared to 16 on macOS. Additionally, there are way more controls for the plug-ins in Garageband macOS, including for things like the Channel EQ.

✔︎

~
Piano Roll
Both Garageband versions have Piano Rolls and they're similar although macOS has faster ways of performing the same functions.

X

✔︎

Ring-Tone Creation
iOS Garageband has the ability to simply and easily make ringtones right in the interface.

X

✔︎

Smart Drums
User-friendly interface for making drums, including Acoustic Drums, Drummer, the Beat Sequencer, and a Drummer Track very similar to what can be found in macOS.

X

✔︎

Smart Guitar
User-friendly interface for making guitar sounds. On the iPad, the guitar is even more realistic.

X

✔︎

Smart Strings
User-friendly interface for strings. All of the smart instruments are better on iPad than they are on iOS.

X

✔︎

Smart Piano
User-friendly interface for piano (same as above).

✔︎

X

Score Editor
Garageband macOS has a score editor where you can turn MIDI notes into standard notation (sheet music for musicians).

X

✔︎

Sound Library Packs
Garageband iOS has a lot more updated sound packs which seem to come out every three months.

✔︎

X

Time Display
Garageband Mac clearly displays the time signature, what bar, the BPM, etc.

✔︎

X

Transposition Track
You can automate key changes in Garageband macOS.

✔︎

X

USB Compatibility
Garageband macOS can use almost anything that uses a USB cable.

✔︎

X

Unlimited Tracks
iOS has a maximum of 32 tracks, whereas you can use nearly as many as you want in macOS
Legend:
"✔︎" indicates the device has the feature
"X" indicates the device does not have the feature
"~" indicates the device has the feature but in an inferior format or with a special exception.
Features That MacOS Garageband Has and iOS Doesn't
1) Master Track
Garageband iOS doesn't come with a master track at all, so you can't load plug-ins, effects, processors, or volume automation on a master track, which is definitely a disadvantage. When you have a master track, you can control the processing of the entire project as a whole, which is very useful in the mixing stages. I use the master track before I export my project for mastering all of the time.
Essentially, it's a way to see what your track will sound like after having put the finishing touches on it, before actually doing it. The reason this matters is because it takes a good amount of time to export the track each time and test out more dynamics processors on it like the AUPeakLimiter, for example. With that said, you can still mix/master songs in iOS Garageband, it just won't be as efficient.
2) Time Display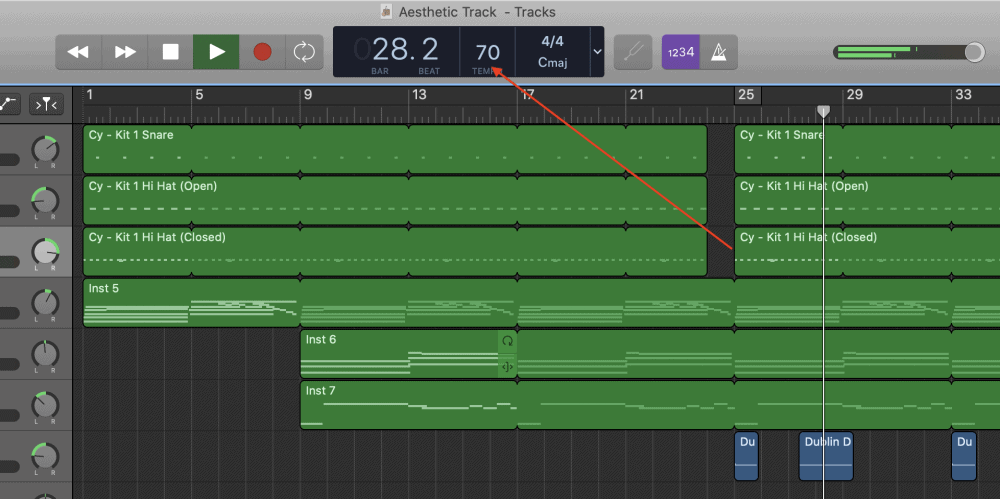 In Garageband Mac, there is a clear time display at the top-center of the interface. It can clearly tell you a number of things, including what key the song is in, the BPM, the number of bars, the beat, the time signature, and also whether your MIDI controller is working.
Additionally, Garageband Mac has the ability to switch between settings like "Beats and Time," and "Beats and Project." This is convenient if you want to know just how long your song is. In the era of super short songs, this is even more important.
3) USB Compatibility and the Ability to Install Drivers
Garageband Mac has the ability to install MIDI Drivers and other software in a way that Garageband iOS doesn't. For instance, if you need to use a third-party MIDI controller, drum pad, or some other device, you may have to install a separate driver so it actually works.
iOS doesn't come with this capability, so if you have a device that needs a software or a driver installed, iOS won't be able to support it. I once tried to get a Korg control surface to work with Garageband, but then I found out that you can just use your iPhone with the Logic Remote.
I talked about it more in my guide on how to make metal songs. To get keyboards to work in Garageband iOS, you need one of these Thunderbolt to USB adaptors (from Amazon). You can see what it looks like in the image shown above.
4) Auto-Normalization Control
Garageband iOS doesn't have the ability to export things auto-normalized. I already admitted in my article all about the auto-normalization feature that I almost never use it because I don't see the purpose of it. It's almost always better to determine your own volume levels when exporting projects for mixing, mastering, or if you want to send it to your friend.
I think maybe the purpose of the auto-normalization function is for people who want to export a project quickly and effectively without any problems. I know I always have it turned off though because I use the AUPeakLimiter to get the volume up.
5) Presets
Garageband macOS has awesome presets for nearly everything, including for effects like reverb, delay, chorus, and dynamics processors like the Channel EQ, compressors, limiters, and multipressors, etc. These presets provide a great jumping-off point for understanding how to use effects and dynamics processors.
The fact Garageband iOS doesn't have such an extensive library of presets is one of the biggest drawbacks. A lot of people like to talk badly about presets, but the fact of the matter is that many of them sound pretty good. Personally, I love them and think they're great, and as I just stated, they're a good way to get started.
6) Musical Typing
iOS doesn't have Musical typing, but as far as I'm concerned, there are way more options available for more user-friendly interfaces in iOS, like the Smart Drums, Guitar, Strings, Piano, and Bass. One of the nice things about using the macOS interface is that you don't invalidate other features by using an external MIDI keyboard like the KeyLab 49 from Arturia (one of the best keyboards that goes for a surprisingly good price on zZounds).
The same thing can't be said about the iOS version of Garageband. I previously explained in my article on connecting the MIDI controller to iOS that when you connect a keyboard to Garageband iOS, you make it so that you can't use things like the Smart Piano in the regular iPhone interface anymore. Although, it's a not a terribly big deal, it's just that you won't be able to use the in-built automatic chord function .
7) Plugins Like Antares Auto-Tune Pro, Komplete 13, or IA's 808 Studio II
The plugins are an advantage and a disadvantage simultaneously, depending on how you look at it. On the one hand, iOS plugins are far less expensive than the gear you can get for macOS, but they also aren't always as good.
You won't be able to get Native Instruments' Komplete 13 (one of the best deals on zZounds) on iOS Garageband in the same way that you would for iOS. And the same thing can be said for Antares Auto-Tune Pro (from Plugin Boutique) which is the best Auto-Tune you can use.
Like what I already said in my iOS 808 guide, iOS does have excellent sample packs but I prefer using Initial Audio's 808 Studio II from Plugin Boutique because it has a really cool interface, it sounds great, and the sampler is intuitive.
8) Larger Plug-in Limit
Garageband Mac has the ability to use a lot more plug-ins on software instruments and audio tracks as well. For example, you can have up to 16 plug-ins on each track, I believe, which means there are far more options for customization. Admittedly, there is no need for that many plug-ins on one track, but regardless, Mac has this option if you need it.
More On Shared Features Between MacOS Garageband and iOS
1) Automation
Perhaps one of the greatest advantages over Garageband iOS is that macOS Garageband has a lot more automation controls. In iOS Garageband, it is possible to use automation but only on the volume, and not on things like Channel EQ or effects. This can prove to be a nuisance, and it's ultimately what makes Garageband Mac a far better mixing tool.
Garageband Mac has the ability to automate compression, channel EQ, delay, reverb, and pretty much every other effect and plug-in that you can load in the plug-in menu of the smart controls, in fact, I have a whole guide showing how to do this. More importantly, I find it's just way easier to set up automation in Garageband macOS.
2) Drummer Tracks
This is more of a tricky one, because while there are some key differences between the Drummer Track in Garageband and the Drummer in iOS, which one you like ultimately depends on the user. For instance, iOS Garageband has a cool Acoustic Drum feature where you can actually see each part of the drum kit as if you're sitting at the kit.
Additionally, Garageband iOS comes with a Beat Sequencer which is a very useful feature, and the Smart Drummer works a bit differently as well, in the sense that it allows you to adjust the complexity and volume of each part of the kit in a different but more user-friendly way.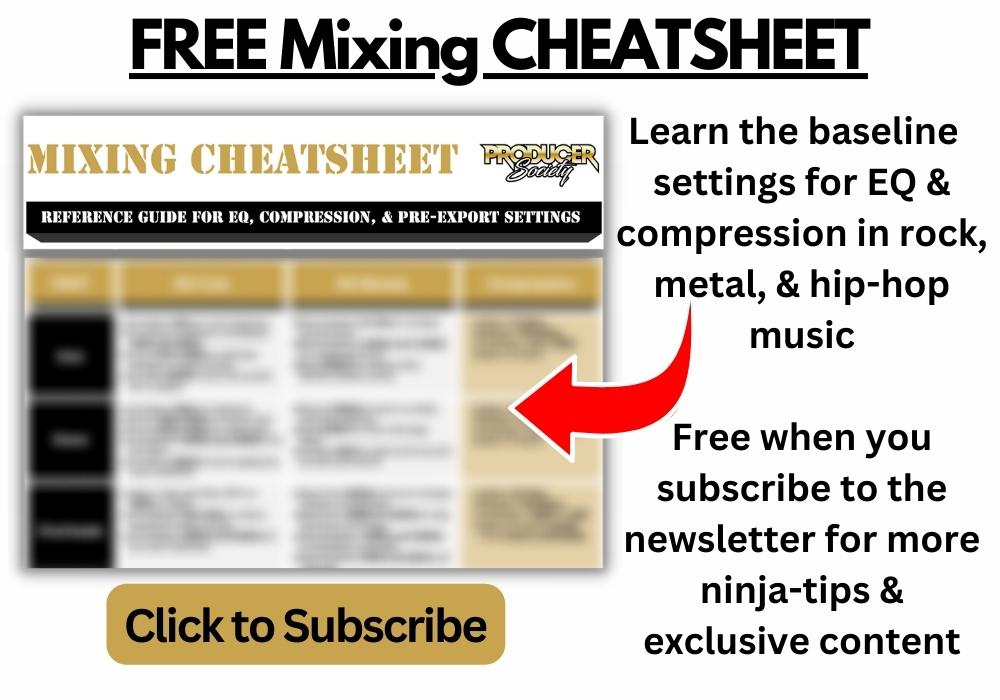 With that in mind, there are also way more options for drum kits, drummers, presets, etc, in Garageband Mac. For instance, there are individual drummers that come with more presets, like the Hard Rock drummer, who comes with around 9 different playing styles, however, I recently discovered that iOS Garageband has a drummer that looks just like what macOS has to offer.
You can see what it looks like in the top-left hand corner of the image above. Sure, there may be more stock options for macOS and the Drummer Track might be a little bit easier to use, but it's honestly hard to say that the macOS version is better considering the iPhone version has not one but 4 different interfaces you can use.
3) Amp Designer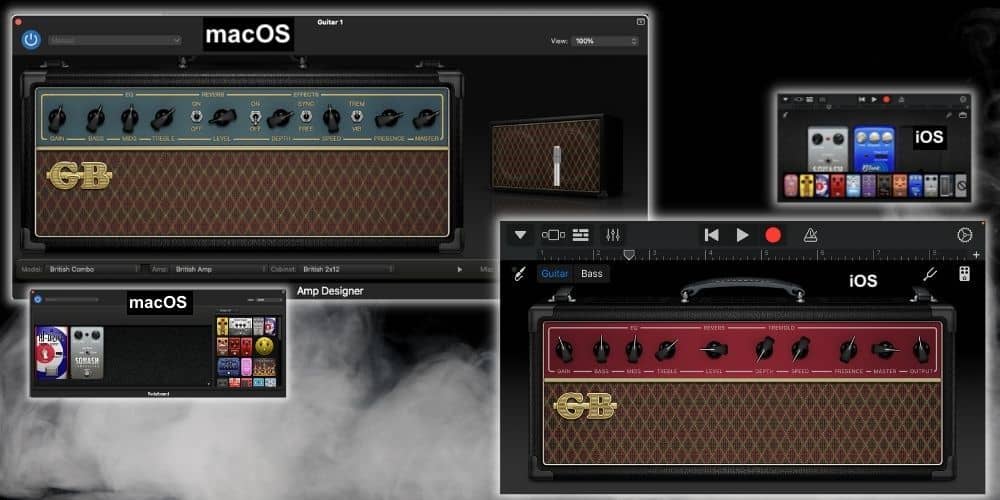 macOS Garageband's Amp Designer really has 3 advantages over the iOS Amp Designer, and those are the massive library of presets, the ability to adjust the microphone type and location, and the ability to switch between different heads and cabinet combinations. You can choose 2x12s, 4x12s, etc, it's pretty cool.
This doesn't make much of a difference for me, however, on account of the fact I prefer using BlueCat Audio's Axiom because it's much better than the Amp Designer. Getting the Axiom as part of the Axe Pack (from Plugin Boutique) was one of the best decisions ever, but I digress. I'd say the macOS Amp Designer is a clear winner over the iOS version, even though you wouldn't be able to tell that from the image alone.
4) Can Install Third-Party Plugins (But MacOS Can Get More)
You can install third party plugins via the App Store on iOS but, as I said earlier, the plugins you can get on macOS are just way better. You can get Melodyne 5 – Editor (from Plugin Boutique), Komplete 13 which I mentioned earlier, and a ton of other really great stuff.
Don't get me wrong, the App Store has a lot of great plugins as well, and another advantage of them is they have all been vetted by Apple so you know they work, but that being said, the quality of instruments and samples you can get for macOS is just higher unless we're talking about random free plugins that you find from the corners of the internet.
5) Loops and Samples
You can also get a lot more loops and samples for macOS using sites like Loopmasters and others, however, iOS Garageband is gaining speed fast. You can download all kinds of sample packs and loops for iOS with the App Store, and Apple seems to update these on a regular basis.
Additionally, you can use the same sounds, loops, and samples from macOS on iOS, so it's not like you have to choose one or the other. But with the attention that Apple is putting into the sample/sound-pack library, it's getting easier and easier all of the time to use the iOS version instead.
The growing loops library for iOS Garageband, (among a few other factors which we'll touch on shortly), leads me to believe that iOS will eventually take over the macOS version of Garageband. As of now, I personally would much rather use the macOS version but the time will come when the version you can use on your iPhone or iPad will just be a lot better, at least in terms of features and the time and resources put into it.
Garageband iOS Features That MacOS Doesn't Have
1) Smart Guitar, Smart Strings, Smart Piano, and Smart Bass
Garageband iOS is a lot more fun because it has features such as the Smart Guitar, which essentially turns the entire screen into the strings of a guitar and you can strum chords automatically in a way that's nearly impossible to sound bad because all of the parameters are part of the key signature. In my opinion, this stuff is more of a toy than anything though.
Similar to the Smart Guitar, Smart Strings is a cool feature where you can play certain notes on stringed instruments, like on the Ehru, for instance, and have it sound pretty good regardless of what note you've played. Although, this is also what makes Garageband iOS more of a toy because you're losing the ability to create music with actual mistakes and errors, which is part of what makes music, music.
Note: macOs does have a Smart Drummer but not in the format shown above on the bottom left-hand side.
2) Much Smaller interface
There's no question that Garageband iOS has a much smaller interface, and you have to slide between each screen if you want to access additional controls. For instance, you can't use the Beat Sequencer while seeing what's happening in your workspace at the same time. You have to switch between the two.
While Garageband iOS does have more user-friendly interfaces that are designed to be fun and cool, Mac Garageband is set up more in a way that's in line with traditional DAWs. For example, you can load up your Channel EQ plug-in and see the analyzer all while continuing to have your workspace in a clear view.
This is a pro or con depending on the user, which is why I put it in this section. For some people, the tiny interface is precisely the feature they need because maybe they use it on the train, on the bus, or in the back of the class while their teacher is standing at the board. But for me, I'll probably always prefer a large screen.
3) Plug-ins Are Usually Cheaper
Garageband macOS has the ability to download a lot more plug-ins, including more sophisticated software like Celemony's Melodyne which I've explored in my guide, however, the Garageband iOS plug-ins tend to be far less expensive. For instance, you can download an awesome amp simulator for $20 or so, and there are other plug-ins that cost between $3 and $10.
Garageband macOS plug-ins and software bundles can range anywhere from $20 to upwards of thousands of dollars. The plug-ins, themselves, are a lot better, more versatile, have more capabilities and features, presets, settings, etc, but there's no question they're usually far more expensive than Auv3 plug-ins (the ones made for Garageband iOS).
4) Sound Library Packs – iOS
iOS seems to be coming out with a lot more sound packs and libraries for Garageband iOS users. It almost seems like Apple is trying to tell us something, that being, that they're starting to take iOS Garageband and mobile DAWs a lot more seriously.
I wouldn't be surprised if, in the future, mobile DAWs became way more commonly used than any desktop program. However, desktop DAWs will always remain supreme, because desktop computers typically have more space and power, although, it's hard to say what's going to happen in the future.
Other Differences Between MacOS and iOS Garageband
1) You Can Use More Than One App at a Time While Using macOS
One of the things that I like about using macOS Garageband is that I can have it open while using other software. Sometimes I use Blue Cat Audio's Axiom while looking at YouTube videos, with ultimate-guitar open, or with Guitar Pro 7 running.
I just recently purchased Guitar Pro 7.5 from Plugin Fox for both iOS and macOS but the downside is that you can't have it open while using iOS Garageband. That's a significant disadvantage for me, and one of the main reasons why I prefer using the macOS version instead.
If I want to get around that problem, I use the iOS version of Guitar Pro on my iPhone while I play through my Hughes and Kettner Amplifier (from Sam Ash), Mesa Boogie 2×12, which is mic'd up with a Shure SM57 (from Amazon) and sitting in a bass drum K&M mic stand (also from Amazon), all of these which can be found at the relevant links. Also, check out what that looks like here:
Cons of iOS Garageband and Cons of MacOS Garageband
Other Cons of macOS Garageband
I feel like this article did a fairly good job of explaining where macOS is better than iOS, but it failed to talk about some of the downsides of using the desktop/laptop version. There are definitely some flaws that are unique to the desktop version.
1) macOS Opens the Last Project Every Time You Open the Application
The way macOS Garageband opens your last project every time you turn on the application is one of the more annoying things about it. I'm not sure why they made that feature, but I don't find it that convenient. They should give us the option to choose what we want to do when we first open it, rather than open up what we were working on last.
2) The AUSampler for 808s isn't Great
As I explained in my article on sampling in Garageband, not everyone likes the default sampler. For me, I don't mind that much because I use Initial Audio's 808 Studio II from Plugin Boutique anyway (and you should too because it's cheap and it's good), so I never cared much about what the AUSampler does and doesn't do.
3) Samples Seem to Disappear Sometimes
If you aren't careful, you can unintentionally delete your samples for macOS, which is one reason I created a folder on my local drive specifically for Garageband. It's just called "Samples" and it's in a spot where I can find it in the case that I lose my samples.
Maybe this is just a setting that I have turned on or something, but I feel like losing your samples randomly shouldn't be an issue. By "lose samples," I mean if you have them saved in the drop-down menu of the AUSampler so you can use them later, they simply won't show up. I haven't ran into this issue though since I started saving them in a dedicated file folder on my local drive.
4) You Can't Export to iOS But You Can Export From iOS to macOS
macOS does come with the ability to export your fully project as a fully rendered audio file into the iOS interface, however, you won't be able to mess around with the tracks individually anymore, which is unfortunate. You can see what this looks like in the image above.
Before I exported that from macOS, it was about 15-20 tracks, not just one big audio file. However, you can do it vice versa, which means a project made in iOS can be exported as a project into macOS, with all of the individual tracks still in tact.
How Do I Convert Garageband Tracks from macOS to iOS?
To convert your Garageband macOS files to iOS, just go into the tool-bar and click on "Share," and then select, "Project to Garageband for iOS." This will save the file in your iCloud drive which can then be accessed by your iPad or iPhone.
You'll remember earlier when I said that the plugins that work on macOS won't work on iOS, so how will this feature work then? Essentially, it'll just render your entire project from a series of tracks to one giant audio recording. This makes it no good, in my humble opinion.
What iOS do you need for GarageBand?
Garageband is compatible with all iPhones that are 3GS or newer, all iPads including iPad Mini, and the third generation of iPod Touch or higher. Some Auv3 plugins won't work with older version of iOS and not all instruments will either.
For the most part, you should be able to find a version of Garageband for nearly all iOS operating systems. Just go into the App Store and try to download Garageband, and if it doesn't work, you should get a prompt to download the last version that was compatible like the way this user here pointed out.
Is GarageBand on Every Mac?
Garageband doesn't come pre-installed on iOS and macOS devices as some users have stated. You have to go into the App Store and download it from there. It's not that hard to download as I showed in my guide as well as in the short video here:
What Version of GarageBand Do I Have On My Mac?
To figure out what version of Garageband you have on your Mac, open Garageband, and then click on the option that says, "About Garageband." It should take you to a small prompt which then says what version you're using.
How Do I Sync My iPhone and macOS GarageBand?
You can sync your iPhone to your macOS version of Garageband through a couple different ways. One way is to sync it with the iCloud which is done through your Apple ID. The other way is to use a cable and connect it to your Music/iTunes App.
To connect your iPhone (iOS) and macOS version of Garageband through your iCloud, open your System Preferences, then select, "Apple ID," then "Options" next to "iCloud Drive," and then make sure Garageband's box has been ticked off.
Can you send GarageBand files from Mac to iPhone?
As I already stated earlier, you can send Garageband files from your macOS device to iPhone, but it won't be in the project file format. Instead, the file will be shared as a rendered audio file. If you try sending from iPhone instead, however, the file will still be in the Project format.
Does GarageBand work on Macbook Air?
A MacBook Air is capable of using Garageband, however, due to the limited storage space, processor speed, and RAM, it's not the best device. A much better device for using Garageband is a 16″ MacBook Pro with upgraded specs like this one from Amazon. I've talked about it before in my guide on the best MacBook for Garageband.
iPhone Versus iPad Garageband (iOS)
1) The Advantage of the Larger Touch Screen
The biggest advantage of using the iPad version of Garageband over the iOS version is that the screen and interface are much larger, the processor speed, storage speed, and RAM specifications can be a lot better, and the device is generally a lot better at handling the software's needs as a result. This is the reason why I recommended getting the iPad for Garageband rather than a MacBook or iPhone in my guide.
Also, you can use the iPad touch screen for playing the drums and other Smart instruments in a way that you just can't with the iOS. The Acoustic drums are one great example of this as is the Smart Guitar which can actually be played kind of like a guitar. Simply put, all of the Smart features are cooler on iPad.
Important Things to Note About Garageband iOS and macOS
1) It Looks Like iOS Garageband Will Phase Out macOS Garageband
Apple has been continuously refining, updating, and improving various aspects of the iOS version of Garageband for quite a long time now, compared to macOS Garageband which rarely gets updates anymore. The writing is on the wall. Garageband iOS appears to be the future.
Obviously, I don't have a crystal ball, but when comparing the number of iOS updates to macOS updates, it's clear Apple cares a lot more about the iOS Garageband. Additionally, it seems like new plugins are added to the App Store daily, and there are quarterly additions to the Sound Library (every three months or so, it seems).
Gear Mentioned
1) Thunderbolt to USB adaptors (from Amazon)
2) Native Instruments' Komplete 13 from zZounds
3) Antares Auto-Tune Pro (from Plugin Boutique)
4) Initial Audio's 808 Studio II from Plugin Boutique
5) BlueCat Audio's Axe Pack from Plugin Boutique
6) Melodyne 5 – Editor (from Plugin Boutique)
7) Guitar Pro 7.5 from Plugin Fox
8) Hughes and Kettner Amplifier (from Sam Ash)
10) Bass drum K&M mic stand (also from Amazon)