To connect a looper pedal to a mixer you need an extra pair of 1/4″ instrument cables to run from the Output of the Mixer to the Input of the looper pedal. Simply put, adding a mixer to your signal chain is similar to how a guitarist would add an extra guitar pedal to their chain.
But if you've never done this before, it can be intimidating because there are a lot of inputs, outputs, power supplies, and other factors to focus on. It took me about 30-40 minutes the first time I connected a mixer to my digital piano, guitar, guitar amplifier, and my looper pedal because I had inputs and outputs switched around.
Additionally, it took me a second to determine whether I was using a proper power supply for my mixer, and I had to ensure I had the mixer's settings configurated properly. Lucky for you though, I've figured out how to do all of this already so I can explain in minute detail how to get this done with the minimal amount of equipment.
I've also got a great mixer recommendation if you don't already own one, but I digress. Let me show you in detail how to connect all of your equipment – including a looper – to a mixer so you don't have to buy a whole bunch of looper pedals to loop every single instrument you own. This process is easy once you've done it once, so let's get into it then.
By the way, I'm always on the lookout for deals in the music industry (there's usually something if you know where to look). Right now, there are 2 deals that stick out to me.
How to Connect A Looper To A Mixer [Including A Guitar, Piano & Amp]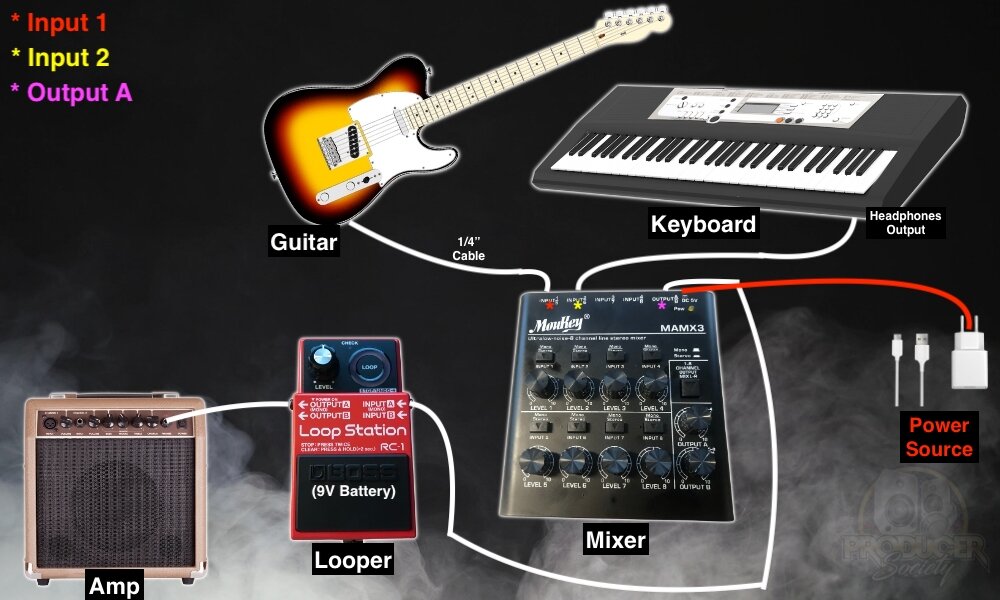 The above diagram is a bird's-eye-view, so to speak, of the process by which you would connect a mixer to a looper pedal. As you can see, I've got a guitar amplifier, looper, mixer, guitar, and keyboard in there. It's pretty cool what you can do with a simple looper. The same thing goes for connecting an audio interface to a mixer as well.
Let me walk you through each step of the process. Afterwards, we'll talk about each piece of gear you need to make this possible as well as some of my recommendations.
1) Run A Cable From The Piano's Headphones Output To The Mixer's Input 1
You do this by running a 1/4″ instrument cable from the piano's headphones output to the mixer's Input 1. I've included a close-up image of the cable plugged into the jack on the right side.
2) Run A Cable From Input 2 Of The Mixer To Your Guitar
This particular mixer has 8 different inputs, so it has the potential to do a lot. Once you've hooked up your instruments, connect a power supply like what's down below.
3) Connect The Mixer To Its Power Supply
Any iPhone or smartphone charger should work though, ie, 5V chargers.
4) Run A Cable From The Mixer's Output To Input A On the Looper
ii) Remember to Put A Battery In
Personally, I hate using 9v batteries in looper pedals because they use a lot of juice. I showed this in my experiment on Traveling Guitarist. If you're serious about using a looper pedal regularly, you'll probably want a dedicated power supply like the MXR Isobrick M238. We'll talk more about this in a second.
5) Connect Another 1/4″ Cable From Output A of The Looper To Your Amp's Input
This is the part where I messed up, believe it or not, because – and don't laugh at me – I managed to mix up the input and output on the looper pedal. I couldn't figure out for the life of me why the pedal and the looper pedal wouldn't work together but it turns out I just had the pedal's ports switched up. But I digress.
There isn't a whole lot to say about this setup other than what I've just shown you. The MouKey MAMX3 is easy to use and pretty intuitive because there aren't a lot of controls on it.
What I will recommend to you, however, is to ensure your levels are set at a decent level. This includes your amplifier volume as well.
You don't want to run a super loud signal right into your amplifier because it may scare the heck out of you, or possibly even damage your speaker. Set the level to around 3-4. Let's talk a bit about the mixer and the other gear in the following sections.
What Gear You Need To Connect A Looper To A Mixer
1) MouKey MAMX3
As you can see, you've got 8 different inputs and the ability to switch between stereo and mono on each one, as well as a volume knob for each. Additionally, there is a volume knob for Output A and Output B, so there isn't much to it.
It works the way it should and without complication. I couldn't recommend it enough. Additionally, it reminds me of BOSS guitar pedals because of how sturdy and metal it is. The entire case is metal. While I wouldn't recommend dropping it, it would probably be fine if you did.
2) Looper Pedal [Including A Battery or A Power Supply]
You could also get your hands on something like the BOSS RC-1 which is more comparable to the Clone Looper rather than the BOSS RC-5. The RC-5 is about as advanced as it gets in terms of looper pedals at that size.
Understand that a 9V battery will last between 1.5 and 3 hours in a standard looper pedal.
3) 1/4″ Instrument Cables [4]
4) Digital Piano
If I were to buy a new digital piano/electric keyboard, I would probably start with the P125. The only reason I don't have it is that I already have a keyboard that works just fine.
5) Guitar
At this point, I've got 8 different guitars but it's not super relevant to this article so we won't dive too much into it. And lastly, we've got the amplifier.
6) Amplifier [Speaker System, Guitar Amp, Keyboard Amp, Bass Amp, or PA]
You could use any number of amplifiers for this tutorial though. For example, there's no reason why you couldn't use a bass amplifier, a keyboard amplifier, or even a PA system.
If you want to learn more about a PA system, check out Anderton's blog on it. All-in-all, that's it for this article. Make sure to check out some of the relevant articles shown down below.
Other Articles You May Be Interested In
Important Things to Note About Using Loopers and Mixers
1) Behringer Mixers Are Also A Budget Friendly Option
If you wanted, you could try out a Behringer mixer because they're usually available for a good price and they appear to work just fine for most users. The MouKey MAMX3 is certainly a great choice though and you won't go wrong if you get it.
Gear Mentioned
1) MouKey MAMX3 (on Amazon)
2) MXR Clone Looper (on Thomann)
3) BOSS RC-5 Loop Station (on Amazon/Thomann/zZounds)
4) MXR Isobrick M238 (on Amazon/Thomann/zZounds)
5) Ernie Ball Right-Angled Jacks (on Amazon)
6) Road Hog cables (also on Amazon)