To post a cover song on TikTok
1) Upload your video
2) Click "Add Sound" to pick the same song from TikTok's library
3) Click the search bar and type in the song name
4) Select it, then the red check mark next to it
5) Select it again then "Volume"
6) Turn down the volume of the "Added sound."
This very same thing can be done when you encounter the "muted video" problem, ie, if, for whatever reason, TikTok decides to mute your video despite it not having copyrighted material in it. As far as I can tell, this is the only way to get around this issue, however, I've noticed that bigger creators appear to get around it at times.
For example, I made a cover video of Alice in Chain's "Nutshell" solo, and TikTok muted the sound. I had a look at some of the creators who did the same thing and their video was not muted. Very annoying, but after I tried the solution I just explained, it started to work again.
As far as I know, TikTok has a copyright licence agreement with labels and artists so they can use songs on their platform without committing a copyright violation. This means that using their library of "sounds" should get you around the issue. But there's more to learn about all of this. I'll also who you a dedicated tutorial on how to do everything now.
By the way, I'm always on the lookout for deals in the music industry (there's usually something if you know where to look). Right now, there are 2 deals that stick out to me.
How to Post A TikTok Cover Song Without Being Muted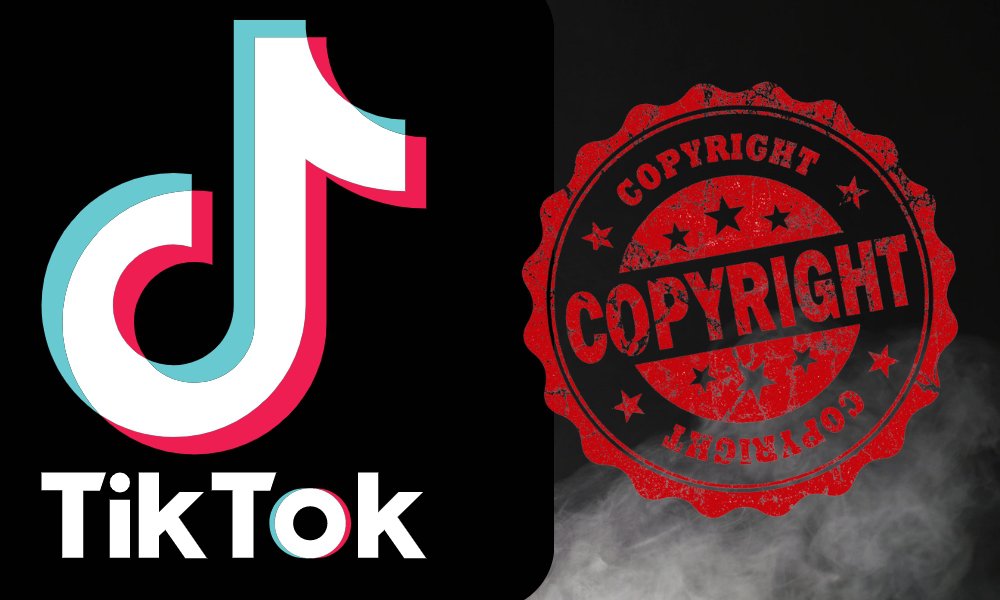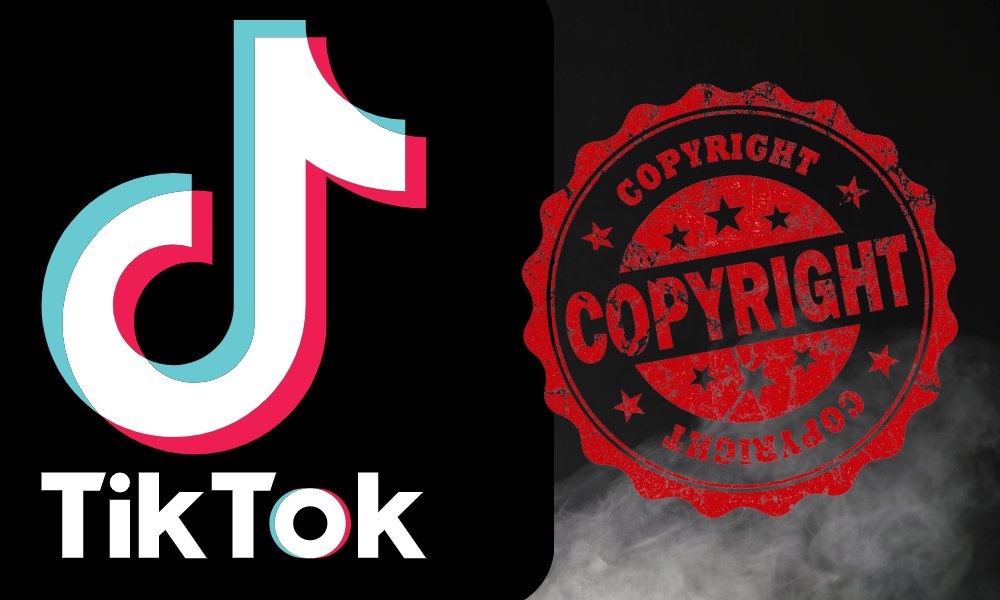 Let's walk through a step-by-step tutorial on how to do this, and then I'll mention a few other important things after we're done. The first thing you want to do, of course, is to get your content ready on your phone. Go to the end of the article for some brief tips on that.
1) Press the "+" Button
Obviously, you first have to download TikTok if you haven't already done so already.
2) Select Upload
3) Choose Your Video From Your Camera Roll
If you're new to TikTok, you'll probably have to give TikTok permission to use your phone's operating system, including the microphone and camera as well.
4) Select the "Add Sound" Option From The Top Of The Interface
5) Press the Search Function to Find Your Song – Type In The Name then Hit "Search"
Not every song will be available on TikTok, but from what I've seen, the application has access to a lot of popular music. You might not be able to find obscure music, but if it's on iTunes, Apple Music, or Spotify, you'll stand a good chance of finding it, especially if the artist is on a major label.
6) Select Your Song And Then Choose the Red Check Mark Next To It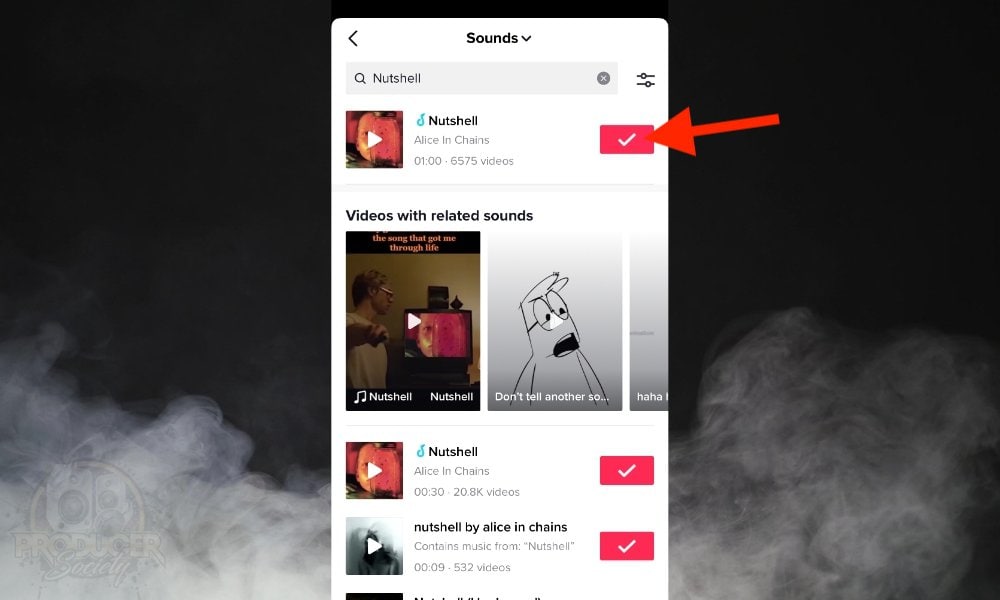 7) Hit the "Volume" Icon On The Button
Unfortunately, I wasn't able to find the exact part of the song where Jerry Cantrell finds the solo, but it didn't wind up mattering in the end anyway. I just posted the TikTok as it was with my own version of "Nutshell" playing in the background.
8) Turn Down The Volume On The "Added Sound" to 0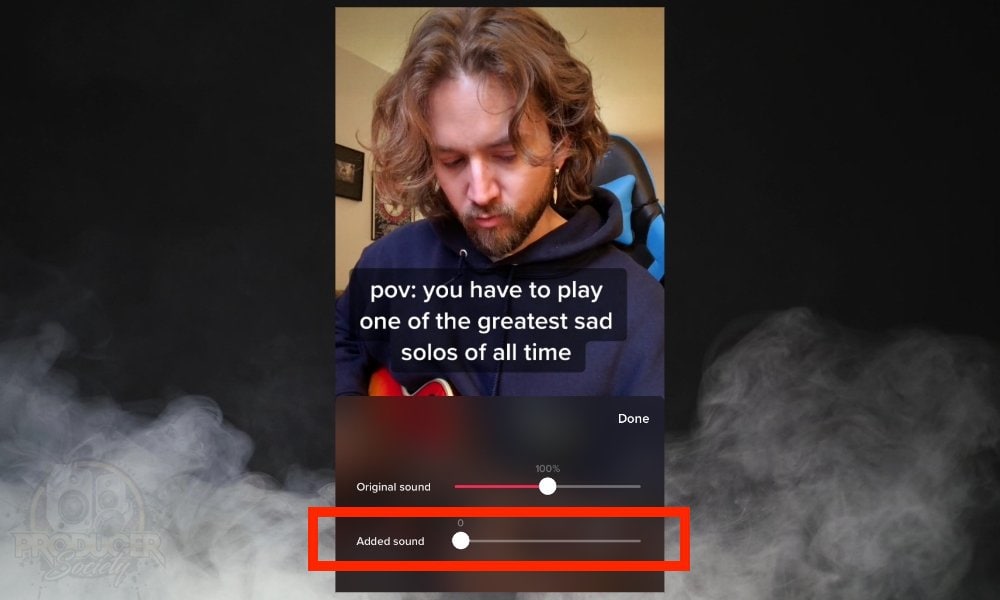 Be sure not to mix these two up. I've done it a few times somehow, despite them being clearly labelled.
9) Press "Done," "Next," Add Your Hashtags and Description, Then Post It
Click on Post and you're set. The track has been uploaded to TikTok. Congratulations.
2 Tips For Adding Sounds on TikTok
1) You Can Also Cut The Sound With The Scissors Icon
After you've clicked on the scissors, it'll take you to a page where you can determine what part of the song you take. Unfortunately, you can't choose any part of the song. You only get to choose from the minute provided, which is kind of lame, but whatever, you know.
2) Choose "Edit Clips" To Slide The Audio File Around Wherever You Want In Relation To Your Video
You can see what this looks like in the next image.
TikTok's new video editor is pretty powerful considering it's inside of an application on its own. It's kind of like a miniature iMovie, and it works great. In fact, it might even be better than iMovie because it's simpler to use.
Why Does TikTok Mute My Songs Due To Copyright Violation?
Generally speaking, TikTok's algorithm will automatically detect sounds and songs that may be copyright violations, however, it's not uncommon for the social media platform to get this wrong. Many users complain that Tiktok mutes their videos despite them containing 100% original content.
The way to get around this is pretty simple, and a lot of people on the platform have figured it out. If you take a look at the bottom of TikTok users' posts, you'll often see there is a sound there or a song that's completely unrelated to the content. Additionally, you won't hear the song or sound playing either.
The one I see the most is The King Khan and BBQ Show track, "Love You So," which you can check out here on YouTube. This is a popular sound to use at the time, but they're changing all of the time on a regular basis. Just choose a sound using the method I shared with you earlier and then drop the volume down on it all the way to 0.
Some Brief Tips on How To Make Cover Videos
1) Get Decent Recording Gear (Although A Smart Phone Is A Great Start)
If I had to do it all over again, I would've just gotten a high-quality boom arm from Manfrotto (Thomann) right from the beginning. This is a great stand for iPhones too from the same company (Amazon).
2) Record A Video And An Audio Track In Your DAW Simultaneously
Basically, you record a video of yourself playing while also recording a separate audio track in your DAW. You'll need a PC or a separate mobile device with a DAW downloaded on it. You export the two projects (1 video and 1 audio) and move them into a movie editor like iMovie or ScreenFlow Editor.
I did a pretty detailed guide on how to do this in how to make guitar videos for TikTok. I made another one for YouTube and another one on Instagram on my other site, Traveling Guitarist. There's plenty of information in those articles if you're looking for it.
3) Record In Your DAW And Then Pretend To Play In The Video After
Probably the easiest way of doing this is to not even record yourself playing with a camera initially, but instead, record in your DAW and then just pretend to play it in front of the camera afterward.
This is what most people do on TikTok, Instagram, and other social media platforms, but if you're the kind of person who jams and improvises a lot (like me, for example), it'll probably make more sense to just record in real-time.
A lot of people – mostly unsuccessful musicians and ignorant fans – will take issue with this but the truth is that the performance is hugely important and people pretend to play in all sorts of contexts. It's just how things are done, ie, every Super Bowl Performance (allegedly).
But that said, it's not uncommon for me to just hit Record and start playing. It's an easy and authentic way to create content. This might be the best way for you to do it as well.
Other Articles You May Be Interested In
Important Things to Note About TikTok Cover Songs
1) This Is What I've Learned Thus Far
This is the first time I've posted a cover to TikTok and I have to say that I'm a little disappointed with how it performed. I did post it at a slightly different time than I normally would, which probably played a role in its performance. No worries though. I'll be continuing to post covers in the future and I'll update this article when I learn more.
Gear Mentioned
1) Boom Arm (on Amazon)
2) Desk Light (on Amazon)
3) Manfrotto Smartphone Stand (on Amazon)