I'm going to assume you're just like me and you just started using FL Studio. I understand what it's like to navigate a brand new DAW. I remember what it was like when I first started using GarageBand back in 2017, and I'm going through it again with FL Studio.
Needless to say, it can be fairly challenging to figure this stuff out on your own. And I think what I like the least about it are the boring, 15-minute-long, YouTube videos on topics that take just a few seconds to explain with the written word. One of those topics includes deleting files.
To delete files in FL Studio
1) Go to "Options" in the menu
2) Click "File settings"
3) Highlight the file folder you want to delete
4) Hit (fn + Command + Delete) to delete it or (Backspace + Enter) for Windows
5) Exit out of the menu
6) If the folder hasn't disappeared yet, restart FL Studio
What I just showed you is the long and short of deleting file folders in the File Browser of FL Studio. It's dead simple. What I like about FL Studio is how easy it is for sampling, adding drum kits, adding VSTs, and so on. It's intuitive, organized, and streamlined. Anyway, let's explore what I just went through in detail. I'll answer some other questions along the way.
By the way, I'm always on the lookout for deals in the music industry (there's usually something if you know where to look). Right now, there are 2 deals that stick out to me.
Deleting FL Studio Files from the File Browser (and More)
If you recall what I said a moment ago, you'll need to use the (fn) key on your keyboard if you're using FL Studio on macOS. I've talked about this in my article on adding drum kits, but you'll need to add that (fn) key before seemingly every command.
Also, it's worth pointing out that the macOS equivalent to Windows' "Control" is the "Command" key. Anyway, let's start with the first step – but first, here's a brief video showing you how to delete files in FL Studio. After, I'll walk you through an illustrated guide.
1) Go to "Options" in the menu and then Select "File settings"
The first thing you want to do is navigate to the File settings which is done by clicking Option > File settings. It wouldn't hurt to highlight the file that you want to delete in the File Browser either, although, I don't think you really have to. It's just what I do.
2) Highlight the File Folder You'd Like To Delete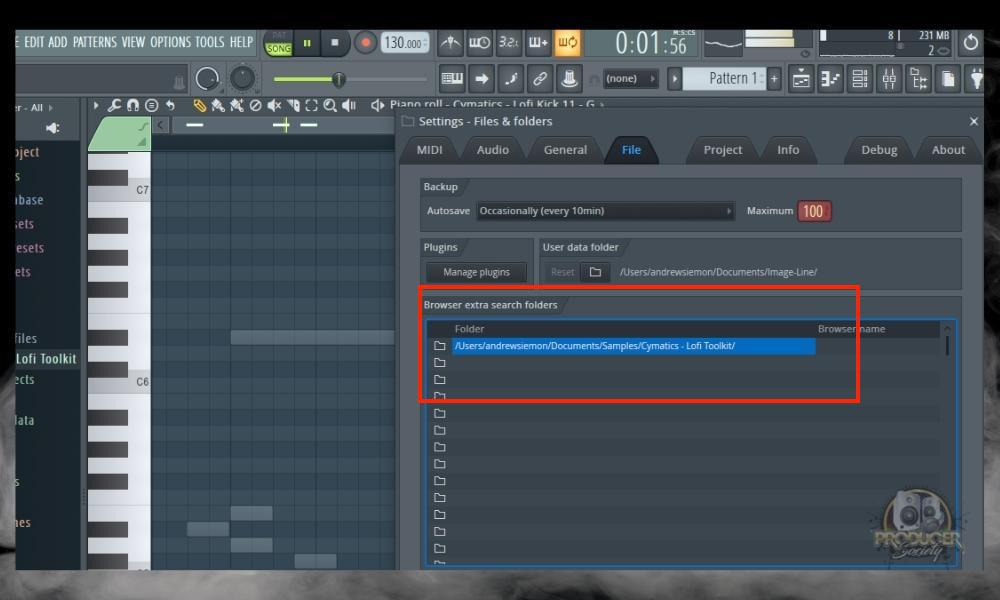 You do have to highlight the folder you want to delete in the "Settings – Files and Folders" page though. I only have one in there right now because the Cymatics Lofi Toolkit (which I got here from their site), is the only sample library I've installed – other than Komplete.
3) Hit (fn + Command + Delete) to Delete It or (Backspace + Enter) for Windows
Once you're done eliminating the folder, just get out of the "Settings – Files and Folders" box and the changes will take effect almost immediately. You can see this in the video I provided right at the start.
4) If the Folder Hasn't Disappeared Yet, Restart FL Studio
As I said just a moment ago, in most cases, you won't even have to restart FL Studio or your computer. It should be enough to simply exit out of the File Settings page, and the changes will take effect in the File Browser right away.
Wrapping things up, you can see that deleting file folders in FL Studio is dead simple. But what about deleting projects? I'll answer that question now along with a couple of others.
How to Delete a Project in FL Studio?
Deleting an FL Studio project is straightforward as well, although, it depends on how you've stored them. In my case, I like to have them saved in a separate file folder on my external SSD (here's the one I got from Amazon), that way they're easily accessible and organized.
I do the same thing with GarageBand files as well, because this is just the best way of going about it (I showed how to run music production applications from an SSD in this guide). Regarding FL Studio projects, the DAW gives you the option to choose where you want to save your files whenever you click "Save As."
So this is the point where I decide where I want to put the files. If you have an SSD (which I recommend you get), put them there in an appropriately named file folder, or put them somewhere in your local documents.
Does Deleting FL Studio Also Delete All Of Its Files?
When I first bought FL Studio 20 on Plugin Fox, I chose the Fruity Edition which only comes with about 3GB of instruments, sample libraries, as well as the software's components.
And I noticed that when I deleted FL Studio on my desktop – after having put it on my SSD – it seemed to have eliminated everything.
That said, I don't believe this is the case because the Image-Line file folder which contains all kinds of recordings and settings is still in my local documents folder, even though FL Studio is sitting on my SSD.
So this only leads me to one conclusion. Simply put, deleting the FL Studio application isn't enough to eliminate all of the files. The user must go into the computer's directory and eliminate all of the other file folders related to the application. At least if you want to free up space on your hard drive.
Important Things to Note About Deleting Files in FL Studio
1) They're May Be Some Variation Between Operating Systems
You'll notice that in my FL Studio tutorials, I include information on how to do things in macOS and Windows. In my experience thus far, it seems like the two software is very similar to each other but some of the commands are slightly different.
I imagine that how the two operating systems organize their folders are slightly different, and probably go by different names as well.
Gear Mentioned
1) Samsung T5 Portable SSD 2TB (on Amazon)