In this article today, I'm going to offer up a list of what I believe is some of the best equipment for Garageband users.
Each one of these pieces of equipment is going to either make your life a lot simpler, or they're going to expand the possibilities of what you can do with Garageband and your home recording studio.
We'll lay out the list in short-form first, and then explore each one in a little more detail after.
1) Acorn Masterkey 49
2) iRig HD 2
3) Focusrite Scarlett 2i2
4) iRig Pro I/O
5) Audio Technica ATH-M50x
6) KRK RP5 G3 Studio Monitors
7) Shure SM58
8) Audio Technica AT2035
9) Seagate Backup Plus 1TB
10) Line 6 Pod HD500x
For each piece of gear, I'll offer a very brief explanation of what it is and why I recommended it, and I'll also direct you to the article where I've written more about it because I've mentioned all of these in other posts before.
1) Acorn Masterkey 49
The Acorn Masterkey 49 is a great MIDI keyboard to start out with when you're new to music production, especially with Garageband. While it's certainly not the absolute best keyboard you can get at the store or online, it's perfect for someone who's looking to take their first steps into the world of music production, due to its price, and ease of use.
If you've never owned a MIDI Keyboard before, I would recommend this one because you're not going to hurt your wallet at all with this piece of gear.
Obviously, there are other keyboards out there that are a lot better than this one, but the Acorn Masterkey 49 is very inexpensive, and it will work great in the first 2-3 years that you're producing.
And let's say that, for whatever reason, you find that music production just isn't for you, it's not that big of a deal because this unit didn't cost you an arm and a leg.
While it doesn't come with a Drum Pad or any of those other fancy bells and whistles, it does have great range (49 keys), and for a great price. It also comes with the pitch-bend wheel, the modulation wheel, an octave switch, as well as a volume control which is immediately compatible with Garageband the moment you plug it in.
You can pick one of these up for cheap on Amazon, check it out here.
If you want to know how to actually set up your MIDI Keyboard, or perhaps you need some troubleshooting tips, check out this link here.
2) iRig HD 2
The iRig HD 2 is an awesome little audio interface if you need to hook your guitar up to your computer, whether while traveling or in the case where you just don't want to take up a lot of space.
For the longest time, I used a Focusrite Saffire 6USB, which was a fairly big unit, and whenever I wanted to play my guitar, I had to hook the thing up and it took up quite a bit of space on my table in my tiny little bachelor apartment
The iRig HD 2, however, is super small and it's easy to cart around with you.
The unit only weighs probably 100g so it hardly even seems like a piece of gear. It is made out of plastic, however, which is a pet-peeve of mine and is perhaps its only downfall. The price is right, however.
You can check the price of this unit on Amazon at this link here.
Or, you can read more about it at this link here.
3) Focusrite Scarlett 2i2
If you've been doing research at all on audio interfaces, there is no question that you've run into this piece of gear before, as it's probably one of the most commonly suggested pieces of equipment for music producers out there.
The Focusrite Scarlett 2i2 is a great audio interface, and while Focusrite has their detractors, I think they make a great product, and I really love how well they build their gear, including how they nearly always use an aluminum casing that way the unit is well-protected.
Moreover, all of the knobs and everything on it are super tactile and work well. If you're wondering why you would own more than one audio interface, it's really simple.
The iRig HD 2 is only for guitars and bass, and it can only handle one piece of equipment at a time, whereas the Scarlett 2i2 can take a guitar and a microphone at the same time, or two mics at the same time, and so on and so forth. The "2i2" means it can take two units at once.
There are other options too, including the Scarlett Solo, which means that it only has one input. I wouldn't recommend getting this interface, because there isn't as much versatility and range in terms of what you can do with it.
If you're going to get the Scarlett Solo, you're almost better off to just get the iRig Pro I/O, which is a lot smaller, more convenient, and performs essentially the same functions.
I wrote about audio interfaces in detail on my article, The Definitive Guide To Audio Interfaces, which you can read at this link here.
You can grab one on Amazon at this link here.
4) iRig Pro I/O
This is another great little machine, and it's a lot like the iRig HD 2, however, it's an improvement because you can not only hook up your guitar to it but also your microphone.
This unit costs a little more money than the iRig HD 2, but it's definitely worth picking up if you want the capability of a guitar and microphone interface, in addition to portability and convenience.
In my opinion, it's probably best to buy either the iRig HD 2 or the iRig Pro I/O, and not both, but it really depends on how much money you want to spend, and whether you're a vocalist or a guitarist/bassist.
If you don't think you'll ever need an audio interface for vocals, then just pick up the iRig HD 2, but if you think you might want a portable interface someday that works for both vocals and guitar, then you can pick this one up, it's your decision.
You can get these for a great price on Amazon, which you can check at this link here.
To learn more about it, go to this link here where I wrote a detailed review of the iRig Pro I/O as well as the Focusrite Scarlett 2i2.
5) Audio Technica ATH-M50x
Studio monitoring headphones were the first way that I learned to monitor, and it's still my go-to.
Mixing and monitoring with headphones is the best way to do so in my opinion, although, eventually, it's not a bad idea to get out there and get some big studio monitors.
Headphones allow you to hear things that would've been too challenging to hear on big studio monitors, so it's definitely worth owning a pair of big speakers as well as studio headphones as well.
The Audio Technica ATH-M50x is an industry favorite for audiophiles. Since I've bought these headphones and used them on a regular basis, I've been paying attention to the kind of headphones that a lot of other people have and I've noticed other people walking around with these during my day-to-day activities.
Truthfully, these aren't casual listening headphones, they're monitoring headphones, but regardless, these are definitely one of the most commonly suggested headphones out there, and for good reason: they're a great product especially for the price.
While you can definitely get superior headphones if you threw down more cash, these are great monitors for the price range, which you can check on Amazon in the link below:
Check the price on Amazon here.
If you want more of a comprehensive review and explanation of the Audio Technica ATH-M50x, click this link here.
6) KRK RP5 G3 Studio Monitors
Like the Audio Technica ATH-M50x, the KRK Rockit 5" Generation 3 Studio monitors are some of the most popular studio monitors out there, and this isn't hard to see at all, especially if you use Instagram and YouTube a lot.
Many music producers, mixers, beatmakers, and YouTube content creators own a pair of these, and the reason for that is because they're great speakers for the price.
Although take note, these aren't monitors you use for throwing a party. They're meant for mixing, mastering, producing, recording, and so on and so forth, which means they aim for flat frequency response, unlike casual speakers which tend to have a boosted low-end.
If you do decide to purchase these monitors, it's worth mentioning that there is a proper way of setting up your speakers for your home studio. I wrote about how to do this in more detail in my review of the KRK Rockit RP5 Studio Monitors, which you can access at this link here.
In brief, it's considered the best practice to set your monitors up so that they're in an equilateral triangle, where the monitors are the same distance apart from each other as they are from you. Explained in another way, if the monitors are 3 feet away from you, the listener, then the monitors should also be 3 feet apart from each other.
You can check the price of the KRK Rockit RP5 3" Speakers on Amazon here.
7) Shure SM58
As I wrote about in my article on what gear you need to start producing music with Garageband, the Shure SM58 is also an industry-standard in the world of music production and recording. There isn't a recording studio on earth that doesn't have a Shure SM58 dynamic microphone.
Any "Best Of" articles regarding microphones, will likely mention this mic as an essential, so if you're in the market for a relatively inexpensive microphone, this is a great start.
The Shure SM58 will likely be the microphone that's recommended to you if you go into a music store and ask for a microphone that works for everything and doesn't break the bank.
Just as a side-note, a dynamic microphone is different from the condenser and ribbon, which employ different types of technology to achieve the desired result. A condenser microphone uses phantom power, which means it needs an external power source, whereas the dynamic doesn't need it.
Needless to say, the Shure SM58 Dynamic microphone is a great choice for beginners who are looking to start recording vocals, whether for singing or podcasting.
You can check out the price of the Shure SM58 at this link here.
8) Audio Technica AT2035 Condenser Mic
Let's say you already have a dynamic microphone, and now you're in the market for a more specialized microphone that is primarily meant for recording high-quality vocals and other acoustic instruments.
In that case, you won't go wrong with the Audio Technica AT2035 Condenser Microphone, which I wrote about in detail at this link here. As I mentioned above, a condenser microphone is constructed with a fixed cardioid pattern.
In other words, it's meant to record sounds with a high-pressure sound level, while, at the same time, minimizing other transients (noises).
A condenser microphone is a piece of technology that uses a capacitor, which turns acoustic energy into electric energy, and thus, needs phantom power, either through a Focusrite Scarlett 2i2 or an iRig Pro I/O among other audio interfaces.
In other words, it needs an external power source to operate it.
You can check out the price of this microphone on Amazon at this link here, or you can click the link in the previous paragraph to read an extensive review and explanation of the microphone, including its specifications, functions, and set-backs.
9) Seagate Backup Plus 1TB – External Hard Drive
This is more of a boring piece of gear that many people overlook, simply because of human nature.
What I mean by that is that many people don't believe they really need an external hard drive until it's too late, however, once you make this mistake once, you won't make it ever again in your life.
With the way computers are built now, especially in the case of an Apple Laptop, they're essentially designing them to have the least amount of disk space possible, that way you have to pay a monthly subscription fee for the iCloud.
Yes, it's very unfortunate that technology is heading in this direction, so you might as well get on top of it and buy an external hard drive, that way you can actually own and access all of your files that are currently not in use or necessary, but you might need in the future.
Furthermore, an external hard drive like this is a great way to back up all of your music creation files in the case of emergency, as well as create space on your hard drive, that way you can transfer old files onto the hard drive and not have to worry about running out of storage.
If you're anything like me, you're continuously running into the problem of having to empty your trash, delete old unnecessary files, and create space on your hard drive, which is very inconvenient.
For that reason, it's essential to own an external hard drive, because you can take 20GB worth of old Garageband creations, slap them on the hard drive, and then delete them from your computer that way you never have to run into that annoying "Manage Disk Space" pop-up ever again, or at least for a few months anyway.
You can pick one of these up on Amazon for a great price at this link here, or, if you want to read more, you can check out this link here.
10) Line 6 HD Pod500x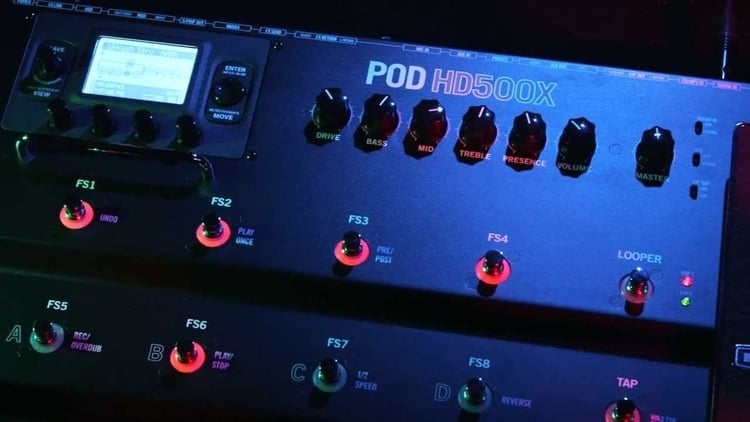 Despite what the haters say, Line 6 makes awesome pedals and effects units that are amazingly useful for home recording.
If you're a guitar player with a home recording studio, a Line 6 HD POD500x system is a great purchase, due to the access of a plethora of amp models, FX, and other dynamics processors that it comes with.
I own an old Line 6 Pod unit too as well, the original that came out over a decade ago, and I use it almost every single day. It's a great compliment to Garageband's amp designer and built-in customization.
If you find yourself bored with the amp models and options in the Amp Designer, and want fresh sound and amps, this is a fantastic option to boost your creativity once again.
I talked more about how to set up guitar pedals at this link here.
Check out the price on Amazon here.
Conclusion
I hope this article was helpful for you in your exploration of some of the awesome gear out there. Maybe one of the best parts about being a musician or music producer is the plethora of available gear and effects units that are a source of endless enjoyment, for real.
Anyway, make sure to share this with your music producer friends on social media.