After getting the Audio Technica AT2021 in the mail, I opened up the box and – for a second – thought that I got ripped off because it seemed like nothing was in it.
I searched around in the box for a microphone that must be at least the size of a Shure SM58, then suddenly I notice there is something in the case. I open it up, and there it is: the AT2021, wrapped in plastic, and probably only 4″ long. So what is the AT2021 and what makes it different from other mics?
The Audio Technica AT2021 is a 4″ long, phantom-powered, condenser microphone that is great for recording vocals, acoustic guitar, and even electric guitar, but you have to make sure you own an audio interface of some kind as well as a pop filter if you really want to get the most out of it.
The AT2021 (from Amazon) is different from all the other microphones I own not only because it's a condenser mic, but also because of its size, coming in at 4″ long and 0.83″ wide. I like that it's small, particularly for when I'm recording the acoustic guitar because it makes it much easier to position. It's unobtrusive, and thankfully, no other purchases are necessary because it does come with a small stand.
The Audio Technica AT2021 – What Comes In the Box?
The AT2021 Mic
Instruction and Warranty Manual
Small Mic Holder
Black Carrying Case
One thing I definitely appreciated about the AT2021 is that it came with a mic holder. Most microphones do come with some kind of mic holder or stand, but not always. I was glad I didn't have to buy any other gear in order to get this mic up and running. Interestingly. the black carrying case is bigger than it needs to be, but it does have a nice foam interior to protect the mic.
The carrying case is large enough to hold not only the AT2021 but also two other fairly large mics, the Shure SM58 and SM48. It wouldn't be a bad idea to use the AT2021 carrying case for multiple small condenser mics, for instance, if you owned 2-3 AT2021s. I actually started using the AT2021 carrying case for my mics instead because it's much nicer than the ones from Shure.
The Best Features of the Audio Technica AT2021
High-End Frequencies and Detail
Before I got my hands on the AT2021, I was watching some YouTube videos about it just because I wanted to make sure the AT2021 was what I was looking for.
While most people in the comment section were unhappy with its sensitivity – mostly because they didn't understand that you need a pop filter to use it properly – I was really pleased with the way it picked up on all the details of the singer's voice, as well as the high-end of the acoustic guitar.
After getting my hands on it and trying it out for myself, I wasn't disappointed. I own the Shure SM58, MXL R144, the Shure SM48, the Samson Q2U, the Audio Technica AT2035, and then this one, the AT2021. Compared to all of these mics (with the exception of the AT2035), there is a tremendous difference in detail and sensitivity.
One comparison that immediately came to mind was the difference between a YouTube video in 480p versus HD. Compared to a Shure SM57, for example, condenser mics like the AT2021, with its wide frequency response and fixed-charge backplate, just sound more clear and much better for recording vocals, acoustic guitars, group vocals, piano, and drum overheads.
I have nothing against the Shure SM57 nor anything else Shure has produced (that I own and have experience with), it's just that the AT2021 is particularly more effective at picking up on the transients that I'm after due to its low-mass element. It's worth mentioning that this is what the AT2021 is meant for too, so it's kind of like comparing apples to oranges.
The SM57 is much better at what it's meant for, like micing snare drums, for example. I'm not an audio expert nor a professional engineer, but the AT2021 makes me wonder: if this is what a budget condenser microphone sounds like, then what does a really good one that's $1000 or more sound like?
Size
Out of all the microphones that I own, I would say the AT2021 is probably my favorite because of its sensitivity to higher-end frequencies – which the AT2035 admittedly has as well – but also for its size. The fact it's so small and lightweight – 4″ (101.5mm) long and 0.83″ (21.0mm) wide – is endearing to me, and I really like setting it up because it just seems cooler and sleeker.
If you're the type of vocalist who likes a big microphone to concentrate on when you sing, then this isn't the one for you. If you take a look at the comparison image below, you can see how small the AT2021 is compared to some of my other mics, like the Shure SM58, SM48, Samson Q2U, and the MXL R144.
Build Quality
The AT2021 is made out of what appears to be light-weight steel, and it's colored black. All-in-all, there is certainly nothing wrong with the build quality of this miniature microphone, and I appreciate the fact it's not made out of some cheap plastic, although, this isn't particularly special considering most quality microphones are constructed out of some kind of metal.
With that in consideration, this is a condenser microphone, and it's not wise to drop it because it will probably break if you do. There's a nice little grill over the top of it so you don't have to worry about the most sensitive part of the mic, in addition to a gold-plated XLR connector that's resistant to corrosion. There's nothing about this mic that comes across as finicky or low-quality in terms of how it's built.
How It Sounds
The highs on the AT2021 are definitely its specialty. They're clear, crisp, detailed, nuanced, and they just sound good. As I've already said before, this mic shines for all types of vocals and for the acoustic guitar. Rather than write a couple of paragraphs here with flowery language, I recommend checking out the video below where I run through some demonstrations and comparisons.
I compared the AT2021 to some of the other microphones that I own, and I find that these comparisons really highlight the way the AT2021 picks up on those higher frequencies. Pay particular attention to the much warmer, low-to-mid-focused ribbon mic, the MXL R144, which sounds a lot different from the condenser mic (more on the R144 in my tutorial). There's nothing wrong with this mic, it's just used for a different purpose.
The MXL R144 is a ribbon microphone that's much warmer and heavier in the low-to-mid-range, and because of this, there is a real obvious contrast that really emphasizes the brightness and clarity of the AT2021. All-in-all, I'm a big fan of the way the AT2021 sounds, particularly its clarity and the way it makes the high-end sparkle. It's very detailed and it's especially good at picking up the pick attack of the guitar.
Specifications of the Shure AT2021
| | |
| --- | --- |
| Element / Transducer Type | Permanently polarized condenser mic with a fixed charge backplate |
| Frequency Response | 30Hz – 20,000 kHz |
| Polar Pattern | Cardioid Polar Pattern |
| Open Circuit Sensitivity | –39 dB (11.2 mV) re 1V at 1 Pa |
| Noise | 19 dB SPL |
| Maximum Input Sound Level | 145 dB SPL, 1 kHz at 1% T.H.D. |
| Signal to Noise Ratio | 75 dB, 1 kHz at 1 Pa |
| Dynamic Range | 126 dB, 1 kHz at Max SPL |
| Weight | 83 g (2.9 oz) |
| Length | 101.5 mm (4.00″) long, |
| Phantom Power Needs | 48V DC, 2 mA typical |
| Output Connection | XLR – 3-pin type |
| Included Gear | Carrying case and stand/clamp. |
Courtesy of Audio Technica
Cons of the Audio Technica AT2021
1) The AT2021 Might Be Too Noisy Or Bright
Some people complain about this microphone being either too noisy or bright, but it depends on the person. What is a con to one person may be considered as a perk to another. I know for me, I like the brightness of the microphone and purchased it specifically for that feature and its effect on vocal and acoustic performances.
So far, I can't really say there is anything about this mic that I don't like, other than the fact that it does appear a bit vulnerable to me, but that's more-so a consequence of condenser mic design in general. I guess I'm used to Shure dynamic mics, which are quite heavy. It seems like the AT2021 won't last long if you drop it repeatedly, but that's hardly a con; just don't drop it.
How To Set Up The AT2021
I've already explored how to set up a condenser microphone before (my guide) but I'll briefly explore it once again here. The most important thing to understand right away is that you need at least 3 pieces of gear, an audio interface like the Scarlett 2i2, an XLR cable, and then probably a USB to USB-C adapter (assuming you don't already own one).
What You Need to Connect an AT2021
An Audio Interface


Focusrite Scarlett 2i2.


XLR Cable


D'Addario 10-Foot Cable.


USB to USB-C Adapter


Adapter From Apple.
1) Plug in your Audio Interface to the USB to USB-C Adapter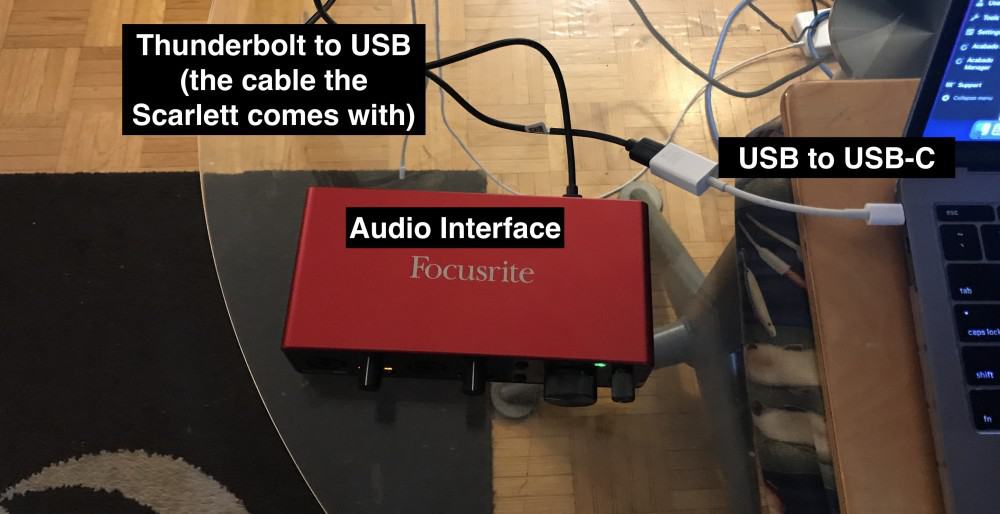 Most audio interfaces will turn on and indicate this to you with some kind of an LED light. In this case, the Scarlett 2i2 (grab it here from Amazon) flashes all of its buttons at once, and then just a few of the knobs stay lit up, like the gain, for instance.
2) Plug the AT2021 Into the Audio Interface with an XLR Cable
The AT2021 doesn't come with an XLR cable, so I hope you already own one. If you don't, grab the D'Addario cable (also on Amazon). I would suggest getting the 10-foot one and don't go any shorter than that, otherwise, you may run into problems later.
3) Turn on the Phantom Power
In the case of the Scarlett 2i2, you just have to hit the little switch that says "48V" on it. It'll turn on, and then the mic is ready to go. Adjust the gain accordingly. I usually set it to around half-way, but it's up to you.
Important Things to Note About the Audio Technica AT2021
1) It's a Condenser Mic – So You Need A Pop Filter
After watching some YouTube videos about this thing, I noticed that a lot of people were using the AT2021 without a pop filter and then wondering why the "sound pressure wasn't good" on it. The AT2021 works exactly how it's supposed to, the issue was just that they weren't using a pop filter, which is pretty much essential for any condenser mic. They're very delicate and sensitive to plosive "p," "s," and "t" sounds.
You can either get a pop filter on its own, or you can just grab one as part of a set as I did (from Amazon). The one that I use is actually pretty good considering the price of it as well as all of the things that came with it, including the phone holder, foam guard, pop filter, shock mount, boom arm, and 5/8″ adapter.
2) You Need Phantom Power
Another thing that's worth emphasizing for the people who aren't that familiar with microphones is that all condenser mics, with the exception of USB mics, need 48v phantom power. And this is simply achieved with an audio interface. If you're serious about recording or music production, you're going to need an audio interface eventually, so I would just get one, a Scarlett 2i2 or some other kind.
3) It's Sensitive
Condenser microphones are sensitive, not only in terms of what they respond to sonically, but also when you bump, knock, or even drop them. Generally, you want to make sure that you avoid dropping this mic or any other condenser microphone.
They're quite sensitive on account of their components, including the front plate, backplate, and diaphragm, and how they all work in conjunction with each other. If you're unwilling to deal with its sensitivity, I would suggest getting a dynamic mic instead like the previously mentioned Shure SM57 which is an industry-standard.
YouTube Video Tutorial
Gear Mentioned in the Article
1) Audio Technica AT2021
2) Shure SM57
3) Audio Technica AT2035
4) Focusrite Scarlett 2i2
5) D'Addario XLR Cable
6) Boom Arm/Pop Filter Set