Recently, I was working on a lo-fi beat and I wanted to import an mp3 sound of a vinyl record popping and cracking into Garageband, however, I wasn't able to do it for some reason. I tried changing the name of the file as this article suggested, but that didn't work, and then I also tried changing the file format as well.
Neither of these things wound up working, and I wondered if there was some kind of update to Garageband whereby you could no longer import mp3s into the DAW, particularly, ones that you haven't paid for or downloaded from a youtube to mp3 converter. Either way, I was able to figure out how to do it, but first I'll explain the problem.
You can't import MP3s into GarageBand because GarageBand only accepts standardized audio files (AIFF, CAF, WAV, AAC, Apple Lossless, and MP3) that haven't been downloaded from youtube to mp3 converters. However, you can right-click to rename the file extension from .mp3 to .wav to fix the issue.
Editing the file with Audacity first was the solution to my problems for reasons that are unclear to me. My guess is that Garageband and Apple have figured out a way to discourage file-sharing in this way, I'm not entirely sure if this is the case. Regardless, let's walk through a more in-depth tutorial of how to do this, and I'll also mention a few other important things as well.
By the way, I'm always on the lookout for deals in the music industry (there's usually something if you know where to look). Right now, there are 2 deals that stick out to me.
How to Fix MP3s That Won't Import Into GarageBand
When I first wrote this article, I thought using another converter or Audacity was the only way to fix the issue of MP3 files that won't import into GarageBand. It turns out there is an even simpler way of fixing this issue, and I'll show it to you right now. You just have to rename the file to a different file extension.
1) Right Click on the File and Select "Rename"
It's easy to convert files or change the file extension name on macOS, however, this can't be done in the same way on iOS (iPhones/iPads). I'll show you how to do the same thing on iOS in a minute.
2) Change the End of the File from (.mp3) to (.wav) > Choose "Use .wav"
When you change the extension on the file, you don't actually convert it into a .wav file. What happens is that you just tell your operating system to handle it in a different way. If you wanted to actually change the file type, you have to choose an online converter or a program that can convert files like Audacity (just to name one).
3) Drag the New File Into GarageBand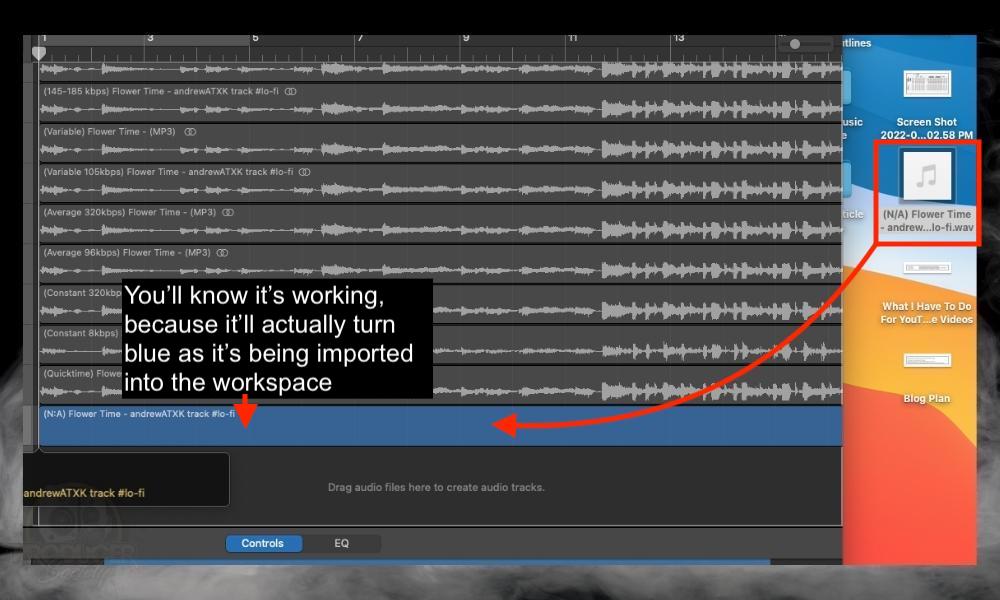 And voila. This is the simplest way of getting an MP3 into GarageBand that won't import.
Guide to Importing MP3s and More Into Garageband
As I said earlier, I wasn't able to import an mp3 into Garageband that I got from a YouTube to Mp3 converter recently and I found that very weird, because it was the first time I've ever run into such a problem. No worries though because I was able to fix it.
This section is for people who don't know how to use Audacity which I've talked about more in my other guide on the differences between Garageband and Audacity. In the case that your mp3 won't import into Garageband properly, follow this guide here:
1) Download Audacity
Obviously, the first thing you want to do is actually get your hands on Audacity from this site if you don't already have it on your computer. As I mentioned in the article I linked to earlier, Audacity is open-source software that's used as an audio editor, rather than a DAW like Garageband.
Its sole purpose is to edit audio, rather than create it with virtual software instruments like the way Garageband does. Once you're on the page, you just have to download the .dmg file and then go through the installer to get it on your computer, however, you'll notice how the browser automatically downloads the file as a .dmg. You don't have to click anything once you've arrived at the download page.
2) Open Audacity and Import the Audio File From Your Desktop
When Audacity is open, you'll have to go into the File menu and then select Import > Audio, because you can't just drag and drop the file into an empty interface for whatever reason.
You'll be taken to the menu where you can choose which file you want to drag into the editor. Choose the one that you downloaded from iTunes, a YouTube to MP3 Converter, or wherever you got it from.
3) Click "File," "Export," and then "Export As MP3" to Your Desktop
When the file has loaded and buffered in Audacity, it'll show up as two files to indicate that it's in stereo. Don't assume there are two there; there is only one. Click Export now, and then choose "Export as MP3," although, you could easily choose another one if you wanted to. Garageband is capable of taking many different file types.
4) Rename the File, and Then Import It Into Garageband
After the file has been successfully exported to your desktop, open up your Garageband project and then drag it into the workspace. The sign that it's about to work is if it turns blue. If it doesn't turn a blue color when you pull it into the workspace, that means it hasn't recognized it and it won't do anything.
And that's it. I'm not sure why Garageband is all of a sudden having issues with certain kinds of mp3s. On other sites, they say it has to do with the file name, but that hasn't been my experience, at least. Using Audacity to edit the mp3, so to speak, seems to be the solution, for now. These things are always changing.
How Do I Import An Mp3 Into Garageband iOS/Mobile?
The fastest way to import an inaccessible MP3 into GarageBand iOS is to use the File Converter application from the App Store. Press the "+" icon in the File Converter, Import your MP3, select "Audio Converter," then choose the option "WAV." Save it to your Files, then open it in GarageBand iOS.
This is the best way of getting a negligent audio file into GarageBand iOS if you don't own a desktop computer or macOS device. I usually use the macOS to iOS method because it works the best for me, but either of these will work great.
As I've stated in my guide on the differences between macOS and iOS Garageband, one of the benefits of using Garageband is that it's seamless to operate from the one on your iPhone and then the other on your desktop (by the way, this is the laptop from Amazon I recommend if you're in the market for one).
There are a couple of ways of importing an mp3 into Garageband iOS, but I prefer just using the Garageband Project to iOS Method, so I'll show you how to do that now. For this, you'll need a laptop or a computer with Garageband installed on it as well, which I assume you do.
It's also worth mentioning that your macOS device and iPhone need to be synced together via iCloud in order for this method to work.
1) Open A New Garageband Project
Open a new Garageband project as you normally would and select "Empty Project."
2) Drag and Drop the Mp3 into Garageband
Drag and drop the mp3 into the workspace. If you can't import the mp3 into Garageband, use the Audacity method that I showed you earlier.
3) Click Share
Click Share at the top of the interface and then select "Project to Garageband for iOS." For this step, if you'll recall earlier, you'll need to synchronize your iOS and macOS devices with iCloud. If you haven't merged these two devices together, none of this will work.
4) Choose "Garageband Project to iOS"
Once you've selected the "Garageband Project to iOS" option, choose the name of your file and then click Save. Your file will be waiting for you on your iOS device.
5) Open Garageband iOS and Choose iCloud Drive
So now you have Garageband iOS open on your device and you just have to click on the Project file that's sitting in the menu.
6) Select Your File In the Project Format and Right Click to Select "Share"
Right-click or double-click the "Share" icon and you'll be given a few options.
7) Choose "Song" and Then Save It As A Loop to Make It an Mp3
You want to use the "Song" option, because then you'll be given a variety of file formats that you can export it in, such as high-quality mp3s, AIFFS, and Apple Lossless.
Select the quality of the file and then click "Share" again. If you want it to be an mp3, you have to choose from the first 3 options, Low Quality, Medium Quality, and High Quality. If you choose the iTunes Plus option, you'll get an .m4a.
8) Select "Open In" to Export the File And then Scroll Down and Choose "Save to File"
Choose the folder, Garageband for iOS, and then your mp3 will be waiting for you in the "File" section when you click on the Apple Loops icon. You can then drag and drop this file into your interface. Because I chose the Highest Quality option, I got a .m4a instead of an Mp3.
So this is one of the ways that I figured out how to import mp3s into Garageband for iOS. The other way of doing it is with your USB cable and you import your iTunes library onto your phone. If you wanted to do that, you'll need to select the option "Music" instead of Files, and then you'll be taken to the iTunes library.
Personally, I hate doing this way, because I've found that Apple has made this kind of thing difficult over the last few years as a consequence of trying to push everyone onto the iCloud to pay a subscription fee.
Other Articles You May Be Interested In
Gear Mentioned