Making a lo-fi beat in Garageband is probably one of the most searched topics related to Garageband music production and it's not hard to understand why. For one, lo-fi beats are really nice to listen to. A lot of people like using them as background music for studying, and more importantly, they're fairly easy to make. I imagine that last part is why beginner producers like them.
I've explained this on my site before, but lo-fi music and aesthetic music share many similarities, but each genre is worth getting its own tutorial due to the differences that make them their own thing. For one, lo-fi tends to use a lot of old-school-sounding samples, cassette static, or the sound of vinyl popping. Much of their fundamentals are the same including the style of the drum kit, beat, melody, and instruments used.
To make a lo-fi beat in Garageband, use:
1) A Cymatics lo-fi drum kit
2) A chord progression in a minor key
3) Analog saturation and vinyl cracking and popping sounds
4) samples from old movies and records
5) instruments like organs, rag-time pianos, and others traditionally used in jazz
For the most part, lo-fi music is a sub-genre of hip-hop music so they share many of the same elements. However, lo-fi is a specific niche of the larger genre, and there are certain elements that you'll never hear in a lo-fi track. One would be booming 808s like what you would hear in a Ghostmane song, and the BPM of the track will rarely be above 80-90 beats per minute. Let's talk about the elements in detail now.
By the way, I'm always on the lookout for deals in the music industry (there's usually something if you know where to look). Right now, there are 2 deals that stick out to me.
What Are The Common Elements of Lo-Fi Music?
1) Ambience, Emotional, or a "Chill" Vibe
Almost every Lo-Fi beat has somewhat of an ambient or chilled-out vibe. This is arguably the most important element of lo-fi music. The creation of ambiance comes down to a couple of different factors, including the speed of the track, the type of chords and melodies used, the scales, as well as the lack of vocals which are all important elements on their own.
With that said, I would say the fundamental way you get that ambient or "chilled-out" feeling is from the speed of the track, the style of chords used, and the instruments. We'll talk about this a little bit more later, but know that minor 7th, major 7th, and then extended chords like Maj/13, min9, and min11 are also great for achieving that vibe. I talked about this quite a bit in my Aesthetic track tutorial.
Here's a list of useful chords you can use for Lo-Fi – all in the Key of C Major and C Minor
| | |
| --- | --- |
| Chords | Notes |
| CMaj7 | C E G B |
| CMaj7add9 | C E G B D |
| Cmaj7/13 | C E G B A |
| Cmin7 | C Eb G Bb |
| Cmin9 | C Eb G D |
| Cmin7/11 | C Eb G Bb F |
| Csus2 | C D G |
| Csus4 | C F G |
2) A Lack of Vocals
Almost all lo-fi beats lack vocals. I believe one of the reasons for this is that it's become a popular trend for people to listen to lo-fi music when they study, work on a project, or do some other activity where their attention isn't pulled away from the work at hand.
Thankfully, this feature is easy to implement into your beats. Just don't add vocals. Because studying or a similar task takes concentration, the vocals can't have audible lyrics that distract your mind from what you're doing. Maybe some people can listen to music with vocals while they concentrate, but I know I'm not one of those people.
3) Jazzy Instruments and Soundscapes Like Pianos, Flutes, Nylon String Guitars, and Synth
We could talk all day about the instruments and tools that are used in lo-fi, so I made this chart for you that way you have an idea of where to go and where to start. The following tools are great for making lo-fi music in Garageband and in other DAWs as well.
Lo-Fi Tools, Instruments, and Sounds

***Each link takes you to where you can find the product
Drum Kits
Cymatics Lo-Fi Kit (FREE)
Studio Linked's Drum Pro (FREE)
Pianos
Spitfire Audio Lab's Soft Piano & Rare Piano Groove (FREE)
Ragtime Piano from Komplete Start (FREE)
Hybrid Keys from Komplete Start (FREE)
Tools, Effects, Utilities
Izotope Vinyl (FREE)
Waves Cassette Factory (FREE)
Lo-Fi Glo from Komplete 13
MSaturator from Melda Productions (FREE)
Guitar Rig 6 Pro from Native Instruments
Plugin and Instrument Bundles
Komplete 13
– Organs
– Soundscapes
– Cuban, Middle Eastern, and African instruments
– Acoustic and Electric Guitars
– Analog Dreams (just to name a small fraction)
Komplete Start (FREE)
– Hybrid Keys
– Ethereal Earth
– Kinetic Treats
– Persian Ney Flute
Xpand! 2 (on Plugin Fox)
– Soft Pads
– Action Pads
– Acoustic Pianos
– Ethnic Instruments
– Bells
– Strings (The list goes on)
Bass Instruments
Initial Audio's 808 Studio II Synth
Spitfire Audio Lab's Bass Guitar (FREE)
Ample Sound's P-Bass Guitar Lite ii (FREE)
Guitars
Ample Sound's Acoustic Guitar M Lite ii (FREE)
Spitfire Audio Lab's (Peel Guitar, Guitar Harmonics, Moon Guitar, Mandolin, and more) (FREE)
DSK Guitars (FREE)
Garageband Instruments
Dark Lo-Fi Piano
Lo-Fi Drive 808 Bass
Lo-Fi Feels
Lo-Fi Funk
Lo-Fi Hype
Lo-Fi Throat
Lo-Fi Voices
Steinway Grand Piano
Processed Pianos (whole category)
Guzheng
Beat Machine
808 Bass
Bells
Marimbas
Upright Bass
Harp
Vibraphone
Flute Solo
Bebop Organ
Vintage Mellotron (whole category)
Erhu

***My list of great Garageband instruments for hip-hop. Some of these can be applied to lo-fi as well.

Lo-Fi Drum Kit
A crucial element of making lo-fi beats is the style of instruments you use. For instance, there are certain drum kits that have that lo-fi vibe more than others. You wouldn't want to use a Trap Kit for a Lo-Fi beat. Although, rules are made to be broken, so maybe you could come up with something unique using one of these kits.
Fortunately, there are many Lo-Fi drum kits that you can get your hands on from websites like Cymatics, however, I would say one of the best ways to get your hands on Lo-Fi sounds and kits is through Komplete 13 from Native Instruments, which comes with a huge list of instruments, effects, and VSTs, one of which is the Play Series Lo-Fi Glo. VSTs like XPand!2 have instruments that can be used for Lo-Fi as well.
If you're not in the market for a new plugin, I recommend downloading the same set of Cymatic drum kits that I suggested in my article on how to create an Aesthetic track in Garageband. There are around 10 kits in there that sound pretty good, and more importantly, they don't cost a thing. You can find that here and in the "Lo-Fi Tools, Instruments, and Sounds" table of contents above.
Electric, Retro, and Grand Pianos
Spitfire Audio Labs (Soft Piano and Rare Groove Piano)
Garageband's Processed Piano section
Hybrid Keys from Komplete Start/13
Another huge feature of Lo-Fi music is the inclusion of instruments like grand pianos and electric pianos. Nearly every Lo-Fi sound has some kind of keys, including grand pianos, upright pianos, ragtime pianos, jazz organs, and other instruments that have that chilled-out vibe we were talking about earlier. Spitfire Audio Lab's Soft Piano pictured down below is a great way of achieving that.
Here's my guide to the best free pianos, but I would say the best keys you can currently get for free for Garageband right now are the Soft Piano from Spitfire Audio Labs, Hybrid Keys as part of Native instruments' Komplete Start, and the Rag-Time Piano also from Komplete Start.
Additionally, with Garageband's latest update came quite a few new piano instruments, so don't be afraid to experiment with what Garageband already has to offer. I noticed that with their last update, they added quite a few instruments that are good for hip-hop, lo-fi hip-hop in particular.
Nylon String, Electric, and Acoustic Guitars
Spitfire Audio Labs (Mandolin, Moon Guitar, Peel Guitar, Bass Guitar, Lap Steel, Guitar Harmonics)
Ample Sound's Acoustic Guitar M-Lite
DSK Guitars (Nylon and Steel-String)
Guitars are another great addition to a Lo-Fi track, especially clean electric guitars and nylon string guitars. It's not uncommon for acoustic guitars to be included as well, but I would say the first two are better just because they tend to sound much warmer.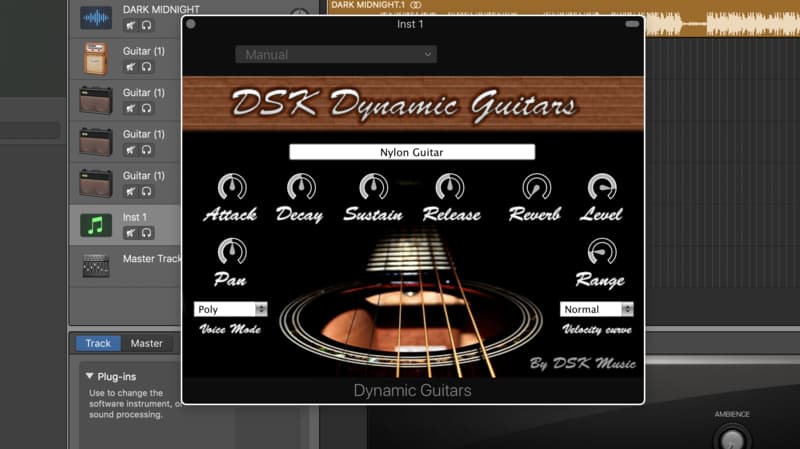 Lo-Fi music has a warm, vintage, analog sound to it, and this is the reason why nylon strings and clean electric guitars are better for Lo-Fi music than acoustic. Nylons, especially, and Jazz Electric Guitars are great for making this kind of music. Acoustic guitars can be used as well, but the former I find is the best. In case you do want to use the acoustic guitar, the one down below from Ample is a great start.
In my article on the guide to guitar plugins for Garageband, you can take a look at what's available and also compatible with Garageband, however, I'd say that the Moon Guitar which I mentioned earlier is one great way to get a string sound like that. If you own an actual guitar, perfect, that's even better. Here's how to connect it:
Bass Synth (No Heavy 808s Though)
I've noticed that Lo-Fi music often doesn't come with strong 808 sounds either. I think this may be for the same reason that nylon strings are better, in the sense that Lo-Fi music is quite warm in the low-mid range area. Adding too many sub-frequencies to the track would distract from the melody.
That said, I think Initial Audio's 808 Studio II Synth is a great way to add some bass to your tracks whether it's a strong bass sound or a light one. You can customize it in whatever way you choose to fit your track, and there are innumerable presets to try.
"Init" is one that could be used for a Lo-Fi track because it's a soft bass sound with no kick. The lo-fi beat I made for this article, however, used the same "Midnight" preset that I've always used.
5) Warm Lower Mid-Range
As I just mentioned, Lo-Fi beats tend to have a lot of mid-range frequencies because that's how older electronics sounded. If you were trying to get an old-school vinyl or radio-type sound, it would be best to increase the range between 500Hz and 2000kHz. For example, this is how the master EQ looked on my final lo-fi project.
This area seems to be quite pronounced in Lo-Fi music, at least to my ears. Now, if we were trying to make the lo-fi sound even more dramatic, we would make the boost in the mid-range there higher and we would make the low-cut and high-cut even stronger. This would make like a 1920s-era radio-type sound.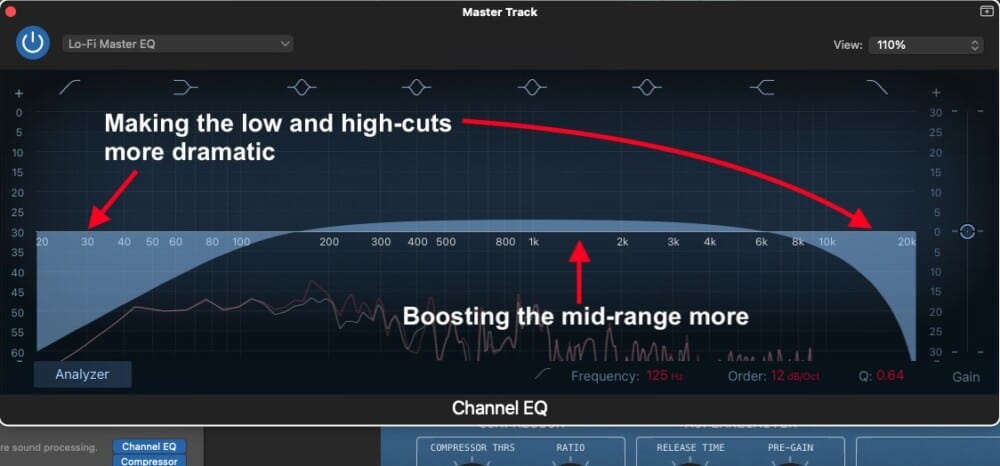 In fact, I might do just that when I add the finishing touches to my track. How you would go about this is just eliminating some of the lower and higher frequencies in the mix. Read my guide on the EQ to do that.
6) Vinyl, Cassette, and Analog Sounds
Izotype Vinyl
Wave Factory's Cassette
Komplete 13's Lo-Fi Glo
YouTube videos.
Another incredibly common feature, in fact, it should almost be included at the top due to its prevalence in the genre, are the pops and crackles that would naturally come from a vinyl record player. Personally, I think it's best to actually go to YouTube to get your hands on a nice vinyl sound like this one.
You'll have to use a YouTube to Mp3 converter and then import/export the file from Audacity like I showed you how to do in my other guide, however, this is technically illegal. So there are a few other ways to get this sound, one of them being Izotope's Vinyl (from Plugin Fox).
For those who aren't in the know, vinyl record players have a much warmer sound than songs played back on Spotify or even on a CD. It's one of those defining features of record players that still make them fairly popular today.
There is another free option, Wave Factory's Cassete, which you can download for free from their website. This imitates the classic tape sound that you would hear from a cassette player, rather than vinyl, but the effects are very similar.
There's nothing wrong with Cassette; it just has a different vibe. Komplete 13 also has the Lo-Fi Glo tool where you can add all kinds of saturation, distortion, effects, instruments, sounds, and other elements in the Lo-Fi style.
Lo-Fi Glo is a VST that you get when you buy Komplete 13 from Native Instruments. This thing does everything for lo-fi and boom-bap sounds. It's yet another reason why Komplete 13 is one of the best things that a producer can get which I said in my plugins article as well.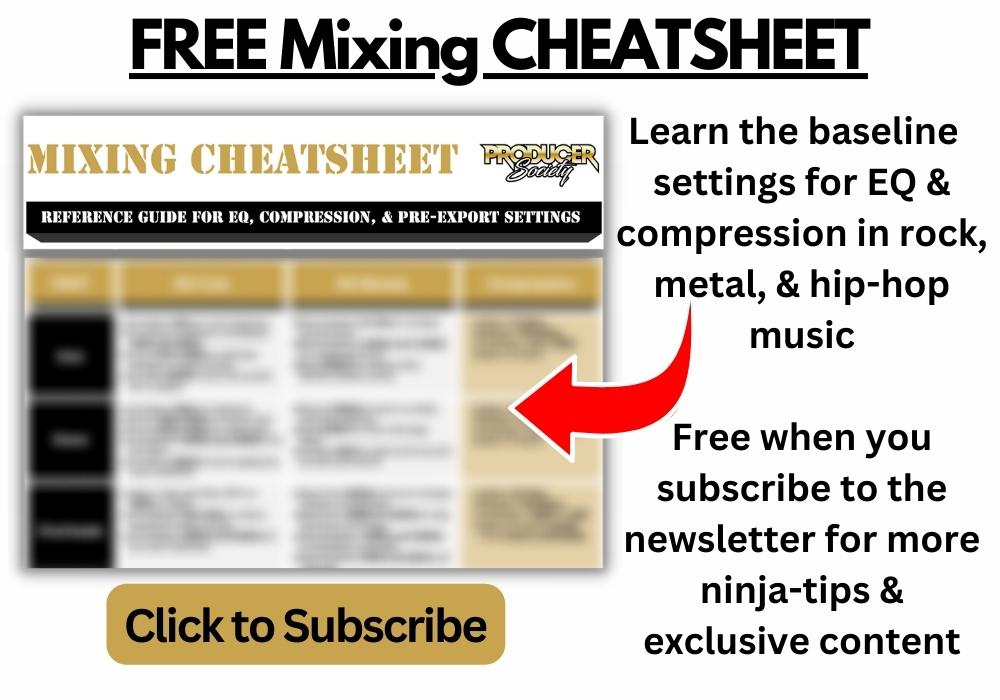 7) Old Sample from the 1950s, 60's and 70s
To add the final element that really finishes off the Lo-Fi beat, it wouldn't be a bad idea to get your hands on a sample from the 50s or 60s, either from a movie, as I already mentioned, or from an interview of some kind between two different people.
A common thing to do is to grab a sample from either the '50s or '60s, but it doesn't have to be this period. It just has to sound old. These old records fit the lo-fi vintage sound. I can't say for certain why the technology of the same time sounded the way that it did, but I imagine ribbon microphones, tape machines, and vinyl had something to do with it.
At one point in time, ribbon microphones were the norm and nearly everything was recorded with a tape machine which was then printed onto a vinyl record. For that reason, among probably many others, everything sounded a lot warmer and darker, which is certainly a feature of ribbon microphones, particularly the MXL R144 which is always good to get on Amazon.
If you do want to record your own sounds and you want that dark, warm, lo-fi feel to it, the MXL R144 is a good choice. Personally, I find that the MXL R144 is just a little too dark for anything other than lo-fi vibes.
You can check out the video I made on microphone differences to see what I mean. You could always record some of your guitar or bass parts with the ribbon microphone. I think that would sound pretty good when tracking nylon string guitars, for example.
How to Make a Lofi-Beat in Garageband – The Steps
You've now got an idea of what kind of instruments will work to make a lo-fi track in Garageband, so let's get started. The first thing I'll do when I'm making a new song, lo-fi or not, is set the BPM (by the way, I've included the finished project at the end).
1) Use a Slow BPM – Between 60 and 90BPM
In the top-center of the Garageband interface, you want to change the BPM to between 60 BPM and 90 BPM. This isn't one hundred percent necessary, but it's a great move if you want to ensure your beat doesn't get too fast.
Lo-Fi beats are almost always slow; they're never fast. Granted, you can have the BPM set really fast and still make the track very slow anyway, but I find that a slow BPM like this encourages me to make the song nice and slow.
2) Add the Kick and Snare and Keep It Simple
There are a couple of ways you could go about creating a drumbeat for a Lo-Fi song. A quick and easy way is to simply download the aforementioned Cymatics.FM's Lo-Fi drum kit which comes with Drum Loops and sounds by default. This means you won't have to create the rhythm section on your own.
However, I'm going to assume you're a little more creative than that, and you want to create something entirely on your own. One thing to keep in mind is that a Lo-Fi rhythm section is almost never overly complicated or sophisticated.
For example, there will be a kick, a snare, hi-hats, and maybe another cymbal and that's about it. You want to keep the pattern relatively simple, which is part of the reason why it's so easy to make a Lo-Fi beat. You can see what that looks like in the image here.
As you can see, the kick and snare pattern isn't terribly convoluted, and as a general rule, you could throw the snare beat on beats 1 and 3, loop that for the entirety of the track, and then throw in the kicks in a way that you think sounds cool.
3) Add A Simple Hi-Hat and Cymbal Pattern
If you've read my guide on making hi-hat and snare rolls in Garageband, you'd know that adding hi-hats and cymbals to a hip-hop song isn't the hardest part. I would say this is even more true when it comes to a lo-fi beat because the patterns, like the kick and the snare, typically aren't very complex. You can see what I've used here.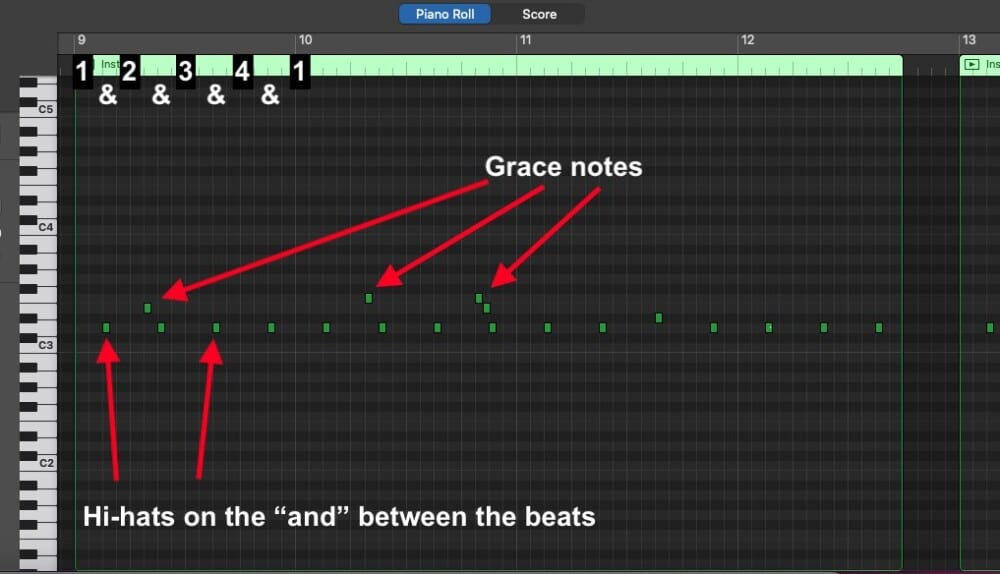 I've put all of the hi-hats on the "ands" between the primary beats 1, 2, 3, and 4. Explained another way, each hi-hat is halfway between every time the metronome strikes. Had I put the hi-hats directly on the beat, it would've sounded really lame.
The grace notes, as well, are kind of just like a way of adding a little bit of style to the drum pattern. I've talked about these before in my article on how to create drums, but they're worth mentioning again because they're such a great way to make a previously boring pattern a lot more interesting.
The thing about grace notes too, is that you add as many as you'd like in whatever way that you want to. Chad Smith from the Red Hot Chili Peppers does a great demonstration of ghost and grace notes in this youtube video here. It's for the acoustic drums but the same principle applies.
4) Make the Main Melody With A Calming Instrument Like A Soft Piano
Load up Spitfire Audio Lab's Soft Piano or a similar piano, and create a simple chord progression with either minor or major chords. If you want to create a chilled-out vibe, however, it's best to use Minor 7th or Major 9th chords.
In this case, I chose a Fmaj7/13 and a BbMaj chord. It's the Fmaj7/13, particularly the 13th extension, that makes this chord progression so emotional and dreamy-sounding.
Note: The Bbmaj chord has F as its root note, but the tonality of it is Bb major.
Minor 7 and Major 7 chords, particularly when you add 11 or 13s on top of them, tend to be amazing for lo-fi and similarly emotional/ambient sounding beats.
Minor 7th chords tend to sound Dorian, which is the second mode of the major scale and it's known for being quite chill and subdued. It has a minor sound, but not so much that it sounds sad. A Minor 7th chord, in case you don't know, is just a Minor chord with the seventh degree of the scale added on top of it.
For example, in the Key of C Minor, the notes are the following:
C, D, Eb, F, G, Ab, Bb, C
To make a C Minor 7th chord, you make a triad from the root, the third, and the fifth, which gives you:
C, Eb, and G
To make it a Minor 7th Chord, you add the 7th degree, which, in this case, is the Bb note.
Thus, you have the following Cminor7th chord:
C, Eb, G, Bb
Use these same principles for other key signatures and scales and you're good to go. Piano For All is a great way to learn chords, by the way, and it sometimes goes on sale here on their site.
5) Copy and Paste the Same Progression Onto A New Instrument Track
This is the easier part of making music regardless of the genre because you just have to play around with other instruments to fill out the mix. That said, I find a good thing to do is to take the main melody from the Piano, and then add it to a new track and see what you can come up with.
For this track, I did just that as you can see here. The two track regions are identical, but with one note omitted because I found that the Bell Synth did a better job of handling that note in particular.
In the case of a Lo-Fi track, you would want to use things like Vintage Pianos, Bells, Nylon String guitars, and more. Any instrument that's associated with smooth jazz or even classical in some cases. If you're in the market for new instruments and VSTs get Komplete 13 from Native Instruments, but if you can't afford that, XPand!2 (on Plugin Fox) is a great alternative or addition.
6) Add Another Melody Over Top of the Main Progression With A New Instrument
In many ways, the riff I created with the Moon Guitar from Spitfire Audio Labs is kind of like the primary melody of the tune because it's consistent throughout the entire track. All I did with it was I used a few notes from the Bb Major scale, particularly, the notes that belong to the two chords I used in the song, FMaj7/13 and Bbmaj/F.
Additionally, I didn't really use "theory," so to speak, I just jammed on it and figured something out naturally by playing notes from the Bb Major scale. The theory comes afterward as a way of explaining what I actually did for you.
7) Record Real Guitars Including Acoustic, Electric, and Nylon-Stringed
I've got a whole article on this very topic, so I won't dive into how to set up an acoustic guitar recording here, but for this section, I did pretty much the same thing as I did with the Moon Guitar, in the sense that I just played what I had made of the beat thus far and jammed over it on the acoustic guitar until I found something that I thought sounded cool.
I used Gmin7, Bbmaj9, Cmin9, Cmin, Bbmaj7, and then a standard BbMaj chord. Because the song is in G Minor, I know that Bs and Es are flat, so I just came up with something that used those notes and I wound up with the chords I just listed.
Regarding the process for recording acoustic and electric guitars, I will say the following bullet points:
This has the effect of filling everything out in a way that just sounds a lot better, plain and simple. Oftentimes, re-recording the same part a bunch of different times in a slightly different way is the key to making your recording sound a whole lot better, to the point where it rivals songs you'd hear from professionals.
Use headphones if you're recording acoustic guitar
If you're recording an acoustic guitar, you'll need to have headphones like the ATH-M50xBT (from Amazon) because otherwise, the music will bleed back into your microphone, as will the metronome which is super annoying.
8) Add the Bass Line with the Initial Audio 808 Studio Synth II
To add a bass line, I do the same thing as I would if I were filling out the melody with another instrument, except with one key difference, and that's that I'll follow the kick drum very closely with the bass instrument, or at least use it as a guideline. The bass and kick pretty much always work together.
Another great thing to do is to copy and paste the kick MIDI notes from its region down into the bass instrument, that way you can actually see where the kick notes are in real-time.
Regarding the actual notes, a good thing to do is to outline the notes of the chords that you've used, however, that may get boring, but at least it's a way to start. The bass line doesn't need to be sophisticated. I've heard many hip-hop and lo-fi songs where the bass is just a couple of notes that match with the kick.
9) Create A Retro Sound With Wavefactory's Cassette, Izotope's Vinyl, or an Mp3
If there is a feature of lo-fi music that someone would overlook, it would be this one because it doesn't seem terribly important, but I think it's essential. Part of what makes the lo-fi sound "lo-fi" is the inclusion of retro effects, and what a better way to do that than to add the sound of a vinyl record scratching and popping or the sound of a cassette hissing.
Frankly, I found myself just using an mp3 that I downloaded from YouTube because I felt like I got a better result than I did with the plugins. You'll recall earlier that I recommended using Izotype's Vinyl or Cassette from Wavesfactory, but I actually didn't even end up using them for this track. I just didn't like them.
That doesn't mean you won't like them, however, so if you're interested in using them, put them on the master track of your Garageband project to introduce a lo-fi sound. If you don't know how to sample, by the way, check out my guide on the topic. I've included a short video here though as well.
10) Arrange the Instruments and Sounds to Create A More Interesting Song
Arrangement, as I've explained elsewhere on the site, is kind of like the act of spicing up a song or a melody just by moving things around, adding transition phrases, and giving the piece more musical variety. There are many, many, different arrangement techniques, but I'll cover just a few that I used for the lo-fi beat:
Omitting the Drum Section During Certain Parts
I do this kind of thing in my songs all of the time and many others do as well. If you want to introduce the next section of a song, sometimes a good way of doing it is by either adding a drum fill or omitting a drum part altogether like what you can see above.
Adding A Nearly Identical Melody With A Different Instrument
As I said earlier, simply copying and pasting a MIDI region onto a new software instrument track is a fantastic way of filling out a song and adding more musical variety. The great thing about it is that it takes just a few seconds to do.
Adding Moments of Slience Between Sections
This is similar in principle to what I already mentioned with the drum omission. By omitting certain parts of the instrumentation, you can create a particular effect. For example, highlighted in the image is the omission of the piano bell synth during a certain part of the chorus.
Adding 808s to Some Parts and Not Others
I also chose to use the 808 instruments as a "groove-maker" for sections where I felt it benefited the song. The verses without the bell and synth instruments, for instance, sounded kind of bare so the 808 bass line thrown in there gave it a much-needed vibe.
(Optional) Add a Sample of an Old Interview or Conversation
I would say the last thing to do when creating a Lo-Fi beat is to add a sample of some kind of a historical figure, whether it's a politician, a musician, an artist, or any kind of celebrity of some kind like an actor, and cut out an interview in which they're talking about something that's supposed to sound meaningful and interesting.
For example, you could go to YouTube and cut out a speech from John F Kennedy talking about war or something similar, and then insert that into your project to really fill out the rest of the vibe. That's a good way of really finishing off your project with the last little bit it needs.
Important Things to Note
1) These Are Guidelines and Not Rules
Everything I've listed here is not to be taken as a rule, but as a guideline to help you get started. Head over to YouTube and listen to one of the Lo-Fi radio streams, and you can get a feel for what kind of sounds people are expecting from a Lo-Fi playlist.
Gear Mentioned
1) Komplete 13 (from Native Instrument's Website)
3) Initial Audio's 808 Studio II Synth
4) MXL R144 Ribbon Microphone (from Amazon)