Generally speaking, almost any brand or manufacturer of audio interfaces will be compatible with GarageBand or Logic Pro X, including PreSonus and their AudioBox line. More specifically, the PreSonus AudioBox USB96 works just fine with both iOS, macOS, and iPadOS devices and software.
I know this for a fact because I own the PreSonus AudioBox USB96. I bought it a few years ago when I needed a cheap audio interface for when visiting my parents' place for Christmas. It's quite a bit less expensive than its more popular counterpart, the Scarlett 2i2.
And the differences between the two are apparent if you own both of them and you've compared them side-by-side, which I have. But I digress because I don't want to turn this into an AudioBox versus Scarlett article.
With all that said and out of the way, I'll answer a few more questions about the AudioBox and GarageBand, and then I'll also mention a few tips and tricks for you that'll help you make the right decision for when you first buy an audio interface.
By the way, I'm always on the lookout for deals in the music industry (there's usually something if you know where to look). Right now, there are 2 deals that stick out to me.
The PreSonus AudioBox USB96 and GarageBand – An Overview
If you're in the market for an inexpensive audio interface for your macOS, iOS, or iPadOS device, the PreSonus AudioBox USB96 is a good choice. As I said to you a moment ago, it works for GarageBand on all three of the platforms.
I know, because I've tried with all of them. There are a few other reasons why I like the AudioBox USB96 for GarageBand recordings, but also some things I don't like about it. I'll explain those to you now.
Pros of the AudioBox USB96
Solid Metal Chassis
Inexpensive
Sounds Good
Portable and Convenient
2 Inputs (XLR and 1/4")
MIDI In and OUT
1/4" Speaker Outputs
Headphones Port
Works Great with All Versions of GarageBand
I don't want to get too much into all of the features and details because that isn't what this article is about. But what I will say is that it works great for GarageBand and there are no compatibility issues or other problems. The operating system will recognize it just fine.
Cons of the AudioBox USB96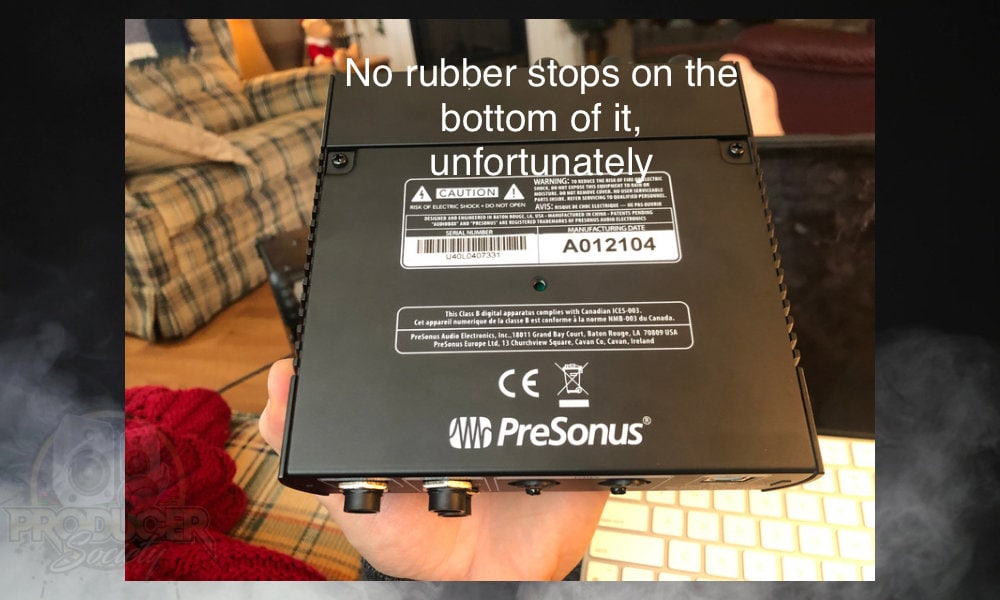 No Rubber Stoppers on the Bottom
Knobs And Buttons Aren't As Tactile and Responsive
Regarding the rubber stoppers, I find this to be the most annoying thing about the USB96. The Scarlett 2i2, for example, has 4 rubber stoppers on the bottom of it, so it won't move around on your desk. It just won't because the rubber creates friction between itself and the hard surface.
The AudioBox USB96, on the other hand, tends to move around on your desk quite a lot. That said, you could get your hands on some rubber stoppers with adhesive on the bottom of them and that would fix your problem.
Additionally, the knobs and dials aren't as good as what you would see on the Scarlett 2i2. But they're also not terrible either. Ultimately, I think you get more value than what you pay for.
Does The PreSonus AudioBox USB96 Work With GarageBand iOS/iPadOS As Well?
The PreSonus AudioBox USB96 works just fine with GarageBand iOS, as well, as do nearly all other audio interfaces. That said, the AudioBox USB96 isn't ideal for GarageBand iOS because it's not quite as portable as an iRig Pro I/O or HD 2.
Depending on the age of your iOS or iPadOS device, you could potentially run into some issues regarding the USB-buss power. In case you don't know, a lot of audio interfaces are buss-powered which means they get their power from the device you've connected to.
For example, if you try and use the Scarlett 2i2 on an iPhone 7 Plus, you may find that it just doesn't work the way it should. I talked about this in my article on how to connect a Scarlett 2i2 to an iPhone or iPad.
If this is your situation, you may have to get your hands on a USB multiport adapter (also called a camera adapter) which you can find here on Amazon. For whatever reason, using this adapter will get around this problem.
In some situations, you may also have to connect an external source – either a wall charger or a power bank – in order to power your device, because maybe your phone won't have the juice to power the AudioBox.
Other Articles You May Be Interested In
Important Things to Note About PreSonus and GarageBand
1) There Are Better Audio Interfaces On The Market
I own a Focusrite Sapphire 6USB, a Scarlett 2i2, an iRig HD 2 and Pro I/O, as well as the PreSonus AudioBox USB96, and I would say the Sapphire 6USB, Scarlett 2i2, and the iRig Pro I/O are all almost tied, with the Sapphire 6USB coming out on top due to its MIDI ports and overall durability.
If you really are on a budget, than using the AudioBox USB96 will work great because it has everything the Scarlett 2i2 has except in a much cheaper version. As a matter of fact, the USB96 has one thing that the Scarlett 2i2 doesn't, and that's MIDI In/OUT ports on the back.
This means you can easily connect an old school electric piano, keyboard, or MIDI keyboard. I showed you how I did this in my article on how to connect an old piano to your DAW.
2) The Regular AudioBox Is Discontinued
PreSonus got rid of their original AudioBox and they now only make the USB96 version of it instead. I'm not entirely sure what the difference is between these two devices, nor do I care. I'm just telling you so you can find the right one.
Gear Mentioned
1) PreSonus AudioBox USB96 (on Amazon/Thomann/zZounds)