FL Studio Mobile is Image-Line's answer to mobile music production and it's a pretty cool application to use for your smartphone or tablet. I've had it for a few weeks now and I've enjoyed using it thus far, mostly due to the zoom-in/out feature and how easy it is to move files, samples, and other instruments around.
Thankfully, it's also dirt cheap and it doesn't cost nearly as much as the desktop version that you would find on your macOS, Windows, or Linux laptop/computer. However, in the era of planned obsolescence and paid-for updates, you may wonder if you actually own it after you've bought it.
FL Studio Mobile is a one-time purchase when you buy it for your mobile device, however, there are some in-app purchases available for additional content. That said, while FL Studio Mobile is not paid for via a subscription system, there are some situations where you may have to buy it again.
For example, if you have FL Studio Mobile on your iPhone or iPad, you'll probably have to buy it again if you've got a Samsung Galaxy phone. You can't transfer over the iPad version of FL Studio Mobile to another operating system – you'll have to buy it again in cases like these. Let's talk a bit more about that now.
By the way, I'm always on the lookout for deals in the music industry (there's usually something if you know where to look). Right now, there are 2 deals that stick out to me.
When FL Studio Mobile Is Not A One-Time Purchase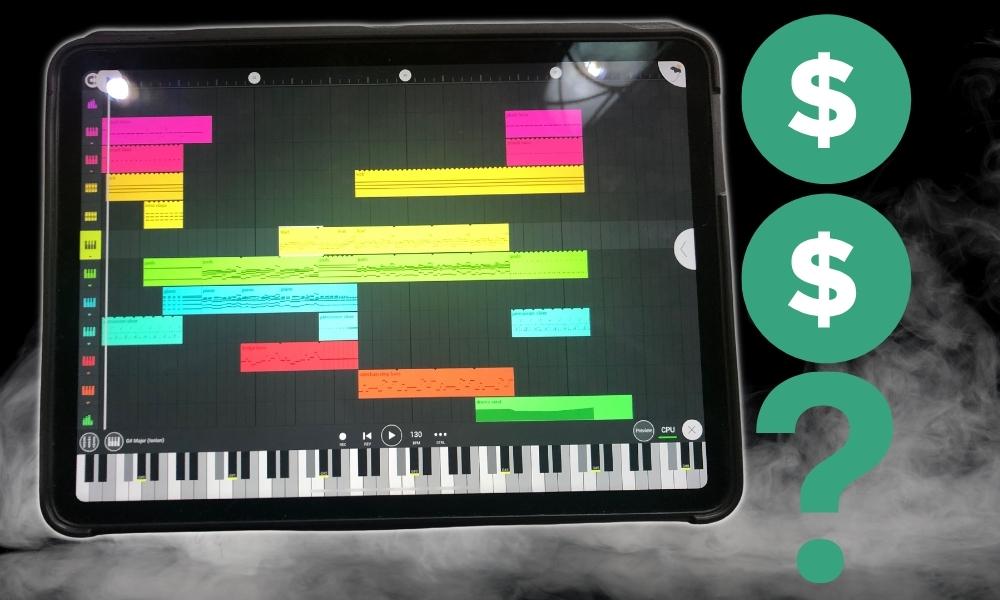 As the caption in the image above says, I use FL Studio Mobile on my 2021 iPad Pro and also on my iPhone X, and because these both run the same operating system, ie, iOS, I only had to buy it once. The synchronization of my two devices makes this possible, so whenever I do something on my iPad version, it'll show up on my iPhone as well.
The same thing cannot be said if you're trying to take the iPad version over to your Windows or Android phone. It's just not going to work that way.
Image-Line also says directly on their troubleshooting page that you'll have to buy a new version as well as all of the instruments if you're trying to switch operating systems. This is purportedly the same for all applications and downloads and not just Image-Line products.
Do I Have to Buy FL Studio Mobile Again?
Generally speaking, you won't have to buy FL Studio Mobile again, unless you're trying to switch to a new operating system. The same thing can be said for instruments and other downloads. As long as you have access to your account, you'll be able to access the In-App purchases you previously made.
Is FL Studio Mobile Worth It?
As far as I'm concerned, FL Studio Mobile is definitely worth the price considering it's only $13.99 on the App Store. You get more than enough instruments, sounds, samples, and other free materials to work with for a cheap price. Additionally, once you've paid for it, you get access to all future updates for free.
That said, there are some limitations to the software that a lot of people like to talk about, including its inability to host AUv3 plugins as I talked about in my guide on installing FL Studio Mobile plugins.
From what I've seen, when users criticize or complain about Image-Line's mobile software, it's usually because they haven't figured out how to support AUv3 plugins yet. In case you don't know, this is the iOS version of Apple's Audio Unit extensions which is what we use for GarageBand macOS and iOS.
GarageBand iOS can use a lot of 3rd party plugins and applications directly from the App Store, including from reputable and respected companies like Fab Filter. They produce macOS and iOS versions of their iconic tools like the Fab Filter Pro Q EQ, for instance, which is probably the most beloved EQ plugin on the market.
However, someone from Image-Line's support page purportedly stated the company was in the process of supporting AUv3. So that's something we can all look forward to. FL Studio Mobile does use Apple's proprietary Inter-App Audio (IAA) system which allows you to output sound from one application to another.
Simply put, if you have a drum machine application that you downloaded through the App Store, you actually can use it with FL Studio Mobile via the IAA system. It's important to note that the application has to be open in the background for you to use it with FL Studio Mobile.
This functions a lot like Loopback Audio which I talked about in my guide to using and making reference tracks for mixing purposes. Another thing I like about FL Studio Mobile is what I mentioned earlier: the zoom-in/out feature.
Unlike GarageBand iOS, FL Studio Mobile is very capable of simply zooming in and out on the Playlist (what GarageBand iOS/macOS calls the workspace), and you can extend or shorten your tracks with this feature. In my view, this is part of what makes FL Studio Mobile such a pleasure to work with.
If you need to get more of a broad and birds-eye-view perspective of your project, it's as simple as zooming out. But if you want to get in real close for precision's sake, it's just as simple. All-in-all, you can't go wrong with FL Studio Mobile because it hardly costs anything. I imagine Image-Line will also improve it in the next year or two as well.
Other FL Studio Mobile Articles You May Like
Important Things to Note About FL Studio Mobile
1) FL Studio Mobile Can Also Be Used On Desktop
One thing that's certainly worthy of note is that you can use FL Studio Mobile on a desktop computer. It can either be used as a plugin or as a stand-alone application. Moreover, as is the same for GarageBand iOS and GarageBand macOS, the desktop version of FL Studio works nicely with the mobile app.
2) Files Can Easily Be Shared and Transferred Regardless Of Operating System
As Image-Line points out on their troubleshooting page, there's no reason why you can't transfer files between devices regardless of the operating system. In other words, with the SHARE feature, you can easily move files from one device to another, no matter if it's from iOS to Android or vice versa.
Gear Mentioned
1) 2021 iPad Pro 1TB (on Amazon)