The Focusrite Scarlett series, including the 2i2, is probably one of the most popular audio interfaces on the market right now if it isn't in the number one spot. I made the case previously in my definitive guide to audio interfaces that the Scarlett 2i2 is in that position for a few reasons including its sturdiness, its reliability, and the fact it sounds pretty good even though it doesn't cost that much.
Additionally, setting up an audio interface with your MacBook Pro, particularly the Scarlett 2i2, isn't terribly difficult. It takes just a few short steps. There are a few variables one has to take into consideration, including what generation you have and also the year your computer was made, but it's fairly simple by default.
To connect your Scarlett 2i2 to your MacBook Pro
1) Use a USB-C to USB cable to connect the back of the Scarlett to your computer's USB port.
2) If your Scarlett is 1st or 2nd generation, you'll have to use a firewire cable instead, and a USB-C adapter may be needed if your MacBook is pre-2017.
It really isn't much harder than that to get your Scarlett device connected to your MacBook Pro and as I said in my comprehensive review of the Scarlett, it isn't necessary to install other drivers or any miscellaneous software to get it to work. Most audio editing and music production software, as well, will immediately recognize the Scarlett as an applicable device, so you won't have to do anything to get it to work there either.
By the way, I'm always on the lookout for deals in the music industry (there's usually something if you know where to look). Right now, there are 2 deals that stick out to me.
Connecting Your Scarlett 2i2 to Your MacBook Pro
Connecting your Scarlett device to your MacBook Pro really is as simple as I just laid out for you. Purchasing the Scarlett 2i2 (on Amazon) or any of the other devices in the Scarlett series should come with everything you need to get it working right away. But in case you're missing these things, for whatever reason, I'll give you a shortlist here.
What Gear You Need to Connect Your Scarlett 2i2 to Your MacBook
1) USB to USB-C Cable
This is the USB to USB-C cable that I recommend getting from Amazon. The reason why I suggest getting this specific one is that the shield for the inner wiring is like a thick, rope-like material that's very sturdy. This is a cable that's made by Amazon, I believe, and it's probably one of the better cables I've bought.
Additionally, you have the option of getting more than one size, and so I got the 10-foot one even though it was probably unnecessary. I would rather have a cable that's too long than a cable that's too short, so I usually get the longer one.
2) USB to USB-C Adapter (if your computer is newer)
You can find one of these USB-to-USB-C adapters anywhere, including at the Apple Store, but you can also find one here on Amazon. Rather than getting one of these though, I would recommend getting a more diversified adapter that has multiple USB ports and other kinds of ports as well.
This kind of adapter is practically a necessity nowadays as more and more companies are moving toward USB-C, however, a lot of the electronics we still own are using the older USB. For instance, I have an adapter that I got from a computer store a while back, but you can find a similar one on Amazon.
3) USB to Firewire Cable (If You Have The 1st or 2nd Generation Scarlett)
You'll need one of these USB-to-Firewire cables (from Amazon) if you're using a much older audio interface, like the 1st or 2nd generation of Scarletts. I know that my Focusrite Saffire 6USB uses this type of connection and not the standard USB nor the USB-to-C. I believe it's called USB 2.0 as well.
How to Connect Your Scarlett 2i2 to your MacBook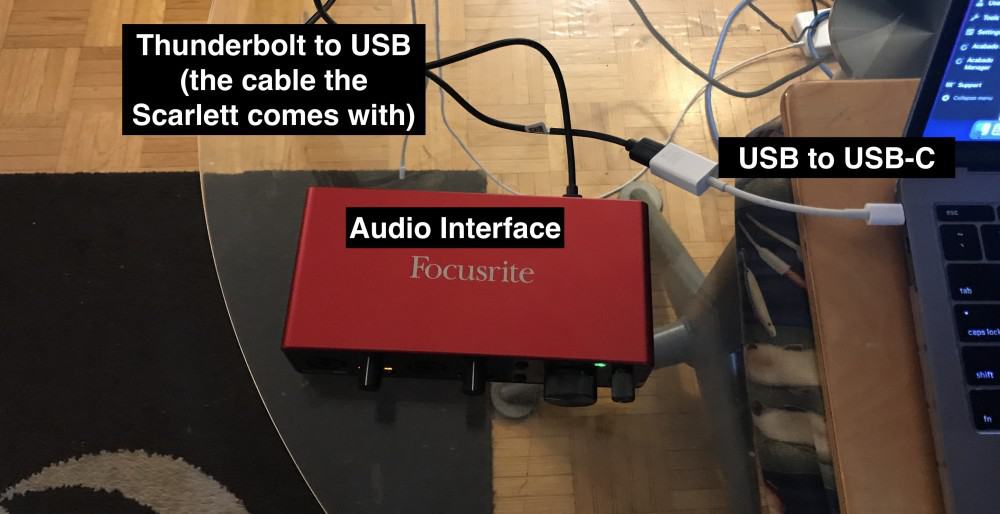 1) Connect your USB-to-USB-C Adapter
2) Connect your Scarlett 2i2 to the adapter with the USB-C Cable
3) Your Scarlett 2i2 will light up when it's turned on
Because the Scarlett 2i2 is bus-powered, it takes its power from the computer rather than from an external source. This has some advantages and disadvantages. One of the advantages is that you don't need any more outlets or plugs to get this thing to work.
However, it also means you drain your computer's battery faster and the audio interface isn't quite as powerful. A MacBook Pro with a good battery like this one (from Amazon) is a must.
This is the long and short of how you connect your Scarlett to your computer. What I'll do now is show you how to configure some of your computer settings in case you're running into issues elsewhere like on the computer, rather than in your audio interface. My article on how to record acoustic guitars does a very thorough job of this as well if you need more info.
Changing Your Computer Preferences If You Need To
With your Scarlett 2i2 connected:
1) Click on System Preferences
2) Choose "Sound."
3) Choose Scarlett 2i2 for your input and output, depending on your needs.
That's the brunt of how you connect your Scarlett to your computer, but what if you're using an older model or an older computer? Even if you're using older equipment, a lot of the steps and configurations are still the same, you just may need to use a different type of cable or set things up slightly differently.
Connecting An Older Scarlett 2i2 Or An Old Audio Interface
Some of the older audio interfaces, including the Saffire 6USB and the 1st and 2nd generation Scarlett 2i2s, would use this type of port on the back of the device. They recently moved away from this because that's just the nature of technology, and apparently, USB-C is a much better connection anyway.
So this is why I recommended getting the printer cable that I showed earlier (I also call it a USB-to-Firewire). The set-up isn't terribly different either, it's just that you have to use a slightly different cable.
What About The Focusrite Scarlett 2i2 Drivers?
From what I understand, you don't need to download any drivers or do anything special to get your Scarlett 2i2 audio interface to work with your MacBook Pro. I've owned two Focusrite audio interfaces now and both of them worked straight out of the box, however, Focusrite does have a page where they talk about this.
Other Articles You May Be Interested In
Important things to Note About Scarlett 2i2s
1) You Don't Need An Adapter If You're Using an Older MacBook Pro
If you have a computer that was made before 2016, the year that MacBook Pros went all-in on USB-C, you won't need an adapter like what I showed in this article. Coincidentally, I just missed that cut-off point because my computer was made in 2017 – just one year after Apple changed everything.
Gear Mentioned
2) USB to USB-C cable (from Amazon)
3) USB to USB-C Adapters (from Amazon)
4) Multiport Adapter (from Amazon)