Sampling is very popular in modern music not only for its simplicity but also because it's fantastic as a creative tool. By the word "sampling," I'm talking about taking an audio recording from elsewhere and using it for your own project.
If given permission, you can use these samples, loops, beats, melodies, guitar riffs, or even just small parts of a completed song. And most DAWs have a sampler of some kind, including Garageband Mac and iOS (so where is it anyway?)
Garageband's sampler, which is called the AUSampler, is located in the Smart Controls of any instrument track. You can find it on top of the four empty plugin slots after selecting AUInstruments > Apple > AUSampler > Stereo, however, there are many more things to learn about it.
A lot of people don't like Garageband's sampler, and I didn't either when I first started using it, however, I find that with some trial and error, it's actually pretty straightforward to use and there isn't even that much wrong with it, unlike what users like this have to say:
With that said, they do have a point when it comes to imported 808s, which is just one reason why I recommend people use Initial Audio's 808 Studio II plugin from Plugin Boutique, but I digress. Samples are often in rock and other genres, too, like the way Fishbone's "Bonin' In The Boneyard" is sampled in the RHCP song, "Good Time Boys," and Garageband iOS is great for sampling as well.
GarageBand iOS Also Has a Sampler
As I've explained in my tutorial dedicated to the Garageband iOS sampler, the iPhone/iPad sampler is simply called the Sampler, and it looks like most MIDI keyboards. To find the Garageband iOS sampler, navigate to the instrument menu and "Sampler" is the third icon from the left in the "Keyboard" section.
It's relatively simple to use after dragging and dropping your audio file into your MacBook Pro's Music Library (by the way, this is the best MacBook to use from Amazon). Next, you have to sync it with your iPhone or download it through an app. Open GarageBand's sampler for iOS and then select Import and then record after isolating the part that you want.
Those are the basic steps, but I cover them in much more detail with the tutorial I already linked earlier. GarageBand iOS also has an excellent sound Library found in their scroll menu when you open the app. They have tons of sample packs to choose, from beat sequencer kits to keyboard collections.
And the best part about the sample packs, collections, and loops for iOS is that they tend to be cheaper than what you would get for Mac Garageband. In other words, Apple has mimicked what a lot of websites like Loopmasters have done for years and made their own library, however, a lot of people wonder if there are strings attached (a topic I've dove into before but we'll briefly explore here).
Are GarageBand Samples Royalty-Free?
In Garageband's software licence agreement, it states directly that the samples and loops are royalty free, however, you can't package them and sell them as if they were your own.
With that said, there have been cases where people who have used the samples before you, may decide to say that it's theirs simply because they used it in their work before you did. There are legal conundrums that one may find themselves in, but these are mostly a consequence of quarrelling among other producers and not anything to do with Apple or other companies.
Moreover, from what I understand, when you buy sample packs and loops, you're mostly just purchasing the licence to use them and not the exclusive rights. If the rights were "exclusive," that would mean they would only be able to sell the sample pack once because 1000 people can't have "exclusive" ownership of the sounds and then use that right to sue others who were also sold the same "exclusive rights."
In fact, I spoke with Loopmasters about this and they essentially confirmed what I had suspected. You can check out what Brandon from Loopmasters had to say about it:
Here's the exchange I had with him (my question is in regular font, and Branden's is in italics): "A common question that people ask me is what happens if another producer who has purchased the same sample packs me, hears a song that I've created that also uses the same sounds, and then decides to pursue legal action or make legal threats of some kind."
"You're right – any copyright claims/threats of legal action in this case would have no merit. When you purchase a royalty-free sound from Loopmasters or Loopcloud, what you're purchasing is a non-exclusive license to use that sound in your commercial works, however you'd like to use the sound, as long as your use is in keeping with the Loopmasters License Agreement (or the license agreement relevant to the sample label you've purchased from).
Unfortunately individuals/labels can make false copyright claims on services like YouTube and Soundcloud, and content including royalty-free sounds can even be picked up by YouTube's Content ID system, because it cannot tell the difference between royalty-free and copyrighted content. When you purchase a sound at Loopmasters, however, the sound is licensed to you on a non-exclusive basis, so you're absolutely licensed to use it in your YouTube content, or as part of a commercial music release – this isn't a problem at all.
In this case you may need to file a dispute against the claim, including your proof of purchase of the sounds and a link to the license agreement relevant to your sounds, and that should be sufficient to dispute the claim."
Garageband's AUSampler Vs The iOS Sampler
If you don't like the Garageband iOS or Mac sampler, there are others out there that can help fill in the gaps, so to speak. For example, you can find dozens of sampler apps like the Chameleon Sampler in the Apple App Store (for iOS), and you can also download plugins straight from the internet. The 808 Studio II synth I commonly recommend also has its own in-built sampler (for Mac only).
All of the samplers you find will be similar but not exactly the same in how you use them and upload samples to them; it all depends on what device/software you're using. When finding an excellent sampler to use, you'll have to go through them to find what one that has what you need. Some are simple to use and have fewer features, while others offer many extra features like sample pads and beat slicing.
The Differences Between The AUSampler & The iOS Sampler
1) Loading Samples in Garageband (Mac) is Different Than iOS
How to Load Samples in Garageband (Mac) – The AUSampler
Loading samples onto the Mac sampler is a pretty straightforward process, but there are some differences between how it's done in iOS, although, as I've explored before, the concept is the same. If you are using your Mac computer or laptop to sample in GarageBand, you just have to click the "Gear" icon and then "Add Samples." Make sure your audio files are in a place that's accessible like the local documents folder or your desktop.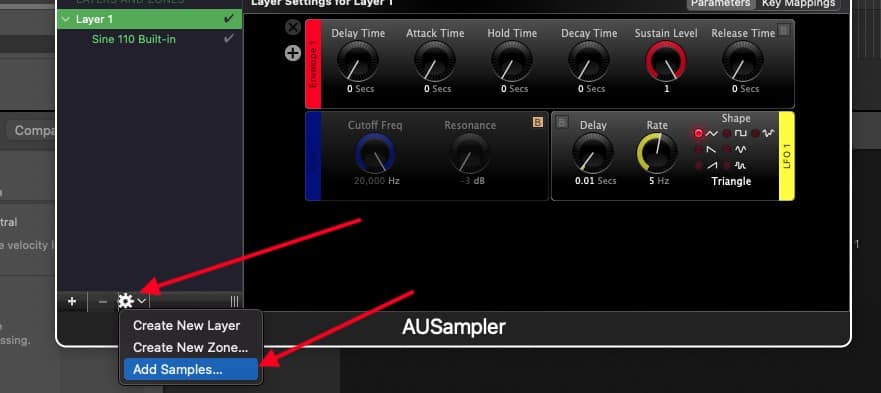 How to Load Samples in Garageband iOS – The Sampler
Due to Garageband's latest update, getting new samples into the Sampler in iOS is a bit different (and honestly a little bit tricky if you're unaware of the changes). To get a sample into Garageband's sampler in iOS, you have to click on the "Sampler" icon in the Keyboard menu, then click on the drop-down arrow on the top-left of the screen, and then select the word, "Bark," to replace the sample by clicking the "Import" button.
2) The iOS Sampler is More Accessible and Quick
The primary advantage of using the iOS Sampler instead of the AUSampler (Mac) is that the iOS sampler is on either your iPhone or iPad. This means you can take it wherever you want and record samples on the go, which is incomprehensibly awesome.
The new iPhones like this one from Amazon have pretty solid mics and cameras so the iOS sampler is capable of getting very good sounds into it from the real world. With that said, you can just record the sounds with your iPhone and upload them to your Mac fairly easily, but it's still just a lot easier to upload the sample directly into your iPhone.
3) The Mac Sampler is More Detailed
The Mac AUSampler, on the other hand, is more detailed and is capable of a lot more. Not to mention that editing samples and recordings is just way easier on Mac, however, there are some issues with it that we'll talk about in a minute. Because it's typically on Mac – which means you're using a Macbook Pro or iMac – you probably can't record external sounds as easily.
In the image shown below, you can see there are 4 different interfaces to mess around with in the AUSampler, and to be frank with you, I don't know how to use everything it's capable of either. However, I do talk about some of its features in my sampling guide, but I digress.
In the case that you want to record external sounds, you could just record it with your iPhone anyway and upload it to your Mac. I would recommend grabbing the Zoom H6 bundle from Amazon which includes 4 small microphones in case you also want to make a podcast (my guide on how to do it). With this bundle, you'll be able to get high quality recordings that far surpass the iPhone mic.
On your Mac Sampler, there are more details, and that's usually pretty common going from iOS to a laptop or desktop. The AUSampler for Mac has more functions like adjusting pitch, panning, or raising the total volume of the sample. Another great way to use the AUSampler is to upload drum kit sounds so you can use the MIDI Keyboard to make your own drum loops.
4) It's Easier to Use the iOS Sampler
Loading samples and cutting them in iOS is easier than on Mac for most people. For instance, chopping the sample's length to the way you want it is better in the iOS version of Garageband. It's more stream-lined, intuitive, and it requires way less clicking around. Check out the video in the next section to see what I mean.
How to Chop Samples in Garageband Mac and iOS
Chopping Samples for Garageband (Mac)
To chop samples in Garageband Mac, drag and drop an audio file into the workspace, and then cut out the part you want with the (Command + T) function. Share it to your desktop > re-import the file into Garageband, > open the AUSampler in the Smart Controls > click the Gear icon > then "Add Sample." Check out the video below to see this in action.
Chopping Samples for Garageband (iOS)
As I've already stated, there are times when the iOS sampler is better than the Mac, and this is one of them. After you've imported your sample, to chop the sample in Garageband iOS, you just have to drag the pointer on the left and right-hand side of the file window to isolate the part you want. You can also adjust the tuning, whether it's in reverse, or you can loop it.
Garageband Mac has the same features, but the iOS version is just more accessible and "in-your-face," so to speak, in the sense that all of the options are right there in front of you and you don't have to click around much. Check out the video here to see what I'm talking about:
Where to Find Samples for GarageBand?
You can find samples for GarageBand pretty much anywhere, as long as you have the knowledge and the equipment. You can find samples from YouTube, sample packs, Apple Loops (my guide on how to make your own), MIDI, or you can record with an external mic like the aforementioned Zoom H6 (from Amazon).
Garageband supports nearly every type of audio format, so in the vast majority of cases, it's just as simple as dragging and dropping the files into the workspace. Either way, getting your hands on samples is dead simple, especially nowadays.
1) YouTube via a YouTube Video to MP3 converter
A program like HandBrake will convert just about any form of data into another. All you have to do is load the original into the program and pick the format you would like it to convert to, and it will do it for you. In this case, YouTube videos are MP4, and if you want to make them loadable into a sampler, you will convert the audio of the MP4 into MP3.
Then take that MP3 and drop it into your library, and finally into the AUSampler or the iOS Sampler to use the MP3. However, I would go so far as to say that even this method isn't the easiest. In my article on sampling, I show you how to use YouTube videos in the simplest way possible, and you don't have to download any software.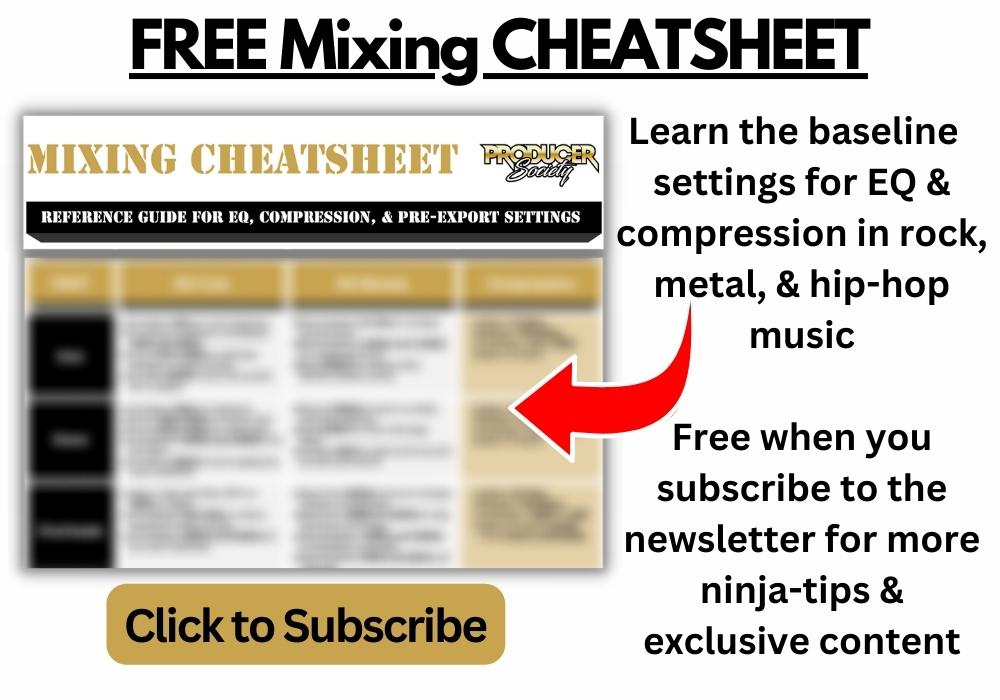 2) Songs Downloaded from the Internet
As I just explained in the sub-section above, to download samples of audio from the internet, it's best to use platforms like YouTube, but you can use anything that has a downloadable link, where you can copy the address link or audio file to convert.
It's pretty easy to sample audio that is already in Mp3 or another common audio format, just watch out for copyright flags if you try to monetize the song. You can actually use the website, Song File, to buy a mechanical licence for the rights to use a song that you do not own, however, if you want the right to use a song for over 2,500 units or 10,000 stream plays, you'll have to use something like the Harry Fox Agency instead.
3) Sample Packs From Producers
One of the most popular ways to get your hands on samples (in a way that's legal and probably won't cause problems in the future), is sample packs. For instance, this Hip-Hop/Trap Sample Pack from Plugin Boutique is just one example of a bundle sold online.
Typically – although it's wise to check first – you have purchased the licence to use the sounds once you've paid for the sample pack. For a lot of people, sample packs are a great way of getting around a creative block, moreover, sample packs usually have a similar feel, vibe, and theme.
4) Sample Database Websites
Websites like Cymatics.FM, Creative Commons, and Premium Beats are royalty-free databases that you can search to find excellent samples, loops, and tracks for your music. These are different than the Sample Packs you can get from a producer because they are only on a Royalty-Free basis.
Before using someone else's work, you should always make sure you've either purchased the proper licence or that you have their permission. There's no sense in finding yourself in a legal quagmire when it could've been avoided in the beginning with a bit of research.
5) Recording Your Own Sounds
This is the only way to get exclusive rights to monetize your songs without having to go through a 3rd party. Using a microphone like my personal favorite, the Zoom H6 bundle from Amazon, your computer's built-in mic, or a MIDI keyboard like the Arturia KeyLab 88 from ZZounds can be a great way to start making your own samples and loops.
They can be stored individually and used with drum pads like the Akai MPD226 (also from Amazon) , or you can record them one at a time and build onto your song in each project. The Zoom H6 is a fantastic field recorder for this purpose, however, even just an iPhone 11's microphone (again on Amazon) will work just fine for recording sounds.
6) Using Loopback to Record Songs from Spotify
This is a method that I already explored in my article on mixing with reference tracks, however, it's worth stating again that this is a great way to get your hands on high-quality audio for you own personal, educational, use. With that said, I would recommend just buying the artist's music in the iTunes Store or via their website (which is usually where they sell it), and make sure to get the highest quality available.
Common Problems With the Garageband Sampler
Why Isn't The Sampler Working?
If your AUSampler isn't working properly, it could be because you haven't enabled Audio Units in Garageband's Preferences. In that case, you just have to click Garageband in the toolbar, then Preferences, Audio/MIDI, and then ensure the "Enable Audio Units" box has been checked off. You can see what this looks like in the image below.
While it may seem like a throw-away tip, I find that if I'm having a problem like that, it's often just as simple as re-loading everything again or maybe starting the program over again. Issues with speed and other problems often seem to get better when I've cleaned my computer's files up like I talked about in my guide on Garageband crashes.
Why Are My Files Clipping?
If your files are clipping, it usually means they've been imported into the DAW with too much gain. Try re-inserting the files into the workspace after having turned down the volume on them. Additionally, ensure that you've turned off any potentially conflicting plugins. For example, it's possible you could have too much compression on a file without even knowing it.
Why Isn't The Sampler Recording?
If the Garageband sampler isn't recording, it usually means that the sample has been imported into the Sampler incorrectly, either as an improper file format, or the file has been deleted accidentally without the user knowing. Change the file format of the sample to a .wav file and re-import it back into the sampler.
Why is the Sampler Distorted?
This is related to the section above on why the files are clipping. If the samples you have imported into the AUSampler or iOS sampler are distorted, it could mean the gain or volume too high or you had conflicting plugins set up on the recordings.
For example, if I've exported a song out of Garageband as an AIFF file and I'm getting it ready for mastering (my guide on that), and I've accidentally loaded 2 compressors and an AUSampler onto the same file, it'll cause the recording to sound terrible and distorted.
How to Assign Samples to the Keyboard in Garageband?
To assign samples to your keyboard in Garageband, you just have to follow the standard sampling procedure which is to click the "Gear" icon and then "Add Samples." However, if you want to add a different sample for each key of the MIDI keyboard in Garageband, you just have to type in the keyboard value in the "Key Range" parameter, for instance, C4 to C4 will play the sample only on the C note in the 4th octave.
The video down below shows you how to do it:
Does Garageband Have the EXS24 Like Logic Pro X?
Garageband does not have the EXS24, however, sounds made from the EXS24 can be imported into it because of the many similarities between Garageband and Logic Pro X, including the fact that they often use the same patches and file folders on the computer. In fact, it's possible to use EXS24 sounds in Garageband, just follow the steps below.
If you want to use EXS24 sounds in Garageband:
1) Open Logic, and create your EXS24 instrument the way you want to, including with Audio and MIDI FX plugins.
2) Save the Channel Strip as a User Patch in the Library Window
3) To open this same patch in Garageband, open the AUSampler after creating a new software instrument track
4) Click the little gear icon and then "Add Samples."
5) From the "Patches" menu, choose your "EXS24 Sample"
Important Things to Note About Sampling
1) Sampling is a Powerful (But Potentially Dangerous) Tool
Sampling is one of the best ways to make a song sound incredible, however, you are using someone else's work. It's probably not unreasonable to assume that many artists would be flattered if someone else used their material, however, it will probably have to be under the right circumstances.
You would be surprised how easy it is to reach out to someone and actually get a response, and simply asking beforehand could make your life A LOT easier. Just make sure you keep the email or some kind of evidence of the communication to keep yourself safe (and really it's just prudent to do so).
Gear Mentioned
1) Initial Audio's 808 Studio II from Plugin Boutique
3) Hip-Hop/Trap Sample Pack from Plugin Boutique
6) Arturia KeyLab 88 from ZZounds
7) iPhone 11 Pro Max from Amazon