If you want to connect a MIDI controller to Garageband iOS, take comfort in knowing that it's really not that difficult.
By the way, I'm always on the lookout for deals in the music industry (there's usually something if you know where to look). Right now, there are 2 deals that stick out to me.
I've already written a full tutorial on how to connect a MIDI keyboard to Garageband macOS which you can read here.
However, it's slightly different on Garageband iOS, mostly due to the adaptors.
To put it simply, you need a Thunderbolt to USB adaptor like this one from Amazon.
To connect your MIDI controller into Garageband:
1) Connect your Thunderbolt to USB adaptor to your iPhone or iPad
2) Hook up your MIDI controller using the Firewire to USB cable that it comes with
3) Garageband iOS should be able to recognize it immediately, and you can start using it
And it's really as simple as that. We'll explore a more in-depth tutorial including images now.
Connecting A MIDI Controller to Garageband iOS
As I just said, you need to get your hands on a Thunderbolt to USB adaptor in order to make your MIDI keyboard work with your iPhone or iPad. This – along with actually learning how to use the piano with PianoForAll – is essential.
What Gear You Need To Connect MIDI Controller to Garageband iOS
1) Connect your Thunderbolt to USB adaptor to your iPhone or iPad
Once you have your adaptor, all you have to do is connect it to your device.
2) Hook up your MIDI controller using the Firewire to USB cable that it comes with.
If you own a MIDI keyboard, you should already have every cable that you need, including the Firewire to USB cable. Most MIDI keyboards will come with one by default, but just in case you don't have one, you can grab it off of Amazon from the link above.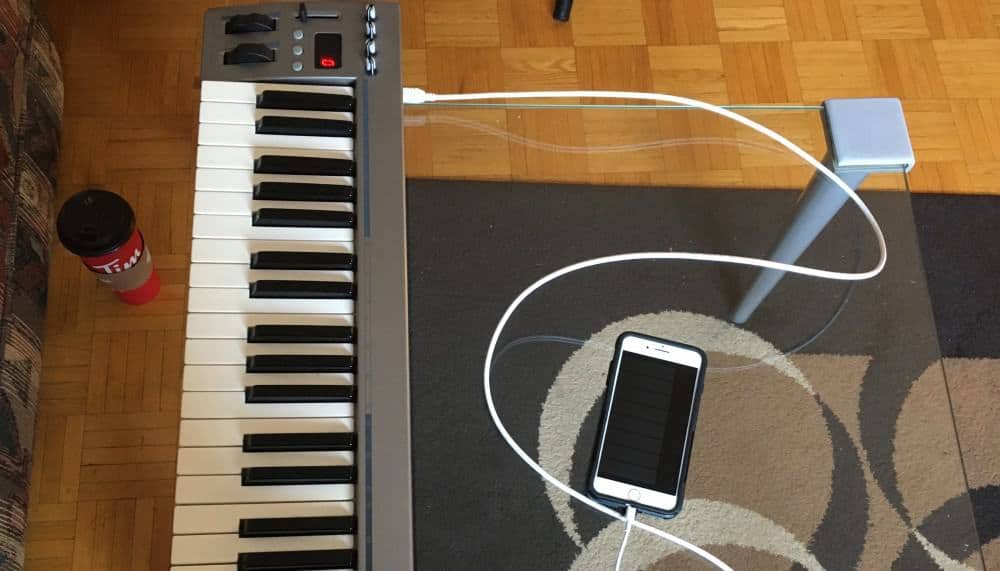 3) Garageband iOS Should Be Able To Recognize It Immediately
There are some exceptions to this, but for the most part, if you own a relatively new keyboard, there won't be any recognition issues.
In case you haven't purchased a MIDI Keyboard already, I have some key things to keep in mind.
What MIDI Keyboard Should I Get For Garageband iOS
Right off the bat, I'll say that the Acorn Masterkey 49 is probably the best budget keyboard because it doesn't cost a lot of money and it also comes with 49 keys. However, these days, it doesn't appear on the Amazon store anymore, so I'd recommend getting this one instead assuming you don't have a lot of money to burn.
While it's certainly not the Arturia Key Lab 88 from ZZounds which is one of the best keyboards on the market, it has a lot of range, pitch bends, modulation, volume knobs, etc. And there isn't a need to download any MIDI drivers or anything like that.
Put simply, it's good to go the moment you pull it out of the box and connect it to your interface.
In case you decide not to take my advice, understand there are a few useful things you should consider before buying a keyboard for Garageband iOS.
Important Things To Note
1) Make Sure It's Class Compliant
By this, I mean that you don't have to download any drivers or software in order for it to work.
You may run into issues if you have to download additional software on your device in order for the MIDI controller to work. Ultimately, we want to avoid this completely, because it's just going to be a pain, at the end of the day.
When buying a MIDI controller, I find that it's best to always keep it simple, that way you don't run into any issues down the line. I find this is the most important thing to consider.
Especially in the case of Garageband Mac OS and Garageband iOS.
Admittedly, not every manufacturer bothers to make their device compliant with Garageband, just because some people believe Garageband isn't a real DAW, despite the fact it works amazingly.
2) Get At Least 49 Keys
This is really up to personal taste, but I would say that getting a keyboard with at least 49 keys is your best bet. Anything less than that, for instance, 25 keys, I find isn't enough. Ideally, you'd like to have more than 2 octaves when purchasing a MIDI keyboard, because it's going to give you more range for compositions.
I would argue that this, in conjunction with it being class compliant, are the two most important specifications of a MIDI keyboard, so pay attention to them the most. However, I know a lot of you are going to grab the Akai MPK Mini from Amazon anyway, and I wouldn't blame you because they are pretty cool.
3) Not Every MIDI Keyboard is Compatible with GarageBand iOS
Pay careful attention to the manufacturer's comments on what software their device works with.
This is an issue for higher-end keyboards, which don't always work with Garageband, so make sure you've researched this sufficiently.
Garageband doesn't actually support assignable pads and keys the way that other DAWs do. In other words, if you buy a popular Drum Pad, like the AKAI MPD 226 from Amazon (which is the one I own), you won't actually have the ability to customize each pad (in the same way at least).
With that said, these keyboards do work with Garageband, but the way the DAW maps them out by default is how they'll remain. You can't change them.
4) Connecting A Keyboard Invalidates Certain Functions
When you plug in your MIDI keyboard into Garageband iOS, it has the benefit of increasing the amount of range you have among other advantages, however, it does stop certain functions from working as they normally would.
For instance, if you set up the Smart Strings, the Smart Piano, or the Smart Guitar, you'll notice that the keyboard won't respond to the actual controls in the Smart interface.
With that said, however, you can still press on the screen and play them as you normally would, but it just won't respond to the Keyboard.
While this seems like a disadvantage, it's actually an advantage because then you have both capabilities.
Put simply, you can use the Smart interface's automatic functions, but you also have the ability to play individual notes as you normally would with a MIDI keyboard.
Moreover, you won't be able to use the arpeggiator in the same way (my arpeggiator guide).
With all that said, having a MIDI keyboard is essential in my honest opinion, especially if you want to play more harmonically complex chords and progressions.
Additionally, only having at your disposal a few keys is no good if you want more range and dynamics in your compositions.
Using a MIDI keyboard will allow you to determine how much velocity you want in your compositions through the way you've actually played the notes on the keyboard.
Contrast this to the fact that if you're playing it on the touch screen, you won't have the same ability, or at least not in the same way.
5) It's Best To Use An Official Apple Adaptor
People who use Apple products know that their adaptors aren't cheap, but frankly, they always seem to work a lot better than the knock-off ones that you buy from other places.
I imagine that Apple has done this on purpose in order to guarantee more sales for themselves, but that's neither here nor there. Just pay the extra money for the appropriate adaptor, and then you don't have to worry about it breaking after a few months.
More importantly, I find their adaptors are more versatile, and everything is going to work once you're using an official Apple adaptor. If you want to get a multi-purpose adaptor, I'd recommend grabbing one from Amazon here.
6) MIDI Keyboard Allows For More Drum Pattern Customization
There's no question that using a MIDI Keyboard makes composition a lot easier, and this is especially the case while playing the drums (how to create them in my guide).
A MIDI Keyboard is going to allow you to make more complex drum patterns, and more importantly, it's just a lot more fun when you have an actual keyboard to play with, rather than a touch screen.
7) Turn "Low Power Mode" Off
If you're anything like me, then you prefer to almost always have "Low Power" mode turned off when using Garageband.
Having it switched on isn't the best way to run Garageband iOS, because you'll find it will go to sleep if you move away from your phone for a minute, say, for example, to do some research.
I find it's best to switch this off, that way the device doesn't go to sleep, and it doesn't interrupt your workflow.
YouTube Video Tutorial
Conclusion
That's it for this tutorial. Do me a favor and share this on your social media.