The AKAI MPK Mini is one of the most popular MIDI keyboards. You don't have to install drivers or update your PC to get it to work with your DAW as it's plug-and-play. But you do need a few things to make it work.
To set up your AKAI MPK Mini with FL Studio, you'll need a USB-C to USB adapter, the USB 2.0 cable that comes in the box, and your PC. Connect the adapter to your computer, then the USB 2.0 Cable, and then go into FL Studio's Preferences and choose the AKAI MPK Mini from the list of MIDI keyboards.
How to Set Up The AKAI MPK Mini With FL Studio (macOS)
There are some things you should know including what kind of adapters are best to get, common troubleshooting tips, and some other things that we'll briefly go over.
Connecting the AKAI MPK Mini to a macOS laptop or desktop computer is very simple assuming you already have the necessary adapters. At this point, most of us have probably acclimated to the new world of USB-C adapters, but if you haven't already got one, you can get this one on Amazon.
That one's a good choice, however, it's pretty limited because it isn't a multiport adapter. In other words, if you want to expand what you're using with your rig, you'll probably want to get your hands on a better one like this Kramer Multiport Adapter (on Thomann).
I have one just like it, and it can connect to almost every kind of device including USB-C, regular USB, HDMI, a headphone adapter, a data storage card, and so on and so forth. Assuming you want to use things like a drum pad or an additional keyboard, headphones, etc., then this is a better choice, but I digress.
1) Connect USB-C to USB Cable to Your Device
The first thing you want to do, of course, is to connect your USB-C to USB adapter to your computer. You can see down here that I've also got the multiport adapter which is the real one that I actually use on a regular basis, and not the standard USB-C to USB adapter.
2) Connect the USB 2.0 (Printer Cable) from the MPK Mini to Your PC
The AKAI MPK Mini will always come with the necessary USB 2.0 cable in the box, so you'll be able to connect it right from the AKAI MPK Mini to the computer. In the case that you didn't get one, because you got it used or something like that, you can just get the Printer Cable, as they're commonly called instead of USB 2.0, right on Amazon.
3) Open FL Studio, then Click FL Studio > Preferences
Open up your FL Studio application and then go into the Menu > Settings > Preferences. Unlike GarageBand, FL Studio has a massive menu where you can choose all kinds of settings including buffering and sample sizes, other MIDI devices, recording, and so on.
4) Select MIDI > Choose the AKAI MPK Mini in the Input List > Click the Enable Button
Once you've chosen your MIDI Device, make sure that you've clicked on the little green button that way it's enabled and ready to go. From here, you should have no problem getting the AKAI MPK Mini to work with FL Studio.
How to Set Up The AKAI MPK Mini with FL Studio (iOS/iPadOS)
Getting the AKAI MPK Mini to work with your iPhone or iPad is a little different because you may need a different adapter, however, the iPad doesn't need a different adapter.
It uses the same USB-C one that I mentioned earlier. For the iPhone, I recommend getting the USB/Camera adapter like this one on Amazon for 2 reasons.
The first reason is that I find that the regular Thunderbolt to USB adapter doesn't work for powering an external device like the AKAI MPK Mini or even something like the Scarlett 2i2. You'll get a prompt that says that the accessory uses too much power.
But if you use the USB/Camera Adapter, it'll work just fine. The 2nd reason is if you're using a much older iPhone or iPad that doesn't have the power to run bus-powered devices like the MPK Mini and the Scarlett 2i2.
I've talked about this in my guide on how to connect the MPK Mini to GarageBand iOS and the Scarlett 2i2 tutorial as well.
The long and short of it is that you'll have the option of connecting either our regular block charger to give the device the power it needs or you can use an external power bank if you're on the go and you don't have access to a regular wall outlet.
1) Connect the USB/Camera Adapter to Your iPhone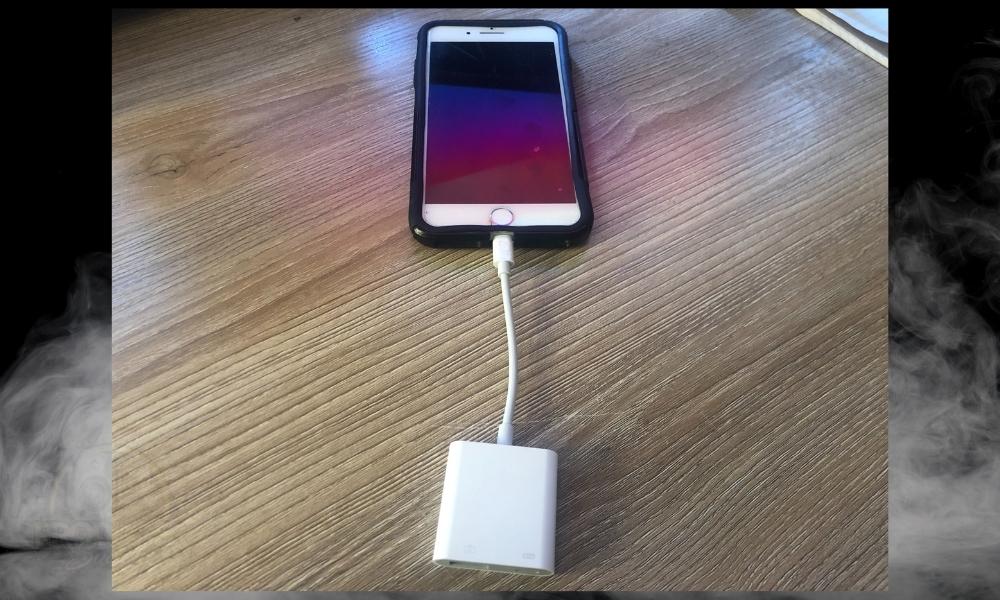 I'm sure you don't need an explanation for how to do this.
2) Run the USB 2.0 Cable from Your Phone to the AKAI MPK Mini
Interestingly, you don't have to go into the settings or do anything to get FL Studio Mobile to recognize your AKAI MPK Mini. And the same thing goes for the iPad, as well.
Here's another diagram showing you how to connect the iPad with FL Studio Mobile to your AKAI MPK Mini. Remember, you can just use a regular USB-C adapter for the iPad just like you did with the PC/Laptop.
While we're on the topic, you may be aware that you can actually program FL Studio to program certain sounds on different drum pads and keys on your MIDI device. This is certainly the case with the AKAI MPK Mini and FL Studio as well. Go to my article to learn how to assign sounds to a MIDI device in FL Studio.
Other FL Studio and AKAI MPK Mini Articles
Important Things to Note About the AKAI MPK Mini and FL Studio
1) Other Phones, Computers, and Mobile Devices May Require Different Adapters
It's worth mentioning that some phones, computers, and mobile devices will need a different kind of adapter, depending on the year the device was made, or whether it's an Android Device, iOS, macOS, PC, and so on so forth. Most of my Apple products, in fact, all of them at this point, require USB-C adapters.
Gear Mentioned
1) AKAI MPK Mini (on Amazon/Thomann/zZounds)
2) USB-C to USB Adapter (on Amazon)
3) Kramer Multiport Adapter (on Thomann)
4) USB/Camera adapter (on Amazon)