Downloading plug-ins for iOS Garageband is really quite simple, in fact, it might even be easier than downloading plug-ins for Garageband Mac OS.
Here's the short-form guide for downloading plug-ins in Garageband iOS.
Down below, we'll explore the process more in detail.
To install plug-ins in Garageband iOS, follow these 7 steps:
1) Download the Plug-In From the App Store 
2) Open Garageband and open a software instrument track.
3) Select the "Track Settings" option.  
4) Choose "Plug-Ins and EQ." 
5) Click "Edit," & then "None." 
6) Choose "Audio Unit Extensions."
7) Select the Plug-In.
By the way, I'm always on the lookout for deals in the music industry (there's usually something if you know where to look). Right now, there are 2 deals that stick out to me.
Plug-Ins and Catalina
With the new Catalina update which I've talked about before, Apple has made it so that one has to go into System Preferences in order to give permission to install third-party plug-ins.
I've already written about that change which you can check out here in my article on How To Install Plug-Ins in Garageband.
However, with Garageband iOS, the process is a bit simpler now because the apps in the App Store have already been vetted by Apple, so anything that appears in it is good to go. The same thing can't be said for random third-party plug-ins that you get off the internet.
Essentially, the primary difference between downloading plug-ins on iOS Garageband and Garageband Mac OS is that on iOS, it's done through the App Store on your iOS device (this is the best one from Amazon to use, by the way), whereas on Garageband Mac OS, it's done through transferring components file into the appropriate folder.
Either way, doing it on iOS or Mac OS is fairly straight forward and it doesn't take long to learn.
Now that I've shown you a basic guide for how to download plug-ins in Garageband iOS, we're going to explore a more in-depth guide that way you don't get lost.
Step-by-Step Guide for Installing Garageband iOS Plug-Ins
1) Go into the App Store and Choose the Plug-In.
For this tutorial, I chose to download the DLYM Delay Modulator, from Imaginado, which is one of the best free Delay Modulators next to Audio Damage's Dubstation 2 from Plugin Boutique.
Just click on the "Get" button to download it, and then wait for it to download.
2) Open up Garageband and Select a New Software Instrument Track.
Now that you've officially downloaded the new plug-in for Garageband, you just have to open up Garageband and you should be able to find it with some searching.
Hit the "+" button to open up a new project.
At this stage, you want to open up the Keyboard or the interface of your choosing.
I find that it's actually easiest to just use the Keyboard, simply because it's the first, and it's easy to get into the actual workspace from the Keyboard interface.
After clicking on the Keyboard, you'll be taken to the Automatic Keyboard that has presented you with a bunch of Chords in the Key of E Minor.
And from there, you just want to hit the little white bars button shown above to bring up the actual workspace.
3) Select the "Track Settings" Option, and Then Open Up The Controls
Once you're at this stage, you want to click on the button that looks like a bunch of little faders.
4) Click on "Plug-Ins and EQ."
At this point, you can see there are automatically two plug-ins that are already loaded onto the software instrument track, the Compressor, and the Visual EQ.
5) Click "Edit," and then click "None."
From here, you can see there are a bunch of empty slots that say, "None," and this is where you load in the new plug-in.
6) Choose "Audio Unit Extensions."
In addition to seeing the plug-in you've just downloaded, you'll notice there are a lot more effects you can use as well, including things like the "Bit Crusher," "Chorus," "Distortion," "Flanger," and the "Microphaser," among others.
In the "Audio Unit Extensions," there are other AU plug-ins like the BandpassFilter, the Delay, Distortion, and the Dynamics Processor.
Experiment with these to see what else Garageband has in store for you.
***In the image shown above, there is no DLYM Modulator simply because I never downloaded it when I took that picture, however, if you download the app, it will show up.
7) Choose the Plug-In You Just Downloaded.
And voila, you've now downloaded the plug-in and loaded it into your interface.
As you can see, it's actually incredibly simple.
Other Plug-Ins for Garageband iOS
Now that you know how to download plug-ins in Garageband iOS, we'll talk about other plug-ins to use for Garageband iOS, because there are many of them, also, understand that you need a handle on the keyboard/piano to really take advantage of VSTs (get PianoForAll from their site for that).
The vast majority of these are free, however, there is going to come a point where you should honestly start paying for plug-ins because you're going to get much better software. This is especially the case on macOS where you can get bundles like Native Instruments' Komplete 13 from ZZounds which is probably one of the best.
One of the benefits of using Garageband iOS plug-ins is the fact they're relatively inexpensive. Whereas plug-ins for Mac OS can cost hundreds of dollars, these ones often go for less than $5.
I haven't tested all of these plug-ins, but I've done my best to compile as many plug-ins for Garageband iOS as I could find.
The ones that aren't free are designated otherwise.
DC-9 Overdrive – This is an overdrive plug-in that mimics the classic Ibanez TS9 Tube Screamer. An overdrive sound that tries to imitate the analog sound.
Dub Filter – This is a dual low-pass/high-pass filter that's used as more of an effect. Put simply, the plug-in makes it so either low or high frequencies have a harder time getting through.
Comp 609 (demo is free) – A precision stereo compressor that mimics the compressors of the 1970s. You can use it as a demo for a little while, but then you have to pay.
F-16 Filter – The F-16 Filter is another filter plug-in that has a frequency response delay. It has 16 different modes and a saturation knob for soft-clipping.
DL01 – Simple Delay – A simple delay plug-in with all of the usual controls, including delay time, feedback control, and the effect level.
FAC Chorus (Not Free) – A chorus plug-in with all the controls you need, like the delay, feedback, rate, and depth.
DRC – Polyphonic Synthesizer – A polyphonic synthesizer made by the people at Imaginado. It comes with oscillators, reverbs, arpeggiators, detune, sync, and ring modulation.
DLYM from Imaginado – This is a chorus/delay plug-in that I've already talked about in other tutorials, notably, my article on the best vocal plug-ins. One of the best modulators, for sure.
Stereo Lag – This is an interesting delay plug-in that has the effect of widening the stereo-image. In other words, I would refer to it as more of an expander, but it is a delay plug-in. They describe it as a delay plug-in that lies between the left and right channels.
RoughRider 3 Compressor – This is a compressor plug-in that comes with Side Chain controls and an input and output control. It's one of the most popular compressor plug-ins.
WaveScope – This is an analyzer plug-in that allows you to see what your music sounds like in waveform. It's as simple as that.
LRC5 EQ – This is one of the most popular EQ plug-ins for Garageband iOS, because it has more abilities than the regular Channel EQ plug-in in Garageband.
What's special about this Channel EQ plug-in is that it actually gives you the option to adjust the Q (the wideness of the cut or boost), which the regular Channel EQ doesn't allow.
AudioKit Audio Tune (Not Free) – This is a dope pitch correction plug-in that essentially is like the MAutoPitch from Melda, except for iOS Garageband. It costs a very small amount of money. I'd say it's definitely worth it.
PhaseDelayArray – This is a reverb/delay plug-in that comes with three different sections. The first is an oscillator, the second is a modulator, and then the third is a feedback unit.
Sensual Sax from EmberSoft (Not Free) – This is easily one of the best saxophone plug-ins on the market. It costs a bit of money, but it's probably the first time I've heard a saxophone plug-in that actually sounds awesome right out of the box.
Eventide Undulator (Not Free) – This is a modulated tremolo plug-in that's used for adding movement to all kinds of sounds, including pianos, guitars, vocals, etc.
Stratosphere Cloud Reverb (Not Free) – A reverb plug-in that's set up to look like a classic reverb pedal, or a stomp box, as they're commonly called. It has around 8 different parameters, including diffusion, low-end, high-cut, onset time, wet mix, decay time, and modulation.
Audio Kit Retro Piano – This is a vintage piano plug-in. Essentially, it's a piano with an old rag-time sound.
Nembrini 8180 Monster Tube (Not Free) – This is a high quality amp simulator. It's the most expensive plug-in on the list, coming in around $25, but it has a great reputation. It's used for heavy rock and metal primarily.
Wider – A mono-to-stereo converter or stereo image expander. The purpose of this plug-in is to widen the mix as much as possible.
Filterstep – A creative motion filter plug-in that adds movement to an input.
AudioKit Synth One – A critically acclaimed synthesizer plug-in that's been praised by Cult of Mac and more. Essentially, it allows you to create your own synth sounds.
Syntronik CS – A synthesizer plug-in that comes with some of the most popular synth sounds ever used and created.
Synthmaster One – Another synthesizer plug-in with 300 presets.
Analog Rack Delay – A delay plug-in with six different parameters, input and output, time, offset, feedback, and mix. It's described as being much closer to an analog delay sound.
Analog Rack Noise Gate – A very simple noise gate plug-in with just a couple of parameters. It has been created especially for the bass and guitar player.
Analog Rack Chorus – Like the noise gate, a very simple chorus plug-in with just a few settings.
Analog Rack Cleaner – This is a high-pass and low-pass filter that's designed to clean up certain obtrusive frequencies.
Minimoog Model D – A classic analog synthesizer with a lot of settings and customizability.
Zero Reverb – A reverb and delay plug-in that's described as having a more modern sound.
Tape Cassette – A plug-in that's designed to imitate the classic analog sound of tape cassettes. Cassettes are known for sounding warm and smooth, and this plug-in imitates that sound. You can add it to any instrument or sound you want.
Crunck V2 – A guitar amplifier simulator 30 different speakers and the ability to bypass the cabinet altogether.
Simple Stereo-Widening – Another stereo-widening plug-in that expands the sound from mono into stereo. In effect, it widens the sound so it doesn't sound like it's all coming from the same channel.
StreamByter – A MIDI Processor plug-in.
mfxMonitor – Another MIDI Processor plug-in.
RRS EQ3 – An "Air" Equalizer based on what was commonly used in the late 1980s. The caveat is that you can only use it for five minutes at a time.
EQ560 – Another equalizer plug-in, except this one is based more on what was commonly used in the 1960s. Similar to the one above, you can only use it five minutes at a time, unless you pay for it.
Bass Enhancer – Designed to add more harmonics to the low-end on your sounds. In other words, it saturates the low-end a lot more and literally enhances the bass sounds.
Channel Equalizer – A 3-band Equalizer plug-in.
Polylvoks Filter – A synthesizer plug-in that fancies itself as being used by the Soviets.
EQ550b – Another EQ plug-in.
SA60 – A spectrum analyzer plug-in.
Harmonic Exciter (Not Free) – A plug-in designed to give more harmonics to certain sounds over others. Put simply, it's meant to help particular sounds cut through the mix a bit more.
And there you have it.
This is by no means a full list of all the plug-ins available to Garageband users, but there are a lot here that you can use and try out.
I'd recommend going into Garageband iOS, and then after selecting a plug-in slot, select the option, "Find More On the App Store," and you'll get a list of other ones to try out.
Important Things To Note
Downloading the plug-ins from the App Store is very convenient.
However, this is kind of a double-edged sword because while it's fairly easy to do it, the caveat is that you now have another Application on your phone's interface, and if you're anything like me you already have a lot of applications and it can be quite a mess.
To combat this, I recommend making different folders on your iPhone (I recommend this particular model from Amazon if you're in the market for a new device), that way you can house all of your Audio Effects Units in one folder, that way everything is nice, neat, and organized.
What I've done, is that I've created a folder on my iPhone called, "Garageband," and everything related to the application is in that folder.
For instance, I have the Logic Remote in there, Garageband, itself, as well as the effects units and other plug-ins.
To create folders, check out the following guide:
a) Click on the Application and hold it.
b) Select, "Edit Home Screen."
c) Drag and drop the relevant applications on top of each other to make a new folder.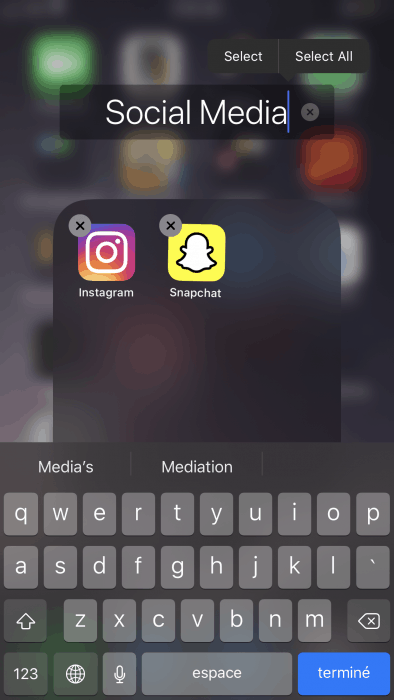 d) Click the "Home" button to turn off the editing home-screen function.
e) Click and hold the new folder to rename it.
Enable iOS Effect Plug-Ins
Important Tip:

You may have already done this at some point, or maybe it was done already by default.

In my case, it was already done by default, but for some people, you actually have to turn on the "Enable iOS Effect Plug-Ins" in the settings.

Click on Settings > Garageband > Enable iOS Effect Plug-Ins.
You just have to scroll down to the bottom to find the button.
YouTube Video Tutorial
Conclusion
When it comes to plug-ins, it's always best to pay for better ones, and then find just a couple of of them that you like, otherwise you can get lost in the sheer number of them out there.